Concordia Auditing class develops grant program
Published by Concordia University, Nebraska 3 years ago on Fri, Dec 14, 2018 11:51 AM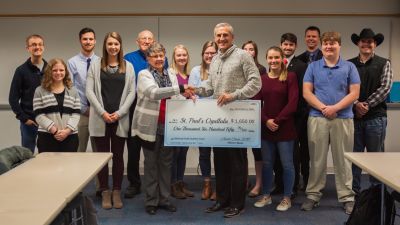 Students in Professor Ryan Burger's Auditing class presented a check to Dru Lutkehus, head teacher and kindergarten teacher at St. Paul's Lutheran School on Dec. 6.
Concordia University, Nebraska business students recently awarded a $1,650 grant to St. Paul's Lutheran School in Ogallala, Nebraska, that will provide new technology for elementary students.
"Our students will have available the tools needed to achieve their full potential," said Dru Lutkehus '65, head teacher and kindergarten teacher at St. Paul's Lutheran School. "This grant will allow us to purchase quality items that enable students to develop digital citizenship and safety."
This fall, students in BUS-422 Auditing, raised funds for a grant that would be awarded to a Lutheran Church — Missouri Synod school in the Nebraska District for either visiting Concordia for an event, or for a project within the individual school. The class received five worthy applications, professor Ryan Burger said, but in the end, St. Paul's Lutheran School was selected.
"They're struggling to do math testing and getting things done through technology," senior Faith Hanson said. "I grew up in a community where this actually happened to me in middle school, so I felt a connection to them."
A celebration was held on Concordia's campus December 6, where students presented a check to Lutkehus and had the opportunity to visit and learn more about St. Paul's and the school's plans for the grant funds.
St. Paul's Lutheran School, active for more than 75 years, strives to help children reach their full potential as Christian citizens of the world, according to the school's website. The school currently has 59 students ranging from preschool to fifth grade, according to their grant application.
"St. Paul's is a fun, energetic and Christ-centered environment for our students to engage in learning about the World and the Word," Kendra Caskey, St. Paul's Lutheran School Board chairperson, wrote in the grant application.
The Church Body works hard in keeping the environment lively and up to date, Caskey wrote, but the school has a need for assistance with technology.
"Many of our machines are hand-me-down units," she wrote. "They were a wonderful investment at the time and have served us well, but we are in need of upgrading to assist teachers and students in our regular MAPS testing initiatives at the school."
The Auditing class is offered every other fall semester. Burger said the idea for the grant project started a few years ago after talking with his cousin who was attending a different midwestern university. One of his most interesting classes, Burger said, was business management where students learned about leadership through giving.
"I thought we can and should be doing this at Concordia," he said.
Burger said he brought the idea for the grant to this year's class after the 2016 class shared their ideas about forming committees and evaluating the impact of giving.
"I introduced these concepts to the 2018 students and they just ran with it," he said.
Students in the 2018 class formed two committees—one that developed the grant's criteria and one that focused on the fundraising and marketing. Fundraising efforts included visiting local businesses to tell them about the plan and goal, Hanson said. Many lessons were learned throughout the entire process, she said.
"The first one is communication is key when working with other people," Hanson said. "Going into group projects, not everyone communicates the same way, so being thorough with details is immensely important."
Hanson said the biggest lesson she learned is that people are willing to offer their support for a good cause.
"Not only did a lot of people reach into pockets for help, but it was for a good cause," Hanson said. "That sheds a good light on human nature and if things get rough, we're willing to help each other out."
Students managed the grant project in addition to their regular course work, Burger said, there was no reduction to homework or exams. His goal is to build on this year's momentum and increase the fundraising goal and impact for the 2020 class.
"I thank God for the 2018 Auditing class students," Burger said. "They are truly leaders in the church and world."
Students in the 2018 Auditing class were:
Matthew Goltl, Faith Hanson, Mathew Armstrong, Annie Schmidt, Madison Horne, Taryn Thomas, Tabatha Jones, Lindsey Carley, Jonathan Rippe, Cole Humble, Dalton Goodenberger and Emma Gremmer.