Concordia artists recognized with art awards and scholarships
Published by Concordia University, Nebraska 8 years ago on Sun, Apr 6, 2014 9:39 AM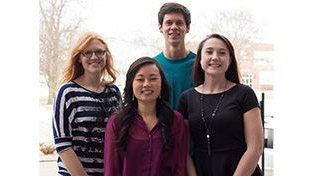 Paula Leibbrandt, Leah Eklof, Dane Stahr and Jenelle Hallaert were among the top honorees recognized at Concordia's annual student art show March 30.
Twenty-two students in the Concordia art department received scholarship endowments as part of Concordia's annual student art show. The show opened March 30 in the Marxhausen Gallery of Art. The show features work by dozens of student artists and will remain on display through April 11.
"The department is blessed to have five endowments that support students and the arts monetarily. Student work highlights the talent in our department," Associate Professor of Art and Art Department Chair Don Robson said.
Entries were judged by Concordia's full-time art faculty, with scholarships and awards selected according to criteria set by those who established the endowments for each award.
This year's Leo Sieck Endowment was awarded to Ashley Canfield, a freshman from Crete, Neb. The Sieck Endowment is awarded to an art major in the top 10 percent of his or her class who shows great scholarship in art history, theory and research.
Three students were selected as recipients of the Class of 1933 Endowment, an award for students studying Lutheran education and service to the church. This year's recipients were Sylvia Braun, a junior from Jefferson City, Mo., Carrie Jo Hartman, a senior from Onawa, Iowa, and Grace Hollenbeck, a junior from Parker, Colo.
The Wayne and Wanda Lillich Endowment recognizes students of graphic design who exemplify professionalism, high quality and attention to their design work. Recipients were senior Leah Eklof of Cokato, Minn., senior Paula Leibbrandt of Imperial, Neb., and senior Dane Stahr of Lincoln, Neb.
Stahr also received the Brommer Award for his strong witness of Christian faith, exceptional work as a student and variety of work represented in the student exhibition.
The Marxhausen Endowment, established by Reinhold Marxhausen and family, recognizes exceptional artwork and ability across a broad group of students and art media. The best of show award went to senior Jenelle Hallaert of Omaha, Neb. Other recipients of the Marxhausen award include:
Sarah Bowe, junior, Omaha, Neb.
Amber Deepe, junior, Deshler, Neb.
Clyde Ericson, freshman, Osceola, Neb.
Danielle Harstad, sophomore, Lewiston, Minn.
Randi Janzen, freshman, Hampton, Neb.
Alyssa McAfee, senior, Cairo, Neb.
Brandon Ramos, junior, Wailuku, Hawaii
Alison Schuerman, senior, Crete, Neb.
Grace Stange, freshman, Lawrenceburg, Ind.
Jessy Sweet, sophomore, Colorado Springs, Colo.
Mitchell Volk, junior, Lincoln, Neb.
Hannah Willison, sophomore, Manning, Iowa
Micah Witt, sophomore, Faribault, Minn.
Luke Wohlgemuth, Alton, Iowa
The exhibit is open to the public, free of charge. The Marxhausen Gallery is the on-campus exhibition space for Concordia and hosts a variety of exhibitions each year. It is located in Jesse Hall and is open 11 a.m. to 4 p.m. Monday–Friday and 1 to 4 p.m. Saturday and Sunday.