Concordia and ESU 6 partner on career transition program
Published by Logan Tuttle 4 months ago on Fri, May 28, 2021 9:58 AM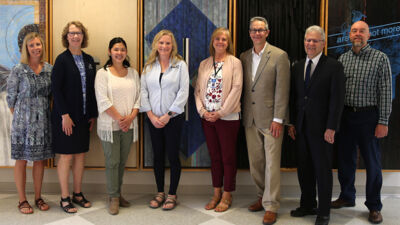 Concordia University and ESU 6 partners collaborating on the CRAVE program partnership include, from left: Dr. Amanda Geidel, Concordia special education program director; Dr. Lorinda Sankey, dean of Concordia's College of Education, Health and Human Sciences; Amanda Hinds, CRAVE Concordia site coordinator; Dr. Michele Rayburn, ESU 6 student services supervisor; Mary Phillips, ESU 6 director of student services; Dr. John Skretta, ESU 6 administrator; Rev. Russ Sommerfeld, Concordia interim president and Matt Myers, Concordia English as a Second Language coordinator.
Through a partnership with Educational Service Unit (ESU) 6 in Milford, Concordia University, Nebraska will offer a variety of career practice opportunities for secondary students with disabilities to help them learn skills needed to secure and maintain employment after graduating high school.
"We are honored to serve our community in this way and to help young people become equipped for their vocations through their experiences of holding jobs and serving throughout our campus," said Rev. Russ Sommerfeld, Concordia interim president. "We look forward to them being part of our community."
The program, titled Career Readiness and Vocational Education (CRAVE), is designed for special education students ages 18-21 who are currently in high school, as a way to support their transition into adulthood. Career, academic and domestic skills that are an integral part of the adult world are also emphasized and embedded throughout the day. While ESU 6 serves 16 school districts, the demand for the program has outgrown its initial space at Southeast Community College's Milford campus.
"Concordia is a key partner in preparing and developing future educators, and for us to be able to capitalize on an opportunity to have a transition program for students with disabilities, it gives us an opportunity to strengthen the partnership and connection," said Dr. John Skretta, ESU 6 administrator.
CRAVE students will have the ability to work on campus in a variety of roles including custodial services, dining services, residential hall services, office assistance and landscaping and groundskeeping. The program will have dedicated space on campus, which students will use as a hub for check-ins, instructional time and lunch. Students will also learn practical skills, such as how to complete a job application, write a resume and how to conduct themselves in an interview.
"Through this partnership, we are helping to provide CRAVE students a safe, unique and valuable opportunity to practice vocational skills in a variety of job settings on campus," said Dr. Amanda Geidel, Concordia's special education program director. "It also provides them with opportunities to increase their social skills through a variety of interactions on campus with their peers, who can serve as communication partners, role models and friends."
Concordia students majoring in special education will have opportunities to have internship and observational experiences, where they can practice and refine their preparation to become educators, in addition to becoming mentors, tutors and instructors.
"This is a huge blessing for our campus," said Geidel. "We're going to have the opportunity to work, learn and grow alongside some very wonderful new members of our community."
About Concordia University, Nebraska
Concordia University, Nebraska, founded in 1894, is a fully accredited, coeducational university located in Seward, Nebraska, which currently serves more than 2,500 students. Concordia offers more than 100 undergraduate, graduate and professional programs in an excellent academic and Christ-centered community that equips men and women for lives of learning, service and leadership in the church and world. For more information, visit cune.edu.
About Educational Service Unit 6
Educational Service Unit 6 serves public school districts in the counties of Seward, Saline, York, Fillmore, and Lancaster Counties, east from Waverly and west to Heartland (Henderson/Bradshaw). ESU 6 provides crucial technology, student services, professional development/staff training, instructional materials and consultative support for 16 public school districts representing nearly 1,000 teachers and over 14,000 students. For more information, visit esu6.org.