Concordia alumnus spreads message of restoration in New Orleans
Published by Concordia University, Nebraska 6 years ago on Wed, Feb 25, 2015 9:31 AM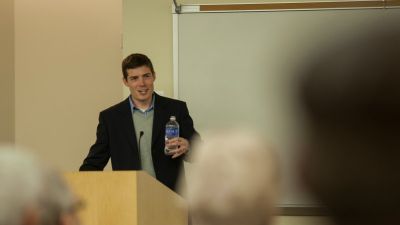 Concordia alumnus Kurt Jostes, director of advancement for Camp Restore (RAI Ministries, Inc.), presented about the post-Hurricane Katrina recovery process of New Orleans at Concordia on Monday, Feb. 23.
Rebuilding and restoring New Orleans was Concordia alumnus Kurt Jostes' message during his presentation at Concordia on Feb. 23. Jostes' presentation was open to the public and concluded with a question and answer session.
Jostes' message titled "Katrina + 10: Restoration and Reconciliation in New Orleans and Beyond" focused on the hope he sees in New Orleans 10 years after the devastating flood effects of Hurricane Katrina. He said the people in the city embrace volunteers and have a great deal of hope in the rebuilding process.
"You don't expect to find the happiest people you've ever met down there, but you do," said Jostes.
He also talked about the diverse history of New Orleans, the situations of poverty in the Lower Ninth Ward and the joy of working together and embracing diversity throughout the country.
"We're a diverse country. I think we can embrace that and see that as a positive and not as a negative," said Jostes. "But it takes work. … Loving our neighbor and going about in our callings as Christians is a good step in the right direction."
Jostes is the director of advancement for Camp Restore (RAI Ministries, Inc.) and lives in New Orleans with his wife, Rebecca. A Kellogg Fellow and a member of the Association of Lutheran Development Executives, Jostes graduated from Concordia University, Nebraska in 2007 and was named its Young Alumnus of the Year in 2012.
Camp Restore is a volunteer group in New Orleans with a mission to restore faith, home and community in the name of Jesus Christ. The organization houses, feeds and equips nearly 3,000 volunteers per year who work on a wide range of community projects. The organization began in conjunction with Prince of Peace Lutheran Church and School in 2006. Camp Restore also works with other non-profit projects, such as the Lower 9th Ward and New Orleans East Senior Centers, as well as environmental restoration in the wetlands areas.
For more information on Camp Restore and its work in New Orleans, visit camprestore.org.
Jostes' presentation is part of the Looking Beyond Speaker Series, which is made possible through an ongoing gift from Martin and Regina Maehr. The series was created to expose Concordia students and the Seward community to diverse speakers and ideas.