Community partners produce unique on-stage performance for 2016 Jones Fine Art Series
Published by Concordia University, Nebraska 4 years ago on Fri, Apr 1, 2016 11:50 AM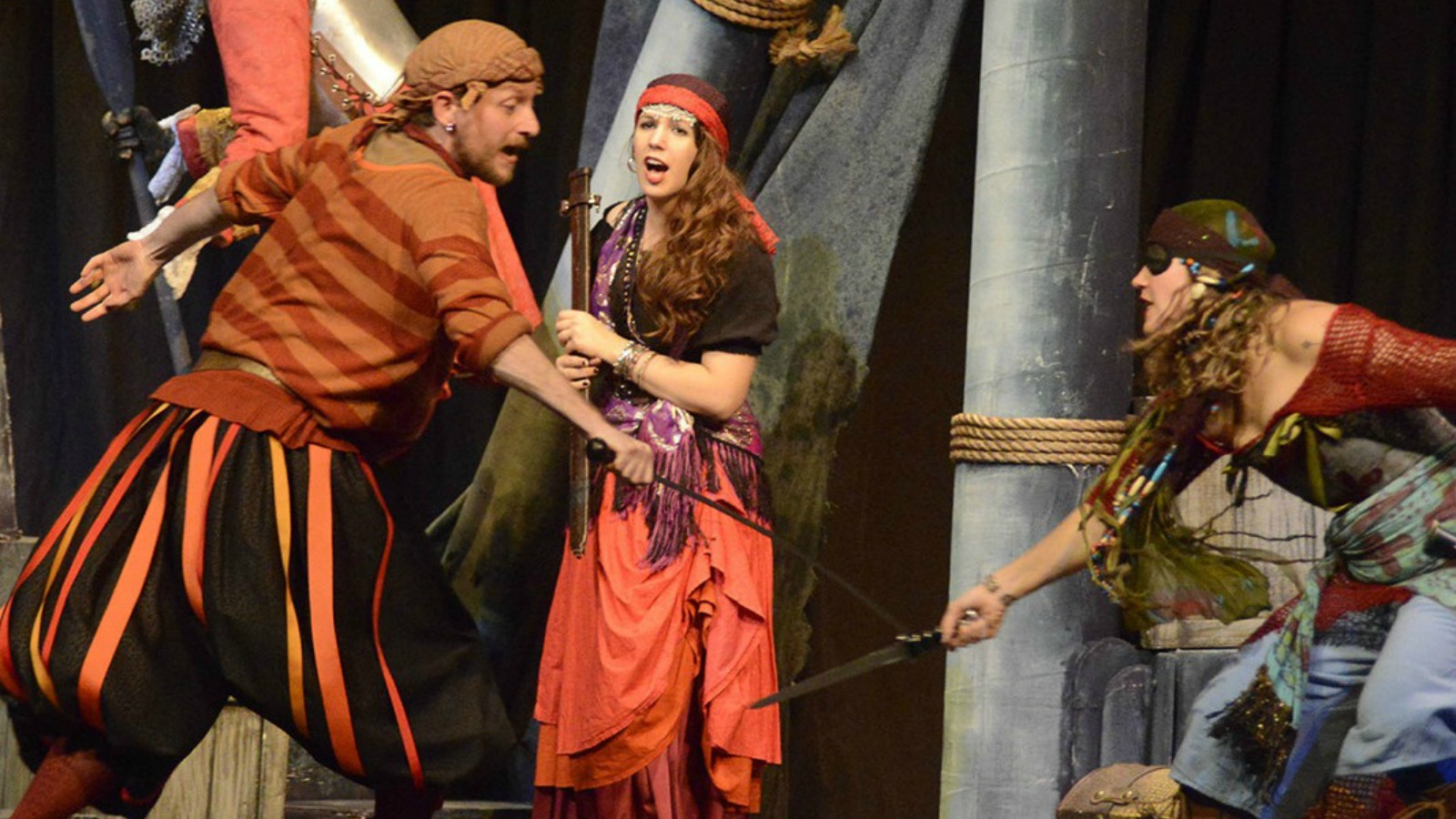 The 2016 Jones Fine Art Series, made possible by Concordia University, Nebraska and Jones National Bank and Trust Company in Seward, Nebraska, will feature professional theatre director and performer Vincent Carlson-Brown as the guest artist for the 2016 Jones Fine Art Series.
A highly versatile actor with the Nebraska Shakespeare Company, Carlson-Brown will lead a Shakespearean theatrical stage combat workshop for community members, Concordia students and high school students on April 16, 2016, from 1 to 4 p.m. in Weller Hall auditorium on campus at Concordia.
He will then direct a performance called "Real Steel: Fight Night," featuring Concordia students and workshop participants live on stage at the Rivoli Theater in Seward that evening starting at 6 p.m. The performance will be followed by an after party at Jones National Bank and Trust Company in downtown Seward.
"Vincent's creativity and expertise in teaching Shakespearean theatre techniques to amateur performers is fascinating to watch," said Concordia's Associate Professor of Communication and Theatre Bryan Moore. "Having him as our Jones Fine Art Series featured artist gives our students as well as the community a rare opportunity to perform in a fun, unique type of performance style under the direction of a professional actor and director."
All Jones Fine Art Series activities are free to participate in or attend.
Registration is required to participate in the workshop. Community members, Concordia students and high school students can register to participate in the stage combat workshop atcune.edu/jfas. A maximum of 30 workshop participants will be accepted on a first-come, first-served basis.
Those attending the evening performance at the Rivoli Theater will need a free ticket for admission. Audience members can also get a complimentary small buttered popcorn and small drink upon admission. Those who have a ticket but decide not to use their ticket are encouraged to return it to the place they obtained it in order to allow others to attend this limited-seating event.
Tickets will be available starting Wednesday, April 6, at these Seward locations:
Rivoli Theater, 533 Main Street
Jones National Bank and Trust Company, 203 South 6th Street
Concordia Bookstore in Janzow Campus Center off East Lincoln Street
Carlson-Brown is also available to lead a mini workshop at middle or high schools on one of these dates: April 6, 7, 8, 11, 12, 13 or 14. Each workshop is 45 minutes to one hour long and can accommodate 15 to 25 participants. Three workshop topics are available. School leaders can get details at cune.edu/jfas.
Schedule of Events: April 16, 2016
Community members can participate in an immersive stage combat workshop or attend the performance on stage at Seward's Rivoli Theatre.
Real Steel workshop: Hand-to-hand combat workshop available to community members, high school students and Concordia students. Previous theatre experience is not required—anyone high school age and older is welcome to participate.
1 to 4 p.m., Weller Hall Auditorium, Concordia University
Real Steel: Fight Night performance: Live combat scenes performed by workshop participants and scenes from Shakespeare by Concordia students on stage
Rehearsal is 4:30 to 5:30 p.m., Rivoli Theater, Downtown Seward
Performance is 6 to 7:30 p.m., Rivoli Theater, Downtown Seward
Red Carpet After Party: Social gathering including refreshments, open to the public
7:30 to 9 p.m., Main Lobby, Jones National Bank and Trust Company
About Vincent Carlson-Brown
Carlson-Brown graduated with a Bachelor of Arts in theatre from the University of Nebraska at Omaha in 2004. He has worked in theatre roles from carpentry and sound design to producer and director.
This year will mark Carlson-Brown's 16th season with Nebraska Shakespeare, appearing in 17 productions On the Green in Omaha, Nebraska. He has toured with Utah Shakespeare, NTC Productions, the Great Plains Theatre Conference and for the six years of Nebraska Shakespeare On Tour. For Nebraska Shakespeare, Carlson-Brown is proud to have worked as security; carpenter; sound designer; assistant director; camp instructor; on tour road manager; as well as producer, director, actor and fight director.
About the Jones Fine Art Series
The Jones Fine Art Series is meant Each year, Concordia University, Nebraska, together with Jones National Bank and Trust Company of Seward, invites a distinguished artist to participate in the Jones Fine Art Series. The event, designed to enhance the music, theater and art experiences available to Concordia University and the Seward community.