Community celebrates during Christmas at Concordia weekend events
Published by Concordia University, Nebraska 5 years ago on Tue, Dec 8, 2015 10:05 AM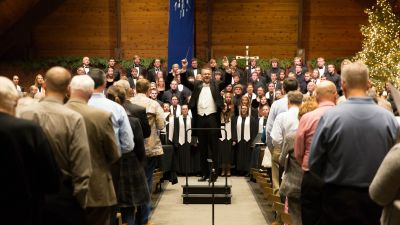 Concordia's Professor of Music Dr. Kurt von Kampen directs the congregation to sing with the choirs during Christmas at Concordia concert the weekend of Dec. 4–6, 2015.
Christmas at Concordia weekend Dec. 4–6, 2015, included three events as part of Concordia University, Nebraska's annual Christmas celebration: Christmas at Concordia concerts, a community open house and the Scholarship Parade of Homes. Video highlights of some of the weekend's events and other Concordia community Christmas traditions can be seen at cune.edu/deckthehalls.
Four Christmas at Concordia concerts brought more than 3,000 Concordia students, faculty and staff, alumni and community members to St. John Lutheran Church near campus. The concerts featured the University A Cappella Choir, Male Chorus, Women's Chorale, University Symphonic Band, Concordia Handbell Choir and University Brass Ensemble.
Scripture readings, original music from Concordia faculty and traditional hymns that invited congregation participation were part of the celebration. Songs included "Hark! The Herald Angels Sing," "Angels We Have Heard on High," "O Come, All Ye Faithful," and "A Stable Lamp is Lighted," among others.
Concordia hosted the second annual community Christmas open house, made possible through the generous support of Jones National Bank & Trust Co., on Dec. 6 in the Cattle Conference Room of the Janzow Campus Center. The reception included blue and silver holiday decorations, holiday-inspired refreshments and Christmas music. Concordia President Brian Friedrich and Jones National Bank & Trust Co. President Max Wake recognized the hard work of all who helped to organize the weekend's events and acknowledged that events like those that happen during Christmas at Concordia weekend help to create meaningful experiences for the Seward community.
The open house also included the traditional Christmas tree lighting near the university's Holthus Family Plaza just north of the Janzow Campus Center. The lighting of the tree was sponsored by the Seward associates of Thrivent Financial. Community members are invited to visit the Christmas tree and plaza at any time.
The other event of the weekend included the 21st annual Scholarship Parade of Homes, raising scholarship dollars for high school seniors in Seward County who will attend Concordia University, Nebraska in Seward or Southeast Community College in Milford. The featured homes were those owned by Kurth and Jessica Brashear, Roger and Carrie Fitzke, Kyle and Allison Garrett Johnson, Mark and Ingrid Minchow and Steve and Jenny Pinkall. All homes have unique structural and design elements and are decorated in celebration of Christmas. The Scholarship Parade of Homes has raised more than $65,000 in cumulative scholarship funds since it began in 1995.
All events support Concordia's mission of equipping men and women for lives of learning, service and leadership in the church and world.
Concordia students who performed in the Christmas at Concordia concerts include (alphabetical by state, city, and last name):
Cameron Christiansen, junior, Palmer, Alaska, University A Cappella Choir, Bass II
Joe Pierson, junior, Van Buren, Ariz., University A Cappella Choir, Bass I
Julia Tyree, senior, Benicia, Calif., Women's Chorale, Alto I
Sarah Huhn, sophomore, Escondido, Calif., Women's Chorale, Soprano II
Hope Taylor, junior, Foothill Ranch, Calif., University A Cappella Choir, Alto I
Laura Wiederrich, senior, Lodi, Calif., Women's Chorale, Soprano II
Jacob Fink, sophomore, Long Beach, Calif., University A Cappella Choir, Bass I
Ashley Johnson, junior, Long Beach, Calif., Women's Chorale, Soprano II
Ryan Gross, senior, Riverside, Calif., University Brass Ensemble, University Symphonic Band and Concordia Handbell Choir, Trumpet in Symphonic Band
Lindsay Sampson, junior, Tustin, Calif., University A Cappella Choir, Alto I
Jordan Haywood, freshman, Arvada, Colo., Women's Chorale, Alto I
David Krueger, freshman, Aurora, Colo., University Symphonic Band, Alto Saxophone
Cameron Yee, sophomore, Berthoud, Colo., Male Chorus, Bass II
Naomi Bauer, freshman, Cascade, Colo., University Symphonic Band, Oboe
Abby Schellpfeffer, sophomore, Centennial, Colo., University A Cappella Choir, Alto II
Paul Hammes, freshman, Colorado Springs, Colo., University Symphonic Band, Bassoon
Philip Stahly, junior, Erie, Colo., Male Chorus, Tenor I
Benjamin Leeper, junior, Falcon, Colo., University A Cappella Choir, Bass I
Allison Caudle, junior, Greeley, Colo., Women's Chorale, Alto II
Megan Vieselmeyer, freshman, Holyoke, Colo., Women's Chorale, Soprano II
Cassie Nagel, junior, Lafayette, Colo., University Symphonic Band, Flute
Grace Stults, sophomore, Monte Vista, Colo., Women's Chorale, Soprano II
Annie Schmidt, freshman, Rifle, Colo., Women's Chorale, Alto I
Paul symes, freshman, Woodland Park, Colo., University Symphonic Band, Clarinet
Brianna Bossle, junior, Coral Springs, Fla., University Symphonic Band and Women's Chorale, Percussion and Soprano II, respectively
Meredith Locke, sophomore, Winter Haven, Fla., University A Cappella Choir, Soprano I
Christina Bernard, sophomore, Port-Au-Prince, Haiti, Women's Chorale, Alto I
Larissa Geyer, Arlington Heights, Ill., Women's Chorale, Alto I
Hafeez Oladipo, freshman, Chicago, Ill., University A Cappella Choir, Bass II
Quincy Rensner, junior, Effingham, Ill., Women's Chorale, Alto I
Sydney Heimann, junior, Galesburg, Ill., University Symphonic Band, Trombone
Jacob Henson, senior, Herrin, Ill., Concordia A Cappella Choir and Concordia Handbell Choir, Bass I and Handbells, respectively
Joel Prince, junior, Mascoutah, Ill., Male Chorus, Tenor I
Jacob Roggow, freshman, Moro, Ill., Male Chorus, Bass II
Lauren Sperry, sophomore, Oneida, Ill., Women's Chorale, Soprano II
Mariah Boberg, freshman, Park Ridge, Ill., Women's Chorale, Soprano I
Matthew Kortze, freshman, Rockford, Ill., University A Cappella Choir, Bass II
Sarah Krause, junior, Rockford, Ill., University A Cappella Choir, Soprano I
Rachel Krause, senior, Rockford, Ill. , Women's Chorale, Soprano I
Alyssa Newton, PB, Rockford, Ill., University A Cappella Choir, Alto II
Micah Schalow, freshman, Rockford, Ill., University Symphonic Band, Trombone
Anne Jesgarz, freshman, Shelbyville, Ill., Women's Chorale, Soprano II
Beatrice Lala, freshman, Springfield, Ill., Women's Chorale, Soprano II
Jonathan Grant, freshman, Waterloo, Ill., University Symphonic Band, Trumpet
Leah Maag, senior, Waterloo, Ill., Concordia Handbell Choir
Sarah Mueller, freshman, Wheaton, Ill., University A Cappella Choir, Soprano II
Josh Wudtke, senior, Collinsville, Ill., University Symphonic Band, Percussion
Karina Keating, junior, Woodstock, Ill., University Symphonic Band and Women's Chorale, Flute and Soprano I, respectively
Kaleb Busche, PB, Ft. Wayne, Ind., Male Chorus, Tenor II
Elizabeth Moses, freshman, Columbus, Ind., Women's Chorale and Concordia Handbell Choir, Soprano II and Handbells, respectively
Jennifer Reynolds, senior, Fort Wayne, Ind., University Brass Ensemble and University Symphonic Band, University A Cappella Choir, Concordia Handbell Choir, Trumpet, Alto I and Handbells, respectively
Andrew Bloch, senior, Seymour, Ind., University A Cappella Choir, Tenor I
Cole Wohlgemuth, sophomore, Alton, Iowa, University Brass Ensemble and University Symphonic Band, Euphonium
Chelsea Wohlgemuth, sophomore, Alton, Iowa, Women's Chorale, Alto I
Morgan Eggert, sophomore, Atkins, Iowa, Women's Chorale, Alto II
Matthew Gerhold, freshman, Atkins, Iowa, University A Cappella Choir, Tenor I
Garion Consier, freshman, Churdan, Iowa, Male Chorus, Tenor II
Charity Espinosa, sophomore, Clarinda, Iowa, University Symphonic Band, Euphonium
Megan Barz, sophomore, Dubuque, Iowa, Women's Chorale, Alto I
Dorian Doremus, junior, Grimes, Iowa, University Symphonic Band, Percussion
Morgan German, freshman, Holstein, Iowa, Women's Chorale, Soprano I
Elizabeth Ericksen, freshman, Le Mars, Iowa, Women's Chorale, Soprano I
Emily Jensen, senior, Sioux City, Iowa, University A Cappella Choir, Soprano II
Amanda Segebart, freshman, Sioux City, Iowa, University Symphonic Band, Clarinet
Luke Kaldahl, senior, Spencer, Iowa, University A Cappella Choir, Tenor II
Peter Klinge, senior, State Center, Iowa, University A Cappella Choir, Tenor II
Rebecca Eichler, senior, Webster City, Iowa, Women's Chorale, Alto II
Isaiah Armbrecht, freshman, Williamsburg, Iowa, University A Cappella Choir, Bass I
Janelle Adams, sophomore, Andover, Kan., University Symphonic Band, Flute
Jayme Lowe, freshman, Atchison, Kan., Women's Chorale, Soprano II
Kaleb Weinkauf, freshman, Basehor, Kan., University Symphonic Band, Alto Saxophone
Cody Rengstorf, freshman, Bremen, Kan., Male Chorus, Bass II
Elizabeth Frakes, freshman, Ellinwood, Kan., University Symphonic Band and Women's Chorale, Flute and Soprano I, respectively
Caleb Wehling, junior, Liberal, Kan., , University Symphonic Band, Flute and Percussion
Katherine Wehling, freshman, Liberal, Kan., University Symphonic Band and Women's Chorale, Flute and Alto I, respectively
Nathanael Patron, freshman, North Newton, Kan., University A Cappella Choir, Tenor I
Marcelino Varona Ortiz, senior, Olathe, Kan., University Symphonic Band, Flute
Leah Werling, freshman, Solomon, Kan., University Symphonic Band and Women's Chorale, Clarinet and Alto I, respectively
Kelsey Adcock, sophomore Wamego, Kan., University Symphonic Band, Clarinet
Christian Schultz, senior, Wamego, Kan., University Symphonic Band, University A Cappella Choir and Concordia Handbell Choir, Percussion, Bass II and Handbells, respectively
Sloane Crawshaw, junior, Wichita, Kan., Women's Chorale, Alto II
Helena Dieckhoff, senior, Wichita, Kan., University A Cappella Choir, Soprano II
Molly Goltl, sophomore, Wichita, Kan., University Symphonic Band, Alto Saxophone
Austin Theriot, junior, Lake Charles, La., University A Cappella Choir, Bass II
Josiah Schultz, freshman, Bay City, Mich., University Symphonic Band, Euphonium
Madeline Bickel, freshman, Birch Run, Mich., University Symphonic Band, Clarinet
Charlotte Mueller, junior, Frankenmuth, Mich., University Symphonic Band and University A Cappella Choir, Alto Saxophone and Alto II, respectively
Emily Sievert, sophomore, Frankenmuth, Mich., University A Cappella Choir, Soprano I
Emily Fehn, sophomore, Freeland, Mich., Women's Chorale, Soprano II
Thomas Wyatt, senior, Bethel, Minn., Male Chorus and Concordia Handbell Choir, Bass I and Handbells, respectively
Hannah Davis, freshman, Coon Rapids, Minn., University A Cappella Choir, Soprano II
Albert Boldt, freshman, Hewitt, Minn., University A Cappella Choir, Tenor I
Mark Esser, sophomore, Mayer Minn., Male Chorus, Tenor I
Rebecca Trautman, senior, Moorhead, Minn., University A Cappella Choir and Concordia Handbell Choir, Alto II and Handbells, respectively
Micah Holten, sophomore, Nicollet, Minn., University A Cappella Choir, Tenor II
Libby Klein, junior, Northfield, Minn., Women's Chorale, Alto I
Mason Koeritz, senior, Northrop, Minn., University A Cappella Choir, Bass I
Megan Suter, junior, Owatonna, Minn., University Symphonic Band, Percussion
Rebekah Rusert, freshman, Truman, Minn., Women's Chorale, Alto II
Cadence Klemp, sophomore, Winona, Minn., University Symphonic Band and University A Cappella Choir, Flute and Soprano II, respectively
Shannon O'Brien, freshman, Winona, Minn., Women's Chorale, Alto II
Jenna O'Laughlin, sophomore, Winona, Minn., Women's Chorale, Alto II
Ethan Symmank, Woodbury, Minn., Male Chorus, Tenor I
Alexis Burrow, freshman, Concordia, Mo., University Symphonic Band, Trumpet
Benjamin Hayter, junior, Concordia, Mo., University A Cappella Choir, Tenor II
Emily Kollbaum, junior, Concordia, Mo., University A Cappella Choir, Alto I
Vanessa Marsh, freshman, Concordia, Mo., University A Cappella Choir, Soprano I
Timothy Mehl, sophomore, Concordia, Mo., University A Cappella Choir, Bass II
Derek Theiss, senior, Farrar, Mo., University Symphonic Band, Tenor Saxophone
Kenton Burgess, sophomore, Lee's Summit, Mo., Male Chorus, Tenor II
Emma Gottschamer, sophomore, Lee's Summit, Mo., Women's Chorale, Alto I
Emma Gottschamer, sophomore, Lees Summit, Mo., Concordia Handbell Choir
Todd Rakow, sophomore, Lohman, Mo., Male Chorus and Concordia Handbell Choir, Tenor I
Abby Whitener, sophomore, Manchester, Mo., Women's Chorale, Soprano II
Todd Brueckner, junior, Perryville, Mo., University Symphonic Band, Oboe
Angela Steinbacher, junior, Saint Charles, Mo., Women's Chorale, Alto II
Erin Rowland, freshman, Saint Peters, Mo., Women's Chorale, Soprano II
Amanda Segebart, freshman, Sioux City, Mo., Women's Chorale, Alto I
Andrew Crist, junior, Springfield, Mo., Male Chorus, Bass I
Karl Rovey, senior, Springfield, Mo., University Symphonic Band, Trumpet
Sarah Brutlag, junior, St. Louis, Mo., University Symphonic Band and Women's Chorale, Flute and Soprano I, respectively
Tationa Trice, freshman, St. Louis, Mo., Women's Chorale, Alto I
Sabrina Hayter, sophomore, Union, Mo., Women's Chorale, Alto II
Samantha Coomer, sophomore, Wentzville, Mo., Women's Chorale, Soprano II
Allison Ebel, sophomore, Billings, Mont., Women's Chorale, Soprano I
Joel Marquardt, senior, Denver, N.C., University Brass Ensemble and University Symphonic Band, Percussion
Emily Theiss, junior, Raleigh, N.C., Women's Chorale, Alto I
Caleb Worral, sophomore, Fargo, N.D., University A Cappella Choir, Bass II
Erika Borslien, junior, West Fargo, N.D., Women's Chorale, Alto II
Jonathan Jahnke, senior, West Fargo, N.D., University A Cappella Choir, Tenor II
Sean Carpenter, senior, Hollis, N.H., Male Chorus, Tenor II
Marol Feickert, sophomore, Lawrenceville, N.J., Women's Chorale, Soprano I
Nathan Elbert, sophomore, Albuquerque, N.M., Male Chorus, Bass II
Talitha Elbert, senior, Albuquerque, N.M., University A Cappella Choir, Soprano II
Christa Groeling, sophomore, Albuquerque, N.M., Women's Chorale, Alto I
Erika Borslien, junior, West Fargo, N.D., University Symphonic Band, Clarinet
Mary Leising, senior, Arapahoe, Neb., Concordia Handbell Choir
Barbara Leising, senior, Arapahoe, Neb., University A Cappella Choir and Concordia Handbell Choir, Soprano II and Handbells, respectively
Andrea Leising, senior, Arapahoe, Neb., University Symphonic Band, Bass Clarinet
Ann Spilker, sophomore, Ashland, Neb., University Symphonic Band and University A Cappella Choir, Flute and Alto I, respectively
Mallory Parrish, sophomore, Auburn, Neb., University A Cappella Choir, Soprano II
Christine Ruskamp, senior, Auburn, Neb., Women's Chorale, Alto I
Zach Hagenson, senior, Bellevue, Neb., University A Cappella Choir, Tenor I
Megan Seim, junior, Chapman, Neb., University Symphonic Band, Clarinet
McKenzie Akeson, sophomore, Chappell, Neb., Women's Chorale, Soprano II
Courtney Burma, senior, Columbus, Neb., University Symphonic Band, Clarinet
Lauren Loop, freshman, Columbus, Neb., Women's Chorale, Alto II
Allison Mackie, sophomore, Columbus, Neb., Women's Chorale, Soprano I
Dane Pedersen, freshman, Columbus, Neb., University Symphonic Band, Tuba
Megan Sparling, senior, Columbus, Neb., University A Cappella Choir, Alto II
Paige Stadler, freshman, Columbus, Neb., University A Cappella Choir, Soprano II
Jacob Tuma, senior, Cordova, Neb., University A Cappella Choir, Tenor II
Naomi Ristvedt, senior, Crete, Neb., University Symphonic Band and Women's Chorale, Flute and Soprano II, respectively
Erik Hart, sophomore, Fairbury, Neb., University Symphonic Band, Trumpet
Nathan Klaumann, freshman, Fairbury, Neb., University Symphonic Band and University A Cappella Choir, Percussion and Tenor II, respectively
Karlene Embretson, sophomore, Falls City, Neb., Women's Chorale, Soprano II
Harmony Fiala, sophomore, Fremont, Neb., Women's Chorale, Alto I
Hope Moural, sophomore, Fremont, Neb., Women's Chorale, Alto I
Lauren Staehr, senior, Grand Island, Neb., University A Cappella Choir and Women's Chorale, Alto II
Caleb Staehr, freshman, Grand Island, Neb., University Symphonic Band and Male Chorus, Baritone Saxophone and Tenor I, respectively
Lindsey LaMountain, junior, Gretna, Neb., Women's Chorale, Alto II
Jonathan Rippe, freshman, Gretna, Neb., University A Cappella Choir and Concordia Handbell Choir, Tenor II and Handbells, respectively
Carly Rushman, sophomore, Gurley, Neb., Women's Chorale, Alto I
Michael Sanderson, sophomore, Hastings, Neb., Male Chorus, Bass I
Britnee Fear, freshman, Hershey, Neb., University Symphonic Band, Tuba
Brooke McNiel, sophomore, Holdrege, Neb., University Symphonic Band and Women's Chorale, Euphonium and Soprano II, respectively
Kara Blase, junior, Hordville, Neb., University Symphonic Band, Flute
Jacob Phelps, freshman, Humboldt, Neb., Male Chorus, Bass I
Michael Duffy, freshman, Kenesaw, Neb., Male Chorus, Bass II
Jessica Delgado, freshman, Lincoln, Neb., Women's Chorale, Alto I
Emma Haas, freshman, Lincoln, Neb., University Symphonic Band and Women's Chorale, Percussion and Soprano II, respectively
Chelsea Irwin, freshman, Lincoln, Neb., Women's Chorale, Soprano II
Grace Kohnke, freshman, Lincoln, Neb., University Symphonic Band, Tenor Saxophone
Clara Rich, senior, Lincoln, Neb., University A Cappella Choir, Alto I
Audrey Rich, freshman, Lincoln, Neb., University Symphonic Band and University A Cappella Choir, Horn and Alto II, respectively
Erika Troester, senior, Lincoln, Neb., University A Cappella Choir, Alto I
Hannah Rose, junior, Louisville, Neb., University Symphonic Band, Clarinet
Emma Schmeling, sophomore, Louisville, Neb., Women's Chorale, Alto II
Isaac Golke, freshman, Milford, Iowa, Male Chorus, Tenor II
Stephanie Coley, senior, Mitchell, Neb., University A Cappella Choir, Alto I
Angelica Blomenberg, junior, Norfolk, Neb., University Symphonic Band and Women's Chorale, Oboe and Soprano I, respectively
Cara Colligan, sophomore, Norfolk, Neb., University Symphonic Band, Clarinet
Paul Nelson, junior, Norfolk, Neb., Male Chorus, Bass I
Arrin Rathke, junior, Norfolk, Neb., Male Chorus, Bass I
Nathan Stolze, freshman, Norfolk, Neb., Male Chorus, Bass I
Shelby Stolze, senior, Norfolk, Neb., University A Cappella Choir, Alto II
Cassie Boeka, junior, North Platte, Neb., University Symphonic Band, Trumpet
Katherine Draucker, freshman, Ogallala, Neb., University Symphonic Band and Women's Chorale, Flute and Soprano II, respectively
Micah Most, freshman, Ogallala, Neb., University Symphonic Band and University A Cappella Choir, Clarinet and Tenor II, respectively
Elyssia Finch, senior, Omaha, Neb. , Women's Chorale, Soprano I
Hailey Hoemann, freshman, Omaha, Neb., Women's Chorale, Soprano II
Ethan Kesar, senior, Omaha, Neb., University Symphonic Band and University A Cappella Choir, Baritone Saxophone and Bass II, respectively
Tyler Miles, junior, Omaha, Neb., University A Cappella Choir, Bass II
Thomas Mollak, freshman, Omaha, Neb., Male Chorus, Bass II
Stephanie Van Blair, junior, Omaha, Neb., University A Cappella Choir, Alto II
Jazmyn Yates, freshman, Omaha, Neb., University Symphonic Band and University A Cappella Choir, Flute and Soprano II, respectively
Laura Hedstrom, junior, Oxford, Neb., University A Cappella Choir, Alto I
Lydia Jeppesen, freshman, Pleasant Dale, Neb., University Symphonic Band, Trumpet
Sarah Rogge, freshman, Pleasant Dale, Neb., Women's Chorale, Alto II
Joshua Wendland, freshman, Raymond, Neb., University Symphonic Band, Tuba
Rosa Gonzales, sophomore, Schuyler, Neb., Women's Chorale, Alto I
Benjamin Middendorf, junior, Scotia, Neb., Male Chorus, Bass I
Jordan Schut, junior, Scribner, Neb., University Symphonic Band, Tenor Saxophone
Cole Berry, junior, Seward, Neb., University Symphonic Band, Trombone
Joshua Brumm, freshman, Seward, Neb., University A Cappella Choir, Bass I
Victoria Kenow, junior, Seward, Neb., Women's Chorale, Alto I
Adam Meirose, senior, Seward, Neb., University A Cappella Choir, Bass I
Kayleah Moravec, freshman, Seward, Neb., University A Cappella Choir, Soprano I
Naomi Ristvedt, senior, Seward, Neb., University A Cappella Choir, Alto I
Karl Rovey, senior, Seward, Neb., University A Cappella Choir, Bass II
Elisha Scheiber, sophomore, Seward, Neb., University A Cappella Choir, Alto I
Miranda Stamm, freshman, Seward, Neb., Women's Chorale, Alto I
Andrea von Kampen, junior, Seward, Neb., University A Cappella Choir, Soprano I
Lauren Wilcox, sophomore, Seward, Neb., University A Cappella Choir, Soprano II
Beth Williams, senior, Seward, Neb., University A Cappella Choir, Alto II
Matthew Wunderlich, freshman, Seward, Neb., Male Chorus, Bass II
Annie Wunderlich, freshman, Seward, Neb., University Symphonic Band and Women's Chorale, Flute and Soprano II, respectively
Cameron Loges, sophomore, Seward, Neb., Male Chorus, Tenor II
Melody Niemoth, freshman, South Bend, Neb., University Symphonic Band and Women's Chorale, Clarinet and Soprano II, respectively
Katie Tlusty, freshman, Staplehurst, Neb., Women's Chorale, Soprano II
Emily Hayes, sophomore, Superior, Neb., Women's Chorale, Soprano I
Emma Heidorn, freshman, Utica, Neb., Women's Chorale, Soprano II
Joel Ristvedt, sophomore, Utica, Neb., University Brass Ensemble and University Symphonic Band, Horn
Caleb Ristvedt, freshman, Utica, Neb., University Symphonic Band, Trombone
Michaela Curran, senior, Wahoo, Neb., Women's Chorale, Alto I
Jalyn Woollen, senior, Wilcox, Neb., Women's Chorale, Alto I
Sierra Jacob, freshman, Winnebago, Neb., Women's Chorale, Alto I
Madeline Luehr, freshman, Wood River, Neb., University Symphonic Band, Alto Saxophone
Allison Seeliger, sophomore, Edmond, Okla., University Symphonic Band, Clarinet
Eric Souer, junior, Venetia, Pa., University A Cappella Choir, Tenor I
Justus Utecht, freshman, Rosebud, S.D., Male Chorus, Bass I
Devon Thompson, sophomore, Sioux Falls, S.D., Male Chorus, Tenor I
Kaitlyn Ternus, freshman, Valley Springs, S.D., Women's Chorale, Soprano II
Grace Woelmer, junior, Allen, Texas, University A Cappella Choir, Alto II
Alberto Barrientos, freshman, Austin, Texas, University Symphonic Band, Tuba
Timothy Rasch, freshman, Denton, Texas, University A Cappella Choir, Bass II
Krista Schmidt, sophomore, Giddings, Texas, University Symphonic Band, String bass
Rachel Dorn, freshman, Houston, Texas, University Symphonic Band and Concordia Handbell Choir, Percussion and Handbells, respectively
Melody Easter, freshman, Houston, Texas, Women's Chorale, Soprano II
Mikayla Eifert, sophomore, Houston, Texas, University Symphonic Band, Trombone
Emma Gremmer, freshman, New Braunfels, Texas, University A Cappella Choir, Alto II
Aaron Strackbein, sophomore, San Antonio, Texas, University A Cappella Choir and Male Chorus, Bass II
Kaitlyn Christensen, freshman, Kenosha, Wis., Women's Chorale, Alto II
Victoria Welter, junior, Slinger, Wis., University A Cappella Choir, Soprano I
Abigail Wisniewski, freshman, Withee, Wis., Women's Chorale, Alto I