The Class of 1968 came out in force at the Golden Reunion
Published by Concordia University, Nebraska 3 years ago on Mon, May 21, 2018 12:17 PM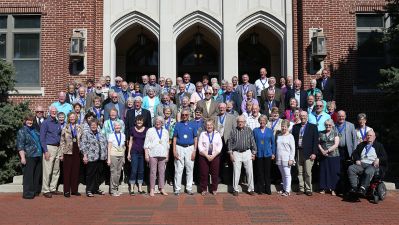 One of the highlights of Commencement weekend is the Golden Reunion and this year was no exception. To kick off the reunion for the Class of 1968, classmate Pastor Vern Ermeling of Litchfield, Arizona, inspired the Concordia campus with his "7 Ups—for today and life!" These include wake up, dress up, listen up, stand up, look up, reach up, lift up, and bonus—FIRE UP!
Fired up was the enthusiasm of over 100 attendees who returned to campus to celebrate with their classmates. Campus tours, presentations, socials and meals provided the opportunity to reconnect and reminisce. For many, the special moment of leading the procession into the Walz arena ahead of the 2018 graduates was especially memorable. Proudly wearing their "golden" medallions the Class of 1968 were able to join with the entire Concordia family in singing the Tower song during the service.
"The reunion was so much more that I could have anticipated it could be," said Lois Mannigel of Lincoln, Nebraska. "The events planned were absolutely wonderful - especially the A Cappella mini-concert. The president was also ever present which meant a lot to us - that made us feel so honored. All that terrific food was really great. The medal and memory book were tangibles that will keep the weekend alive for a long time to come. We felt a real part of the whole celebration in baccalaureate, graduation and prayer."
There were so many wonderful events, but the hugs and well wishes on Sunday as everyone left was a clear picture of the experience. Old friends reconnected and new relationships were ignited and memories to last a lifetime!
"Thanks again for a great reunion," said Jackie and John Kosewick of Mission Viejo, California. "You treated us like royalty!! The food, program, activities and fellowship were outstanding. The campus is beautiful and we were blessed to be there."