Class of 1965 celebrates Golden Reunion at Concordia
Published by Concordia University, Nebraska 6 years ago on Fri, Apr 17, 2015 9:41 AM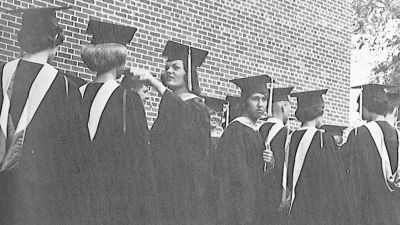 Concordia's Class of 1965 reunited on campus during commencement weekend May 7–10 in Seward, Nebraska.
The class of 1965 reunited for its 50th anniversary May 7-10 as part of the Concordia University, Nebraska commencement activities. The Class of 1965 led the commencement processional on May 9 and was recognized during the ceremony.
"The Golden Reunion celebration is one of the top highlights of each year. It's wonderful to see how the reunion attendees have maintained friendships, renewed relationships and cherished special memories as students," said Adam Hengeveld, director of alumni and university relations. "They also have served as quite the example, as a whole class, of what it means to serve God and his kingdom, but also as generous supporters of the mission and ministry of Concordia."
Social gatherings celebrated the class' anniversary on both Thursday and Saturday evenings. Class members were honored at a luncheon with current graduates on Friday and at a dinner with Concordia President Rev. Dr. Brian Friedrich prior to the baccalaureate service on Friday night. The Class of 1965 was also invited to attend a Sunday morning brunch.
"The University may have been Concordia Teachers College at the time of this class' graduation, but there are still a variety of vocations represented within the class (of 1965)," Hengeveld said. "They give a great perspective on what it means to truly be equipped to learn, serve and lead in the church and world because they've been doing that for 50 years."
Registered attendees include (alphabetical by last name):
Irene (Lachmann) Ahrens, Superior, Colo.
Richard Althage, Harvey, La.
Gene & Linda Anderson, Cainsville, Mo.
Alan & Dianne (Rabe) Backhus, Littleton, Colo.
Anita (Unzner) Baresel and Dani Baresel-Pavlik, Littleton, Colo.
Linda (Bauck) Boedigheimer, Perham, Minn.
Wayne and Linda (Welshans) Buls, San Antonio, Texas
Chuck and Donna (Ahrendsen) Butzlaff, Oshkosh, Wis.
Donald and Kathy (Schnoor) Cook, Lincoln, Neb.
Trudy (Suckstorf) Dannelly, Norfolk, Neb.
Alice (Schademann) Epstein, Lincoln, Neb.
Paul and Judy Grauer, Saint Paul, Minn.
Conrad and Emmelyn (Wacker) Gutz, Plainview, Neb.
Ray and Judith Hartmann, Shelby Township, Mich.
Dimitry and Lois (Ostruske) Holl, Atherton, Calif.
Otis and Clarice (Holste) Howard,Omaha, Neb.
Keith and Janet Jopp, Cheney, Kan.
Ronald and Carol (Karg) Kamprath,Sheboygan, Wis.
Nancy (Becher) Kapels, Creston, Neb.
Edward and Sherrie Klein, Reno, Nev.
Elaine (Piehl) Klocke, Chanhassen, Minn.
Edward and Drucilla (Palmer) Lutkehus,Chappell, Neb.
Jim Manion, Wildwood, Mo.
Mary Ruth (Adam) Marschel and Carolyn Foster, Washington, Mo.
Courtney and Connie (Kirchner) Meyer,Seward, Neb.
Shirley (Roettjer) Meyer, Seward, Neb.
"Butch" and Ellen Niermeier, Lake Wales, Fla.
Larry and Bonnie (Moeller) Noack,Lincoln, Neb.
Bertie (LaSell) Oyler, Sheboygan, Wis.
Russell and Joan (Jantz) Penrose, Hayward, Calif.
Ivan and Janet (Hoesch) Peterson, Bloomington, Ill.
Cletus and Janice (Brommer) Pfeiffer,Rochester, Minn.
Dean and Terry Poppe, Juniata, Neb.
Mike Prange, Florissant, Mo.
Dick and Barbara (Winstead) Reinmiller, Lincoln, Neb.
David and Suzanne (Roberts) Richterkessing,Morganton, Ga.
Dennis and Lois (Bruns) Richters, Utica, Neb.
Larry and LaJean (Stuthman) Rinker, Topeka, Kan
Ruth (Hawkins) Roehrman, Aurora, Colo.
Ralph and Janet Sackschewsky, Tomball, Texas
Ralph and Miriam (Enge) Schinnerer, Colorado Springs, Colo.
Wayne and Beverly (Fischer) Schroeder, Waukesha, Wis.
Donald and Elizabeth (Mehl) Schroeder, Berger, Mo.
Linda Schroeder, Chattanooga, Tenn.
Daniel and Sandra Seim, Cornelius, Ore.
Joanne (Weiss) Smith, Earlham, Iowa
Lonnie and Carolyn (Frey) Stuhr,Sioux City, Iowa
Melvin and Barbara (Frey) Symmank, Garland, Texas
Ruth Tempelmann, Bellevue, Neb.
Ronald and Marva (Borck) Tonniges, Littleton, Colo.
Wayne and Lorna (Haseley) Wentzel, Grand Blanc, Mich.