Class of 1963 celebrates Golden Reunion at Concordia
Published by Concordia University, Nebraska 8 years ago on Fri, May 3, 2013 6:22 PM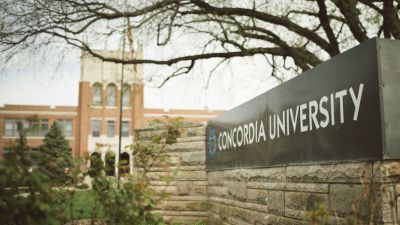 Concordia's graduating class of 1963 celebrated its 50th year golden reunion on Saturday, May 11, and was be recognized that day at the university's commencement ceremony.
Honors aside, the reunion was all about the relationships formed while at Concordia and continued over the years according to Jan Koopman, director of alumni, university and church relations.
"I hear the stories of pranks and fun time, but mostly I hear the accounts of dear friends and professors who made such an impact in their lives."
"It is wonderful to hear the pride and joy in their voices, especially when talking about children and grandchildren who have also come to their alma mater as students," said Koopman. "These connections and the support that alumni offer our students help to ensure the legacy will continue."
Members of the class of 1963 who attended include Jon Anderson, Dennis Andreasen, William and Barbara Senechal Bade, Betty Polster Baden, Marilyn Holt Bader, Arthur and Carol Henning Brinkmeyer, Charles Brockmann, Joyce Fischer Brosch, Paul and Kathryn Wisroth Eisenbraun, Anette Bargsten Fehlhafer, Paul and Rachel Schultz Frese, Margaret Born Garmatz, Marilyn Rotter Grasz, Alice Duensing Hausman, David Helmer, Carol Mueller Householder, Raymond Huebschman, Karen Plautz Jauch, Lynette Wolfe Kindt, Priscilla Lawin, Jean Schmieding Lehmann, Roger and Sharon Nokes Mailand, Darlene Tech Mattson, Neil Misegades, Jay Musfeldt, John Nelson, Cathy Nightlinger, Gary Norton, Glenn and Patricia Ahrens Ohlmann, Gerhardt and Marilyn Mueller Pralle, Dale and Mary Ann Michalk Rauh, Eula Guebert Rehberg, James Rhiver, Arlene Haefker Riemer, Karen Killian Ringel, Gerald and Judy Werth Roggow, Ronald and Elaine Hummel Royuk, Elaine Michael Ruff, Marvel Schock Sanders, Frederick Schamber, Kenneth Schkade, Joyce Salzwedel Schultz, Janice Fischer Stover, Norma Schaefer Suhr, Gayle Timken, Kathy Groppe Walther, Lois Meder Webster, Paula Mueller Wehling and Darla Rein Wolters.
The planned activities for the reunion include tours of campus, dinner with President and Mrs. Friedrich, devotions, music recitals, lunch with the 2013 graduates and plenty of time to catch up with one another.
"Every year when our golden reunion alumni return to celebrate with each other and the Concordia community, it is evident that God's grace has been reflected in their lives no matter where God has led them to serve," said Koopman.