Christmas spirit filled the air during Christmas at Concordia weekend
Published by Concordia University, Nebraska 3 years ago on Tue, Dec 17, 2019 3:03 PM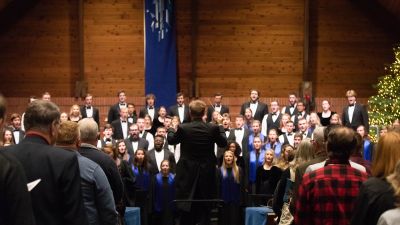 Dr. Kurt von Kampen conducts the choir during a Christmas at Concordia concert Dec. 7 at St. John Lutheran Church in Seward.
Christmas at Concordia weekend included three events as part of Concordia University, Nebraska's annual Christmas celebration: a community open house and Christmas tree lighting, four Christmas at Concordia concerts and the Scholarship Parade of Homes.
Four Christmas at Concordia concerts brought more than 2,400 Concordia students, faculty and staff, alumni and community members to St. John Lutheran Church near campus. The concerts featured the Cantamus Women's Choir, Concordia Handbell Choir, Male Chorus, University A Cappella Choir, University Brass Ensemble and University Symphonic Band.
Scripture readings, original music from Concordia faculty and traditional hymns that invited congregation participation were part of the celebration. Songs included "Hark! The Herald Angels Sing," "Angels We Have Heard on High," "Joy to the World," and "A Stable Lamp is Lighted," among others.
Members of the Women's Cantamus Choir, conducted by Dr. Jeffrey Blersch and accompanied by Dr. Elizabeth Grimpo, include (in alphabetical order by state, city and then last name):
Dorothy Cook, sophomore, Anchorage, Alaska, alto I
Olivia Proctor, Glendale, Ariz., alto II
Jasmine Cody, sophomore, Alamosa, Colo., alto I
Erin Johnson, junior, Brighton, Colo., soprano II
Ruth Moon, sophomore, Clark, Colo., soprano II
Joanna Sherrill, sophomore, Lakewood, Colo., alto I
Alia Brand, sophomore, Longmont, Colo., soprano II
Janis Wagner, sophomore, Avon, Ind., alto II
Annah Heck, freshman, Coon Rapids, Iowa, alto II
Kendra Johnson, sophomore, Council Bluffs, Iowa., soprano I
Grace O'Neal, sophomore, Spirit Lake, Iowa, soprano II
Emma Armbrecht, sophomore, Williamsburg, Iowa, alto I
Mikayla Lowe, sophomore, Atchison, Kan., alto I
Jennifer Horne, freshman, Canton, Kan., soprano I
Olivia Johnson, senior, Kansas City, Kan., alto I
Whitney Borchardt, sophomore, Henning, Minn., alto I
Hope Katherine Clark, sophomore, Montrose, Minn., soprano II
Rachel Eaton, junior, Carl Junction, Mo., soprano II
Amanda Hakes, senior, Columbia, Mo., soprano I
Abigail Joers, freshman, Kansas City, Mo., alto II
Ashley Craig, freshman, St. Charles, Mo., soprano I
Faith Jonas, freshman, St. Louis, Mo., alto II
Grace Jonas, junior, St. Louis, Mo., alto II
Britney Lewis, sophomore, Lee's Summit, Mo., soprano II
Alison Coomer, senior, Troy, Mo., soprano I
Katie Benkendorf, freshman, Uniontown, Mo., alto I
Olivia Leising, freshman, Arapahoe, Neb., soprano I
Rebekah Henschen, sophomore, Bancroft, Neb., soprano II
Freedom Wiezorek, sophomore, Beaver Crossing, Neb., soprano II
Allison Story, sophomore, Clay Center, Neb., alto II
Autumn Johnson, sophomore, Fremont, Neb., alto II
Madylin Fritsche, freshman, Holdrege, Neb., soprano II
Anna Ramsdell, sophomore, Milford, Neb., alto I
Stephanie Barry, senior, Omaha, Neb., alto II
Shelby Betterton, senior, Omaha, Neb., alto II
Richele Masin, freshman, Ord, Neb., alto II
Marlaena Sucha, sophomore, Riverdale, Neb., soprano I
Morgan Brumm, junior, Seward, Neb., alto II
Malia Rolf, sophomore, Seward, Neb., soprano II
Morgan Bowman, freshman, South Sioux City, Neb. soprano I
Shelby Todd, sophomore, Staplehurst, Neb., alto II
Rebecca Hoffschneider, junior, Utica, Neb., alto I
Makenna Clovis, sophomore, Albuquerque, N.M., soprano II
Kacy Meyer, senior, Jenks, Okla., soprano I
Allison Taylor, senior, Oklahoma City, Okla., alto I
Rachel Krome, senior, Mitchell, S.D., soprano I
Katerina Fuller, senior, Dallas, Texas, alto I
Katherine (Faith) Trempala, sophomore, Carrollton, Texas, soprano II
Hannah Eatherton, sophomore, Garland, Texas, alto I
Rebekah Eatherton, sophomore, Garland, Texas, alto I
Victoria Cameron, senior, Kent, Wash., soprano II
Cristina Sanchez, sophomore, La Grange, Texas, alto II
Members of the Male Chorus, conducted by Paul Soulek, include:
Broderick Schofield, sophomore, Sylvan Grove, Kan., bass I
Nathan Johnson, sophomore, Vicksburg, Mich., tenor II
Benjamin Boll, freshman, Ham Lake, Minn., tenor II
Marc Freiberg II, freshman, Racine, Minn., bass II
Bennett Shane, freshman, Truman, Minn., bass I
Brett Mueller, sophomore, Concordia, Mo., tenor II
Jayson Klaumann, freshman, Fairbury, Neb., tenor II
Christopher Warneke, senior, Hastings, Neb., bass I
Zachary Staehr, junior, Grand Island, Neb., tenor I
Aaron Ferguson, senior, Hyannis, Neb., bass I
Daniel Duffy, sophomore, Kenesaw, Neb., tenor I
Nathaniel Mars, freshman, Kimball, Neb., tenor I
Kyle Hapgood, freshman, Louisville, Neb., bass II
Caleb Hazzard, freshman, Minden, Neb., bass II
Cody Bender, freshman, Utica, Neb., bass II
Dane Wolfgram, sophomore, Bismarck, N.D., bass I
Carter Thorman, sophomore, Spearfish, S.D., tenor II
Braedon Thompson, freshman, Sioux Falls, S.D., bass II
Jacob Schielke, junior, Decatur, Texas, tenor I
Lewis Kasparek, senior, Spring, Texas, bass II
John Kastner, senior, Henrico, Va., bass I
Zebadiah Uden, junior, Cedarburg, Wis., bass II
Members of the Concordia Handbell Choir, conducted by Jessica Kite, include:
Breann Huber, senior, Arvada, Colo., Handbell Choir
Erin Johnson, junior, Brighton, Colo., Handbell Choir
Joanna Sherrill, sophomore, Lakewood, Colo., Handbell Choir II
Kylee Taylor, sophomore, Westminster, Colo., Handbell Choir II
Amanda Munzert, freshman, Edwardsville, Ill., Handbell Choir II
Bethany Zeckzer, sophomore, Fort Wayne, Ind., Handbell Choir
Whitney Pottschmidt, senior, Seymour, Ind., Handbell Choir
Jennifer Horne, freshman, Canton, Kan., Handbell Choir II
Nathan Leonard, sophomore, Topeka, Kan., Handbell Choir II
Olivia Leising, freshman, Arapahoe, Neb., Handbell Choir
Jayson Klaumann, freshman, Fairbury, Neb., Handbell Choir II
Elizabeth Bergdolt, junior, Grand Island, Neb., Handbell Choir
Zachary Staehr, junior, Grand Island, Neb., Handbell Choir
Emily Wiese, sophomore, Holdrege, Neb., Handbell Choir II
Caleb Hazzard, freshman, Minden, Neb., Handbell Choir II
Stephanie Barry, senior, Omaha, Neb., Handbell Choir
Jonathan Landrey, freshman, Seward, Neb., Handbell Choir II
Neal Patron, freshman, Seward, Neb., Handbell Choir II
Makenna Clovis, sophomore, Albuquerque, N.M., Handbell Choir II
Timothy Rasch, senior, Jos, Nigeria, Handbell Choir
Parker Esterberg, junior, Independence, Minn., Handbell Choir
Charlotte Lines, junior, Marshall, Mo., Handbell Choir
Ashley Craig, freshman, Saint Charles, Mo., Handbell Choir II
Linnea Buchholz, junior, St. Louis, Mo., Handbell Choir
Jessica Berg, junior, Brandon, S.D., Handbell Choir II
Cristina Sanchez, sophomore, La Grange, Texas, Handbell Choir II
Aaron Jackson, junior, Palestine, Texas, Handbell Choir
Victoria Cameron, senior, Kent, Wash., Handbell Choir
Members of the University Brass Ensemble, conducted by Wendy Schultz, include:
Samuel Smith, senior, Broadlands, Ill., tuba
Jacob Mikkelson, senior, Bellevue, Neb., horn
Hannah Birtell, junior, Holdrege, Neb., horn
Rebekah Guilford, sophomore, Lincoln, Neb., trumpet
Avery Kesar, junior, Omaha, Neb., trumpet
Joshua Hendrickson, senior, Seward, Neb., euphonium
Shiloh Richters, junior, Utica, Neb., trumpet
Karissa Ternus, sophomore, Sioux Falls, S.D., trombone
Members of the University A Cappella Choir, conducted by Dr. Kurt von Kampen, include:
Aaron Christiansen, junior, Palmer, Alaska, bass II
Matthew Wahlers, sophomore, Napa, Calif., bass I
Renata Peperkorn, sophomore, Roddin, Calif., soprano I
Sammi Pietanza, senior, San Diego, Calif. alto II
Breann Huber, senior, Arvada, Colo. alto II
Matthew Murphy, senior, Colorado Springs, Colo., bass II
Bethany Schilling, senior, Denver, Colo., soprano I
Jacob Roggow, senior, Cottage Hills, Ill., bass II
Ruth Alliger, junior, Fort Wayne, Ind., soprano II
Kathryn Castens, Fort Wayne, Ind. alto II
Bethany Zeckzer, sophomore, Fort Wayne, Ind. alto II
Alex Kaldahl, senior, Spencer, Iowa, bass I
Jenna Fredrickson, junior, Concordia, Kans. alto II
Matthew Patron, sophomore, North Newton, Kan., bass I
Neal Patron, freshman, North Newton, Kan., tenor II
Christopher James Jr., senior, Topeka, Kan., tenor I
Nathan Leonard, sophomore, Topeka, Kan., bass II
David Ehrke, sophomore, Alma, Neb., tenor I
Danae Welling, senior, Ashland, Neb., soprano I
Alexandra Ryks, junior, Bellevue, Neb. alto II
Rebeca Rerucha, juior, Bruno, Neb., soprano II
Grant Stadler, sophomore, Columbus, Neb., bass II
Garret Drews, sophomore, Fremont, Neb., tenor I
Alyssa Hoeft, junior, Garland, Neb., soprano II
Elizabeth Bergdolt, junior, Grand Island, Neb., alto I
Elizabeth Pobanz, sophomore, Grand Island, Neb., soprano I
Trenton Bruntz, sophomore, Hastings, Neb., tenor II
Megan Kroeker, junior, Henderson, Neb., soprano I
Jacee Pfeifer, junior, Holdrege, Neb. alto I
Amy Guenther, junior, Lincoln, Neb. alto II
Rebekah Guilford, sophomore, Lincoln, Neb. alto I
Cecilia Minchow, sophomore, Lincoln, Neb. alto II
Audrey Rich, senior, Lincoln, Neb. alto I
Jacob Garrison, junior, Malcolm, Neb., tenor II
Nicholle Harstad, sophomore, Norfolk, Neb. alto I
Shanda Fujan, junior, Oakland, Neb., soprano I
Thomas Johnson, senior, Omaha, Neb., bass I
Avery Kesar, junior, Omaha, Neb., bass I
Jazmyn Yates, senior, Omaha, Neb., soprano II
Anna Watters, junior, Panama, Neb. alto I
Christian Watters, junior, Panama, Neb., tenor I
Joshua Hendrickson, senior, Seward, Neb., bass I
Jonathan Landrey, freshman, Seward, Neb., bass II
Jacob Sumpter, senior, Superior, Neb., tenor II
Haden Richters, freshman, Utica, Neb., bass I
Tabitha Ristvedt, sophomore, Utica, Neb., soprano II
Keziah Bruns, junior, Waco, Neb. alto I
Alyssa Montana, senior, Long Island, N.Y. alto I
Micah Schultz, freshman, Scotia, N.Y., tenor I
Hannah Cmeyla, freshman, Bay City, Mich. alto I
James Gramzow, sophomore, Royal Oak, Mich., bass I
Jake Adams, freshman, Walled Lake, Mich., tenor II
Brooke Ann Duerr, sophomore, Warren, Mich., soprano II
Albert Boldt, senior, Hewitt, Minn., tenor II
Joshua Marlatt, sophomore, Minnetrista, Minn., tenor I
Max Johnston, junior, White Bear Lake, Minn., bass II
Brandon Holmes, senior, Waconia, Minn., bass I
Nathan Pennington, freshman, Carthage, Mo., bass II
Christoph Marsh, freshman, Concordia, Mo., tenor I
Caleb Fischer, junior, Jefferson City, Mo., bass II
Charlotte Lines, junior, Marshall, Mo., soprano II
Emma Brand, senior, Springfield, Mo. alto I
Noah Freeman, junior, Bend, Ore., tenor I
Timothy Rasch, senior, Denton, Texas, bass II
Melinda Buhler, senior, Fort Worth, Texas, soprano I
Jill Bultemeier, freshman, Texarkana, Texas alto II
Joshua Frerking, junior, Tomball, Texas, bass II
Aaron Jackson, junior, Palestine, Texas, bass I
Micah Ramage, senior, Pasadena, Texas, tenor II
Corrianne Cain, senior, Cedarburg, Wis. alto II
Aaron Huesmann, senior, Jackson, Wis., bass II
Grace Huesmann, sophomore, Jackson, Wis., soprano I
Sarah Benz, junior, Kewaskum, Wis., alto II
Sophie Hoelz, senior, Milwaukee, Wis. alto II
Members of the University Symphonic Band, conducted by Andrew Schultz, include:
Ben Toenjes, freshman, Bakersfield, Calif., tuba
Esther Langness, freshman, Englewood, Colo., flute
Gabe Jofre, senior, Sterling, Colo., alto sax
Marlee Hubach, freshman, Caldwell, Idaho, bassoon
Samuel Smith, senior, Broadlands, Ill., tuba
Amanda Munzert, freshman, Edwardsville, Ill., flute
Hayden Rensner, junior, Effingham, Ill., trumpet
Bethany Zeckzer, sophomore, New Haven, Ind., baritone sax
Whitney Pottschmidt, senior, Seymour, Ind., oboe
Jennifer Horne, freshman, Canton, Kan., horn
Jenna Fredrickson, junior, Concordia, Kan., trumpet
Valery Rostek, senior, Norton, Kan., tenor sax
Matthew Goltl, senior, Witchita, Kan., percussion
Sarah Weber, freshman, Manchester, Iowa, trombone
Rachel Smithley, junior, Waldorf, Md., trumpet
Hannah Watt, junior, Fairmont, Minn., bass clarinet
Parker Esterberg, senior, Independence, Minn., percussion
Lauren Holmlund, sophomore, Maple Grove, Minn., flute
Joshua Marlatt, sophomore, Mound, Minn., trumpet
Sierra Geistfeld, freshman, Saint James, Minn., trumpet
Brandon Holmes, senior, Waconia, Minn., trumpet
Sarah Armbrust, sophomore, Ballwin, Mo., percussion
Faith Brown, freshman, Concordia, Mo., flute
Leigha Meyer, freshman, Fenton, Mo., flute
Sonja Brandt, senior, Knob Noster, Mo., clarinet
Malia Ebel, junior, Billings, Mont., clarinet
Olivia Leising, freshman, Arapahoe, Neb., clarinet
Evan Hammang, freshman, Arlington, Neb., percussion
Danae Welling, senior, Ashland, Neb., tuba
Rebekah Henschen, sophomore, Bancroft, Neb., trombone
Ethan Mayes, freshman, Beemer, Neb., trombone
Jacob Mikkelson, senior, Bellevue, Neb., horn
Jonathan Deardoff, senior, Bennington, Neb., percussion
Julia Witt, freshman, Columbus, Neb., bass clarinet
Jayson Klaumann, freshman, Fairbury, Neb., percussion
Autumn Johnson, sophomore, Fremont, Neb., alto sax
Elizabeth Bergdolt, junior, Grand Island, Neb., horn
Abigail Huggins, junior, Grand Island, Neb., clarinet
Zachary Staehr, junior, Grand Island, Neb., trombone
Trenton Bruntz, sophomore, Hastings, Neb., trumpet
Chris Warneke, senior, Hastings, Neb., alto sax
Megan Kroeker, junior, Henderson, Neb., flute
Hannah Birtell, junior, Holdrege, Neb., horn
Nathan Birtell, freshman, Holdrege, Neb., tenor sax
Lydia Grimpo, freshman, Lincoln, Neb., oboe
Rebekah Guilford, sophomore, Lincoln, Neb., trumpet
Tyler Scholz, freshman, Lincoln, Neb., trombone
Lukas Sollberger, junior, Louisville, Neb., trumpet
Amelia Schlichting, sophomore, Lyons, Neb., clarinet
Dylan Cookus, sophomore, Milford, Neb., percussion
Caleb Hazzard, freshman, Minden, Neb., horn
Emma Baumann, freshman, Norfolk, Neb., horn
Morgan Herrera, sophomore, Omaha, Neb., percussion
Thomas Johnson, senior, Omaha, Neb., clarinet
Avery Kesar, junior, Omaha, Neb., trumpet
Rose Nigh, sophomore, Omaha, Neb., tenor sax
Richele Masin, freshman, Ord, Neb., trumpet
Abigail Jeppesen, junior, Pleasant Dale, Neb., clarinet
Josh Hendrickson, senior, Seward, Neb., euphonium
Eli Meyer, freshman, Seward, Neb., trumpet
Brittan Taylor, junior, Seward, Neb., percussion
Shelby Todd, sophomore, Staplehurst, Neb., clarinet
Sara Kettelhake, junior, Tecumseh, Neb., alto sax
Rebecca Hoffschneider, junior, Utica, Neb., flute
Shiloh Richters, junior, Utica, Neb., trumpet
Tabitha Ristvedt, sophomore, Utica, Neb., alto sax
Keziah Bruns, junior, Waco, Neb., horn
Elizabeth Gierke, sophomore, Waverly, Neb., flute
Dane Wolfgram, sophomore, Bismark, N.D., percussion
Jessica Berg, junior, Brandon, S.D., horn
Erik Fuerniss, sophomore, Delmont, S.D., trombone
Hannah Wiedebush, sophomore, Mansfield, S.D., trumpet
Karissa Ternus, sophomore, Valley Springs, S.D., trombone
Hannah Eatherton, sophomore, Garland, Texas, trumpet
Rebekah Eatherton, sophomore, Garland, Texas, flute
Rebecca Yox, freshman, Mount Pleasant, Texas, flute
Sarah Benz, junior, Campbellsport, Wis., alto sax
Aaron Huesmann, senior, Jackson, Wis., euphonium