Children's authors and illustrators celebrate literacy
Published by Concordia University, Nebraska 9 years ago on Fri, Sep 7, 2012 3:33 PM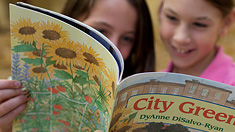 Nearly 10,000 children and adults from across the Midwest celebrated reading as part of the 17th annual Plum Creek Children's Literacy Festival Sept. 20-22 on the Concordia campus. The festival connected youth and adults with nationally acclaimed authors and illustrators to encourage literacy and education.
This year's festival featured nine authors and illustrators: David Wiesner, Gary Schmidt, Clare Vanderpool, Andrea Davis Pinkney, R.W. and Zoë Alley, Jarrett Krosoczka, Ted Scheu and Tom Lichtenheld. These presenters visited students in Seward-area and Lincoln schools on Thursday, Sept. 20. On Friday, Sept. 21, students from all over the Midwest participated in literacy activities and attended sessions where they could meet with the authors and illustrators.
The adult conference on Saturday, Sept. 22, included workshops by authors, illustrators and literacy experts. A writing workshop, new this year, featured literacy expert Lori Oczkus.
The festival also featured an art exhibit displaying the illustrations of recently published books. This exhibit is open to the public in Concordia's Marxhausen Gallery, located in Jesse Hall, throughout the month of September.
"Not only does the Seward community benefit from all of these features, I believe they also benefit from working together for the cause of literacy," said Janell Uffelman, festival director. "Seward is a fantastic place to live and grow, and to give forward to the next generation through the present festival experience."
SEE ALSO