Chef Nick Gunn, '02 Renews Competitive Spirit with Food
Published by Concordia University, Nebraska 3 years ago on Fri, Dec 15, 2017 11:51 AM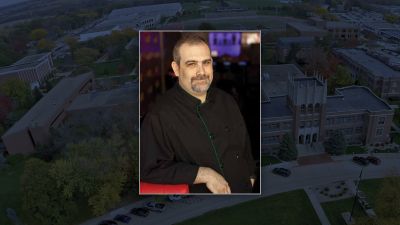 When the Iowa Restaurant Association approached Nick Gunn, '02 about competing in their annual culinary competition, he decided to give it a try. Having never competed before, Chef Nick won with his Irish spiced country spare ribs with champ tofu gnocchi in an Irish whiskey cream sauce.
"At that competition, we are given the same two ingredients and we have to create a dish in the style of the restaurant we represent, Gunn said. "I was given beef short ribs and tofu – two ingredients I wouldn't normally use."
After the Iowa competition, he was hooked and went looking for more opportunities to compete. That place was in Omaha at the Culinary Fight Club. This national organization hosts live cooking competitions all across the country. Contestants get 45 seconds to raid the pantry and 60 minutes to create a gourmet dish that represents their take on the monthly theme. The audience and judges vote on the winning dish. Winners at local sites receive a golden ticket and other prizes, and are invited to regional and world finals competition. In addition, Culinary Fight Club gives back to Fight2Feed, an organization that partners top restaurants with food trucks to provide service and support to the hungry.
"You have to win locally to advance," Gunn said. "The first time I competed, I got second so I went back and won the next time. That won me the golden ticket to the World Food Championship competition in Alabama.
At the World Food Championship in Orange Beach, Alabama, drew nearly 500 chefs from 44 states and 14 countries competing in a variety of categories. Chef Gunn competed in the sandwich category. After finishing in the top 10 of the first round with his shrimp po boy, he moved onto the second round with a steak sandwich. Once the smoke cleared, Gunn had finished in 30th place.
"I was pleased with how it turned out and can't wait to try again next year," Gunn said.
When the freshman from southern California arrived at Concordia Nebraska in the fall of 1997, he wasn't used to a cold climate and he didn't know much about the Lutheran faith. Nicholas Gunn was recruited to play football and baseball and because he loved competition, he jumped at the chance to continue playing at the college level.
Nick majored in business administration eventually receiving his degree. While at Concordia, he met Sarah Lucht, '02, who became his wife. Nick knew he wanted to work in the restaurant business so the couple moved to Lincoln where Sarah taught at Messiah Lutheran School and Nick took a job as kitchen manager at Olive Garden.
"Food was always important to my family," said Gunn. "My mom's side is Sicilian and we would congregate around the kitchen table to eat, talk and be a family. Those are some of my favorite family memories."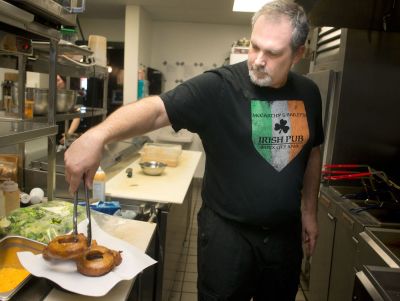 Nick was drawn to New England to one of the top culinary schools in the country; Atlantic Culinary Academy – Le Cordon Bleu in Dover, New Hampshire. While a student, he began working at Blue Latitudes, a fine dining establishment, and quickly moved to the executive chef position. After living in New Hampshire for a couple of years, Nick and Sarah moved to South Carolina to be near his family who had recently relocated from the west coast.
Nick then began working at Jaxx New Orleans Bistro and Sarah taught at a Christian school nearby. After a few years, Nick transitioned to a fine dining restaurant at a Hilton hotel. "We would often feed athletes from the Atlantic Coast Conference (ACC) and the Clemson football team plus several celebrities," Nick said.
In 2010, Nick and Sarah moved to Sioux City, Iowa to be closer to her family. Iowa State Senator Rick Bertrand, purchased several run-down buildings in Sioux City and spearheaded a multimillion dollar transformation into what is now, McCarthy & Bailey's Irish pub. Bertrand hired Chef Gunn to be his executive chef and after three years, Nick and Sarah purchased the pub.
"A little over a year ago, I got into food competitions and I discovered I love the rush that comes from competing," Gunn said. "I haven't felt that since playing football and baseball at Concordia."
Besides running his restaurant and competing nationally, Nick teaches young culinarians at Western Iowa Tech Community College in Sioux City, and Sarah teaches special education at South Sioux City, Nebraska, public school. They have two children, Eliza, 10 and Ezekiel, 6 and are active members at St. Paul's Lutheran Church where Nick serves as president of the Lutheran school board.
"My time at Concordia was a blessing," Gunn said. "I wasn't at Concordia just to study business or play sports, I grew my faith. Concordia provided the foundation on which my entire life is built."