Chamber Choir and Chamber Orchestra perform Mozart and Byrd at fall semester concert
Published by Concordia University, Nebraska 5 years ago on Fri, Dec 4, 2015 10:41 AM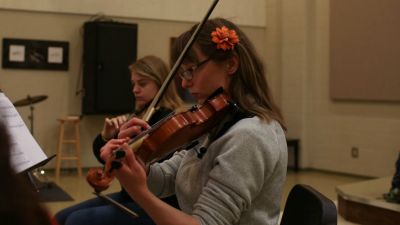 The Concordia University, Nebraska Chamber Choir and Chamber Orchestra will hold their fall semester performance on Dec. 10, 2015, at 7 p.m. in the Recital Hall of the Music Center on campus.
"Our students are looking forward to performing the music of two all-time great composers, Mozart and Byrd, alongside several contemporary works," says David von Kampen, music instructor of composition. "It will be a very diverse program!"
The Chamber Choir will perform two pieces: "Festival Sanctus" and "Fairest Lord Jesus." The Chamber Orchestra will perform a number of songs including "Masters in This Hall," "Peasant Dance," "Ave Verum Corpus," and "Allegro" from Mozart's String Quartet #4.
Participants in the concert include (alphabetical by state, city, last name):
Jacob Fink, sophomore, Long Beach, Calif., Chamber Choir
Meredith Locke, sophomore, Winter Haven, Fla., Chamber Orchestra and Chamber Choir
Jacob Henson, senior, Herrin, Ill., Chamber Choir
Matthew Kortze, freshman, Rockford, Ill., Chamber Choir
Sarah Krause, junior, Rockford, Ill., Chamber Orchestra
Jennifer Reynolds, senior, Fort Wayne, Ind., Chamber Choir
Kasaundra Kosberg, freshman, Spring Hill, Kan., Chamber Orchestra
Austin Theriot, junior, Lake Charles, La., Chamber Choir
Emily Sievert, sophomore, Frankenmuth, Mich., Chamber Choir
Benjamin Hayter, junior, Concordia, Mo., Chamber Choir
Vanessa Marsh, freshman, Concordia, Mo., Chamber Choir
Jordyne Vanselow, freshman, Greenwood, Mo., Chamber Orchestra
Talitha Elbert, senior, Albuquerque, N.M., Chamber Choir
Megan Sparling, senior, Columbus, Neb., Chamber Choir
Caleb Staehr, freshman, Grand Island, Neb., Chamber Orchestra
Mary Carnoali, junior, Hampton, Neb., Chamber Orchestra
Clara Rich, senior, Lincoln, Neb., Chamber Choir
Micah Most, freshman, Ogallala, Neb., Chamber Choir
Emmiline Moll, junior, Seward, Neb., Chamber Orchestra
Anna Schleusener, junior, Utica, Neb., Chamber Orchestra
Grace Woelmer, junior, Allen, Texas, Chamber Orchestra
Krista Schmidt, sophomore, Giddings, Texas, Chamber Orchestra
Emma Gremmer, freshman, New Braunfels, Texas, Chamber Orchestra