Calling All Alumni: 2020-21 phonathon supports Concordia students
Published by Concordia University, Nebraska 2 years ago on Tue, Sep 29, 2020 4:25 PM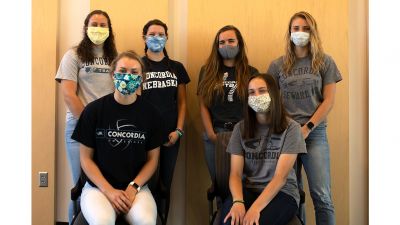 Phonathon 2020-21 Co-chairs: Sarah, Deborah, Michaela, Marissa, Kayla and Katie.
Concordia's phonathon students have been calling Concordia alumni since 1979 with the purpose of raising money for the Concordia Fund (general operations) and the opportunity to connect with alumni. Many former students served as a part of the phonathon team and that tradition that still goes on today. We are excited that the student callers are able to call and connect with alumni while on campus this semester even through the COVID-19 pandemic.
"It is a joy to work with the phonathon this year as their staff advisor," says Leigh Lewis, senior director of advancement operations. "Our student callers are very dedicated individuals who enjoy speaking with alumni and sharing their Concordia experiences. It is wonderful to see young alumni, like Emmi Moll, give back to Concordia through the phonathon."
Recently, Leigh had an opportunity to speak with Emmi, who graduated from Concordia in 2018 with a B.F.A., about why she gives to Concordia.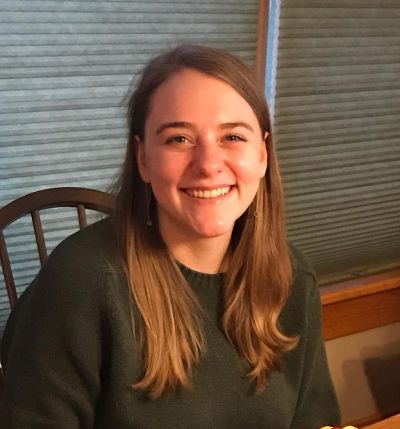 Emmi Moll, a 2018 Concordia graduate, is passionate about supporting students through the phonathon.
Emmi, why did you give to the Concordia phonathon?
God has blessed me during the years after graduation with a steady job, and that continued even during all the uncertainty this spring and summer. I think it's an important part of being a Christian to strive to be generous and use the blessings God has given me to bless others. Concordia has been a big part of my life, and I want it to be active and serving God and the community for a long time. I want more and more students to have the opportunity I had to study at Concordia!
What would you say to a fellow young alum to encourage them to give to the phonathon?
I'd say, don't be intimidated by the thought of donating! What really encouraged me to give is the knowledge that God can take any small gift and multiply its fruit. I don't give very much money in the grand scheme of things, but I believe God can use my donation to bless others.
Any additional thoughts you have about giving back to Concordia now that you have graduated?
I'm so glad that I had the opportunity to go to Concordia. I really value the blessing and privilege it was to get a Christ-centered education! I want to see Concordia Nebraska continue that work, so that's why I give back.
Many of you have served on the phonathon staff while you were a student here at Concordia. Do you have special memories and photos that you would share with us? We'd love to hear about them. Please connect with Leigh (Leigh.Lewis@cune.edu).
Just like Emmi, you have special reasons why you support Concordia when the phone rings. We hope you will answer the call this semester when the next generation calls you and share that special reason! On behalf of the entire student body, thank you for your support of gifts and prayers! We look forward to talking to you soon!