Bryan Moore selected as president-elect of Literary Managers and Dramaturgs of the Americas
Published by Concordia University, Nebraska 4 years ago on Fri, May 24, 2019 12:08 PM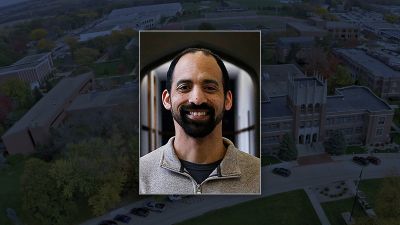 Concordia University professor Bryan Moore, director of theatre, was recently elected as the next president of Literary Managers and Dramaturgs of the Americas. His term as president will begin next summer, after a one-year term as president-elect.
Earlier this month, Concordia University, Nebraska professor Bryan Moore, director of theatre, was elected by his peers as president-elect of Literary Managers and Dramaturgs of the Americas (LMDA), an international volunteer organization for academic and professional practitioners of literary management and dramaturgy.
"I was humbled by the support of my peers, believing I can serve in this role and take on this responsibility," Moore said. "It's overwhelming, but exciting. I love this organization."
Moore will begin his one-year term as president-elect in June at the LMDA annual conference in Chicago. At the end of the 2020 conference in Mexico City, he will start his term as president for two years. When his two-year term is over, he will serve as immediate past president for the following two years.
Dramaturgs are involved in the development, research and collaboration of theater productions, Moore said. They assist playwrights as they develop new plays and provide feedback, in addition to assisting directors and actors during the production of a play, including conducting research, compiling study guides to ensure historical accuracy and that the play does not deviate from the original playwright's intentions.
"We are often the representative, or the voice of the play, whether it has a living or dead playwright," Moore said. "We represent the play to make sure the intentions of the play stay within the production."
Moore has been a member of LMDA for the last 10 years, serving in multiple leadership roles within the executive committee, including vice president of university relations. Martine Kei Green-Rogers, current president of LMDA, said Moore's leadership experience makes him an exceptional fit to serve as the organization's next president.
"Bryan Moore has a long and exemplary history with LMDA as well as in the field of dramaturgy," Green-Rogers said in a statement. "As the current dramaturgy focus group nominations chair for the Association for Theatre in Higher Education, a practicing dramaturg at places such as the Great Plains Theatre Conference, and a former executive committee member for LMDA—Bryan's investment and dedication to the field of dramaturgy is undeniable."
As president, Moore will assemble an executive committee that will be responsible for planning the 2021 and 2022 annual conference, in addition to supporting the organization's members by providing year-round resources and opportunities for regional networking activities to help members stay engaged.
"I want to make sure we continue to do what we're doing well and strive to do it better," Moore said. "One of those things is how to continue to support our membership and make sure we are doing everything we can as an organization to support the work our membership is doing in their particular areas. If there are new issues, we want to acknowledge them and figure out how to support those individuals."