Brass Ensemble and Concert Band perform concert April 14
Published by Concordia University, Nebraska 6 years ago on Thu, Apr 2, 2015 10:04 AM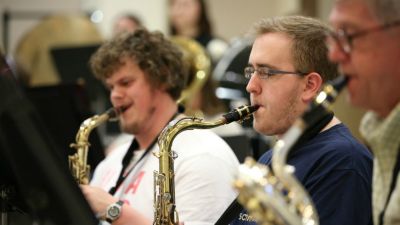 Concordia students Paul Nelson and Derek Theiss and community member Dr. Van Vahle rehearse for the Brass Ensemble and Concert Band concert, scheduled for April 14 at 7 p.m.
The Concordia Brass Ensemble and Concordia Concert Band will perform a joint concert at 7 p.m. on Tuesday, April 14, at St. John Lutheran Church in Seward.
The Brass Ensemble will perform a variety of tunes such as "Legends of the Pacific" by Frank Gulino, "Lassus Trombone" by Henry Fillmore, featuring senior Hannah Weber on trombone, and "Earth Song" by Frank Ticheli, arranged by senior Nicholas Harding.
The Concert Band will perform the "Gallant Men March" by John Cacavas, an arrangement of "Cotton-Eyed Joe" by Chris Sharp and "Blue Ridge Reel" by Brian Balmages, among other pieces.
The Brass Ensemble is a small group of brass players. They perform at chapel services, festival services of the university and local churches, as well as during on- and off-campus events. A broad range of repertoire is performed, from Renaissance to the 20th century, with special emphasis on music suitable for worship services.
The Concert Band includes Concordia students and faculty, as well as residents from the Seward community performing concert band music drawn from sacred and traditional band repertoire.
Students in the Brass Ensemble include (arranged by state, city, last name):
Ryan Gross, junior, Riverside, Calif., trumpet
Jennifer Reynolds, senior, Fort Wayne, Ind., trumpet
Hannah Weber, senior, Manchester, Iowa, trombone
Jessica Krome, senior, Fairmont, Minn., horn
Zach Hagenson, senior, Bellevue, Neb., tuba
Nicolas Harding, senior, Yerington, Nev., euphonium

Students in the Concert Band include:
Joshua Weishaar, senior, Salinas, Calif., trumpet
Joseph Koenig, senior, Orlando, Fla., clarinet
Sydney Heimann, junior, Galesburg, Ill., trombone
Josh Wudtke, junior, Collinsville, Ill., percussion
Dorian Doremus, junior, Grimes, Iowa, percussion
Janelle Adams, freshman, Andover, Kan., flute
Christian Schultz, senior, Wamego, Kan., percussion
Madeline Bickel, freshman, Birch Run, Mich., clarinet
Rebecca Trautman, senior, Moorhead, Minn., clarinet
Libby Klein, sophomore, Northfield, Minn., trombone
Cadence Klemp, freshman, Winona, Minn., flute
Derek Theiss, junior, Farrar, Mo., tenor saxophone
Sarah Brutlag, sophomore, St. Louis, Mo., flute
Ann Spilker, sophomore, Ashland, Neb., flute
Megan Seim, sophomore, Chapman, Neb., clarinet
Brianna Rerucha, senior, Columbus, Neb., percussion
Naomi Ristvedt, senior, Crete, Neb., oboe
Anna Beune, sophomore, Dodge, Neb., tuba
Erik Hart, freshman, Fairbury, Neb., trumpet
Samantha Boardman, junior, Henderson, Neb., trumpet
Brooke McNiel, freshman, Holdredge, Neb., euphonium
Kara Blase, junior, Hordville, Neb., flute
Micah Thiessen, senior, Lincoln, Neb., trumpet
Hannah Rose, sophomore, Louisville, Neb., clarinet
Paul Nelson, sophomore, Norfolk, Neb., alto saxophone
Mark Peetzke, senior, Seward, Neb., trumpet
Johanna Meyer, junior, Shelton, Neb., flute
Sarah Smith, senior, Unadilla, Neb., percussion
Krista Schmidt, sophomore, Giddings, Texas, percussion
Community members in the Concert Band include:
Emily Wood, Seward, Neb., clarinet
Shannon Ward, Crete, Neb., clarinet
Joanie Brecka, David City, Neb., horn
Caroline Jeppesen, Pleasant Dale, Neb., horn
Dan Hicks, Lincoln, Neb., euphonium
Kyle Hinkel, Utica, Neb., euphonium
Dr. Van Vahle, Seward, Neb., baritone saxophone
Gary Schweitzer, Seward, Neb., tuba