Book sale supports Plum Creek Children's Literacy 2014 Festival
Published by Concordia University, Nebraska 7 years ago on Fri, Aug 29, 2014 11:13 AM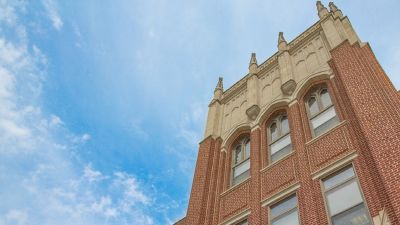 The Plum Creek Children's Literacy Festival hosted a pre-event book sale in room 03 on the lower level of the Thom Leadership Education Center at Concordia on Wednesday, Sept. 10, from 10 a.m. to 6 p.m.
The sale included books by the Plum Creek authors, illustrators and literacy experts featured at the festival Sept. 25-27 at Concordia. Books purchased could be left for the authors to sign and picked up after the festival. The sale also included plush animals such as the cat from Nick Bruel's book "Bad Kitty."
The book sale, run by volunteers, is one of the main sources of funding for the festival.
"Our mission has always been to encourage a love of reading and writing by interacting with authors and illustrators at no charge to students, " said festival coordinator Vikki Gremel. "In order to be true to the mission, we find ways, like this sale, to provide more funding for the festival. This book sale also gives students and the public a sneak peak at the wonderful books created by talented individuals who will be at this year's festival."
The festival, now in its 19th year, featured authors and illustrators including Rosemary Wells, Nick Bruel, Floyd Cooper, Jack Gantos, Steve Jenkins, Jeff Kurrus, J. Patrick Lewis, Brian Lies, Dandi Mackall and Jim Murphy. Literacy experts presenting at the festival included Linda Hoyt, Dale Allender, Monica Burns, Amanda Geidel, Twyla Hansen, Jill Johnson, Donalyn Miller and Tricia Parker-Siemers.
Find out more about the Plum Creek Literacy Festival at www.cune.edu/plumcreek and on the festival's Facebook page at www.facebook.com/plumcreekliteracy.