Book sale supports Plum Creek Children's Literacy 2015 Festival
Published by Concordia University, Nebraska 6 years ago on Fri, Aug 28, 2015 10:18 AM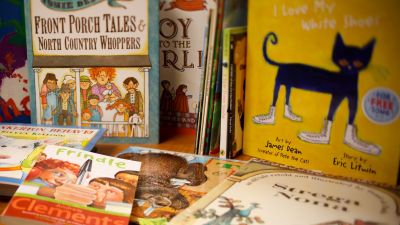 Books by authors and illustrators who will present at this year's Plum Creek Children's Literacy Festival will be on sale Sept. 16, 2015, on Concordia's campus.
The Plum Creek Children's Literacy Festival will host a pre-event book sale in room 03 on the lower level of the Thom Leadership Education Center at Concordia University, Nebraska on Wednesday, Sept. 16, 2015, from 10 a.m. to 6 p.m.
The sale will include books by the Plum Creek authors, illustrators and literacy experts featured at the 20th annual festival Oct. 1–3, 2015, at Concordia University, Nebraska. Books purchased may be left for the authors to sign and picked up after the festival.
The book sale, run by volunteers, is one of the main sources of funding for the festival.
"Our mission is to encourage a love of reading and writing by giving children opportunities to interact with authors and illustrators at no charge, " said Dylan Teut, coordinator of the festival. "This sale provides funding to help make it possible for children to have those interactions at the festival, and it gives them a unique keepsake from the authors and illustrators who share their talents and experiences during Plum Creek."
This year's festival will feature authors and illustrators who spend hours with children at schools and on campus Oct. 1 and 2. Returning favorites Andrew Clements, Carmen Deedy, Denise Fleming, Steven Kellogg, Jerry Pallotta, Richard Peck and Janet Stevens. Authors Tomie dePaola, Eric Litwin and Peter Lourie are new to the festival.
The festival also includes an adult conference on Oct. 3 with authors, illustrators and 15 literacy experts speaking on a variety of topics. The conference features a luncheon and keynote address by Richard Peck, who has written more than 18 novels for young readers. Peck is a Newbery award winner. Space for the luncheon is limited and must be reserved through the online registration form prior to the event.
Find out more about the Plum Creek Literacy Festival at cune.edu/plumcreek and on the festival's Facebook page at facebook.com/plumcreekliteracy.