Bockelman Exhibits New Paintings in Omaha
Published by Concordia University, Nebraska 4 years ago on Thu, Jul 26, 2018 11:57 AM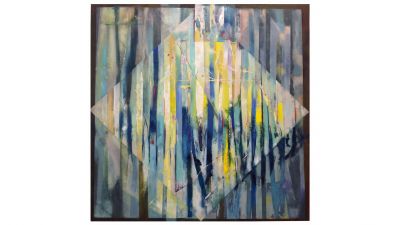 Modern Arts Midtown will feature new oil paintings by Concordia University, Nebraska professor of Art, James Bockelman.
The title "Grounded Light" is a play on both the material nature of pigments, as well as an emphasis upon the interplay of color interaction. Completed between 2017–2018, the fifteen works in the show explore the inherent tension within oil painting — the earth born container of the painting body and the fleeting nature of light. Of this series Bockelman stated, "I want the eyes to adjust slowly to color as it emerges across the surface of the painting."
Bockelman has taught for more than twenty years at the university level, with a studio emphasis in modern, contemporary art. For the past 18 years Bockelman has also directed the university gallery program and has curated numerous exhibitions. His work has been represented by Lo River Arts in Beacon, New York, and the Karolyn Sherwood Gallery in Des Moines, Iowa, and is currently represented by Modern Arts Midtown in Omaha.
In addition to exhibiting in numerous group shows throughout the region, Bockelman was featured in solo exhibitions at the Sheldon Memorial Museum of Art in Lincoln, the Museum of Nebraska Art in Kearney, and the Norfolk Arts Center.
In 2003, Concordia University presented him with the Outstanding Teaching Award. He received a Nebraska Arts Fellowship Merit Award in 2007 and 2015 and most recently, his work was exhibited at the Galerie Inga Kondeyne and the Milchhof Pavillon in Berlin, Germany. Bockelman holds a Master of Fine Arts degree in painting and drawing from the University of Nebraska.
The opening for this exhibition is scheduled for Friday, August 3 from 6-8 p.m. and runs through August 31. Modern Arts Midtown is located at 3615 Dodge St, Omaha. The exhibit is open to the public during the gallery hours Tuesday – Saturday, 11 a.m. – 6 p.m.
For more information, visit https://www.modernartsmidtown.com/events