Audrey Duensing-Werner serves Concordia community as Spiritual Care Coordinator
Published by Concordia University, Nebraska 1 year ago on Fri, Sep 17, 2021 2:16 PM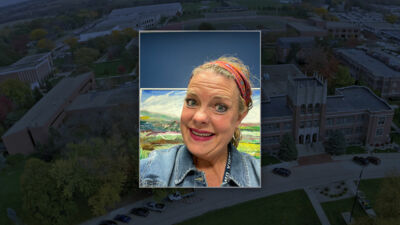 Audrey Duensing-Werner recently began her service as Concordia's spiritual care coordinator.
By Rev. Russ Sommerfeld
Assistant to the President for Church Engagement
On August 22, Concordia University, Nebraska's Christ-centered community rejoiced at the installation of Director of Christian Education Audrey Duensing-Werner as Concordia's spiritual care coordinator. She joins Campus Pastor Rev. Ryan Matthias in team ministry for the students, staff and faculty of Concordia. Her service is an answer to prayer.
Through Duensing-Werner's role, she will bring her deep biblical devotion and Christian care skills to enhance the spiritual lives of our students and the entire Concordia community. Almost a month into her tenure, she says she loves serving with the community and has found joy in engaging its worship and Bible learning and living culture. Thanks be to God for bringing Audrey to Concordia University.
Bringing a rich background in youth and young adult ministry, Duensing-Werner has served in various leadership roles with the LCMS National Youth Gathering since 1992 and the LCMS Youth Ministry Executive Board since 2013. She is a Concordia Publishing House author of children and family life ministry materials. God has also given her vocal musical talents and she was recognized as an Outstanding Music Educator by Iowa's Simpson College.
After earning her DCE certification from Concordia University, St. Paul (CSP) in 1992, she has served LCMS ministries as a called and commissioned DCE. Before serving Concordia, she was the director of family life ministry at Redeemer Lutheran Church in Austin, Texas since 2017. Prior to that, she served congregations in Michigan, Minnesota, Kansas and Missouri. From 1998 to 2006, she served as an adjunct professor of youth and family ministry at CSP.
Concordia promises students a Christian community—a supportive environment where staff, faculty and peers in leadership understand the meaning of God's grace and unconditional love while they also provide thoughtful guidance and mentoring. Students will have friends, professors, and mentors in their life whose faith is important in their own lives and community. Many will become lifelong friends and colleagues in their professional network.