Assistant Professor Shanna Opfer receives Outstanding Teaching Award at Concordia University, Nebraska
Published by Concordia University, Nebraska 4 years ago on Sat, May 6, 2017 10:59 AM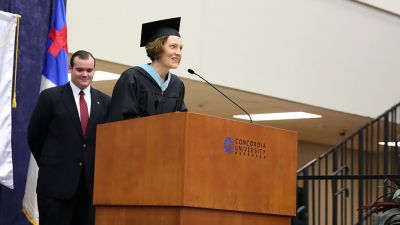 Shanna Opfer, assistant professor of education, and elementary education director, was presented with the 2017 Outstanding Teaching Award at the university's commencement ceremony May 6, 2017
Shanna Opfer, assistant professor of education, and elementary education director, was presented with the 2017 Outstanding Teaching Award at the university's commencement ceremony May 6, 2017.
The honor is given to a full-time faculty member who has been nominated by students. A committee of students, as well as faculty members who have previously received the award, selects the recipient. The recipient's name is not revealed until it is called during commencement. Student Senate president Zane Francescato and vice president Kristin Bartlett presented the award.
"I am humbled greatly," said Opfer as she accepted the award. "Thank you so much for this amazing honor. It is great to serve at this place."
"We have the best students anywhere," as she addressed the graduates. "I look forward to seeing how you will bless the world in amazing ways. Thank you so much for this honor. I am amazed." Opfer said.
Opfer began teaching part-time at Concordia in the fall of 2005 and full-time in 2011. She teaches several core education classes that all students in the program take and also works directly with elementary education program students during their student teaching semester.
Students nominating Opfer remarked, "She teaches with love, purpose and enthusiasm. She displays her faith in all her actions. She is a role model for all of the pre-service teachers. She is a person who has demonstrated her dedication to service in the Name of Jesus Christ, her love of students and her commitment to equipping them for lives of learning, service and leadership in the church and world."
"Professor Opfer is an excellent teacher who models 'best practice' in her classroom," said University Provost Dr. Jenny Mueller-Roebke. "She is known as the ultimate professional and role model for pre-service teachers. She constantly exhibits care for her students and joy in her work. As the daughter of two outstanding educators (and Concordia graduates) herself, she is continuing a family tradition of outstanding teaching. I am pleased to recognize Shanna with this award, which she so richly deserves."
Prior to her appointment at Concordia, Opfer taught grades 4, 5 and 6 at Raymond Central Elementary School for six years.
Opfer earned both her master's and bachelor's degrees from Concordia University, Nebraska.