Artists receive recognition at annual student exhibit
Published by Concordia University, Nebraska 10 years ago on Fri, Apr 20, 2012 12:49 PM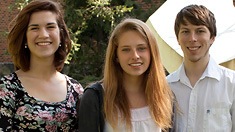 Crystal Bauer, Grace Hollenbeck and Josh Duncan took home three of the top-four awards. Bauer won the Brommer Award, Hollenbeck won the Class of 1933 Endowment award and Duncan was named the Leo Sieck Endowment award winner. Sara Fredrickson, not pictured, won the Wayne and Wanda Lillich Endowment award.
Art students from Concordia displayed their work at the annual Student Art Exhibit in the Marxhausen Gallery of Art.
As part of the event, Concordia's art department announced awards and yearly scholarship recipients on April 15 at the opening reception for the exhibition, which ran through May 2.
This year's Wayne and Wanda Lillich Endowment winner was junior Sara Fredrickson of Omaha, Neb. This award is given to a student in the field of graphic design who exemplifies professionalism within the discipline, a high attention to craft and sophistication toward design or illustration work.
"It is a real honor to be recognized for the professionalism and sophistication in my design work," said Fredrickson. "The scholarship will not only help with my senior year of studies but will also stand out on a resume as I look to the future."
Junior Crystal Bauer, Sebewaing, Mich., won this year's Brommer Award. The award is given to an art major of junior class standing who exhibits artistic skills and Christian ideals.
The winner of the Class of 1933 Endowment, awarded to a first year art student who is committed to the Lutheran teaching ministry and service to the church at large through art and practice, was freshman Grace Hollenbeck of Wheat Ridge, Colo.
Josh Duncan, junior, Hickman, Neb., was named the winner of the Leo Sieck Endowment, given to a student in the top ten percent of his or her class who shows promise and academic potential as an artist and scholar.
Eighteen students were selected to receive the Marxhausen Endowment Awards this year. The honor identifies students of exceptional ability from across the majors of art education, graphic design, studio art and liturgical art who were represented in the exhibition.
Brittany Becker, Junior, St. Peters, Mo.
Leah Eklof, Sophomore, Cokato, Minn.
Jenelle Hallaert, Sophomore, Omaha, Neb.
Micah Hollenbeck, Junior, Wheat Ridge, Colo.
Hayley Koeritz, Senior, Northrop, Minn.
Laura Kresha, Junior, Omaha, Neb.
Winonah Krug, Sophomore, Monroe, Mich.
Mary Masur, Sophomore, David City, Neb.
Alyssa McAfee, Sophomore, Dannebrog, Neb.
Briar McCoy, Senior, Lincoln, Neb.
Elise Ortmeier, Junior, Beemer, Neb.
Brandon Ramos, Freshman, Wailuku, Hawaii
Luke Riley, Freshman, Hickman, Neb.
Jennifer Smith, Sophomore, Grafton, Neb.
Dane Stahr, Sophomore, Lincoln, Neb.
Jessica Wagner, Junior, Ballwin, Mo.
Alyssa Wilson, Junior, Fremont, Calif.
Luke Wohlgemuth, Freshman, Alton, Iowa
The Marxhausen Gallery is the on-campus exhibition space for Concordia and hosts a variety of artists' exhibitions each year. It is located in Jesse Hall and is open Monday-Friday 11 a.m.-4 p.m. and Saturday and Sunday 1-4 p.m.