Art therapist speaks at Concordia
Published by Concordia University, Nebraska 11 years ago on Fri, Nov 4, 2011 8:03 PM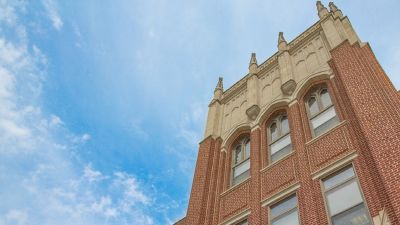 Art therapist Gwen McClain shared some of her experiences during her presentation, "Art Therapy in a Variety of Settings," on the Concordia University, Nebraska campus Oct. 28.
In her presentation McClain explained how art therapy can help people understand their personal experiences and convey a wide range of feelings without words. It can help patients express their emotions.
"The opportunity for our students to listen to such in-depth and honest information about what an art therapist faces will equip them to be more discerning and prepared for the career field they are aspiring to," said Don Robson, art department chair.
The departments of art and social science at Concordia collaborated to bring forward a new undergraduate program in art therapy this semester. It prepares students interested in helping others make art in a therapeutic setting. The program includes art classes such as drawing and watercolor along with classes in psychology and counseling.
McClain graduated from Emporia State University with a master's in art therapy. She has worked in a variety of treatment settings including the Menninger Foundation, Valeo mental health center and a women's prison. She is currently employed at Midland Care Hospice as a Grief and Loss Specialist, providing grief support to adults and children.