Art students' works on display
Published by Concordia University, Nebraska 10 years ago on Fri, Mar 23, 2012 2:36 PM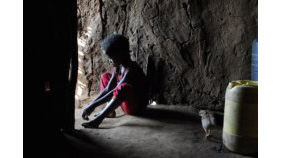 Photo by Kaylie Mellema will appear in Nikon USA's "Best of College & High School Photography 2012" book.
Three Concordia art students have received special recognition for their work. Crystal Bauer's video was selected as part of the Little Waves Show exhibit. Kaylie Mellema and Jessica Wagner will have photographs featured in Nikon USA's publication Best of College and High School Photography 2012.
Bauer, a junior from Sebewaing, Mich., created a conceptual documentation of a performance as part of her advanced Collage and Mixed Media class. The video, "Egg Video I", is a short film of Bauer blowing the egg out of a shell. Her image is mirrored in the video; the bottom section blows out the egg onto the top image of Bauer. Sound accompanies the image.
"Each time egg falls, the loud sound of it hitting ground is startling," explains Bauer. "The film ultimately ends in the top me being completely covered by the egg, and the egg moving onto the bottom me as well."
Bauer's video was selected for inclusion in the juried exhibition, The Little Waves Show, as part of Women's Week activities at the University of Nebraska-Lincoln.
Mellema, from Axtell, Neb., and Wagner, from Ballwin, Mo., are both graphic design majors. Their photographs were selected from over 17,700 photographs received from students in the U.S., Canada and around the world for the 32nd Annual College & High School Photography Contest sponsored by Nikon, USA. Finalists' works will be featured in two sections of the book Best of College & High School Photography 2012.