Art students give thesis exhibition at Concordia
Published by Concordia University, Nebraska 9 years ago on Fri, Apr 19, 2013 6:41 PM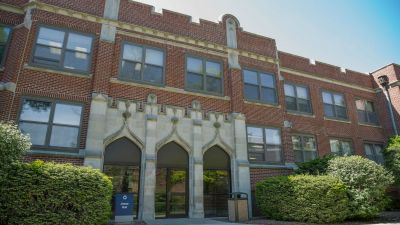 The Marxhausen Gallery of Art at Concordia hosted a Bachelor of Fine Art Thesis Exhibition containing the work of five student artists. The exhibit opened Sunday, April 21, and ran through May 8.
The thesis exhibition is meant to show the achievements of artists in upper level undergraduate studio art courses, according to Jim Bockelman, professor of art and Marxhausen Gallery curator. The exhibit also challenges students to take initiative and responsibility for creating and organizing such an event. Students must decide how to display their work, rent all necessary viewing equipment, write thesis statements for their work, advertise the exhibit and ultimately set up the gallery for the show.
The work of Northrop, Minn., native Hayley Koeritz is entitled Influence: The Films that Defined Hollywood's Golden Era. The collection includes a series of movie posters and title sequences focusing on films from the mid 1930s through the mid 1960s. Koeritz spent more than a year working on the project and says she hopes to showcase her expanded use of technique with the exhibit.
"This body of work has never been shown all together," she said. "I wanted a chance to display it as a unit and to able to show the progression."
Koeritz will graduate in May with a Bachelor of Fine Art degree in graphic design and a minor in marketing.
Joshua Duncan, a studio art major from Hickman, Neb., is showing a collection of work that utilizes photographs, drawings, silent video performances and digital paintings. Duncan's work highlights pop culture and the impact and influence of the Internet.
"While Concordia's art department has pushed me to develop my technical skills in traditional art styles, the greatest blessing has been the freedom to follow creative impulses and learn to use digital media," Duncan said. "I wanted the exhibition to reflect the variety of work I've been able to make in this encouraging environment."
Duncan said his studies in art history, philosophy and theology have enriched his artistic experience and helped create the themes of his artwork. He will graduate in May with a Bachelor of Fine Art degree in studio art with an emphasis in painting, as well as a BFA in ecclesiastical art. He plans to attend graduate school at the University of Wisconsin, Madison, and hopes to become an art professor.
Other artists represented in the thesis exhibition included Kelli Claassen of Lincoln, Neb., Sara Fredrickson of Omaha, Neb., and Brittany Becker of Saint Peters, Mo.
The Marxhausen Gallery is the on-campus exhibition space for Concordia and hosts a variety of exhibitions each year. It is located in Jesse Hall and is open Monday-Friday 11 a.m.-4 p.m. and Saturday and Sunday 1-4 p.m.