Art students earn top awards and scholarships
Published by Concordia University, Nebraska 6 years ago on Fri, May 6, 2016 10:36 AM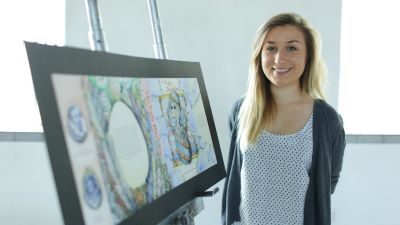 Concordia junior Eva Lube of Lincoln, Nebraska, was awarded two endowments in conjunction with the Student Art Show on campus in April 2016. Lube is pictured here with her piece "The Ugly Duckling Book Jacket."
The best of Concordia University, Nebraska students' artwork earned top awards and scholarships for their creators during the annual Student Art Show in April 2016.
"The Annual Student Art Show is a celebration of our students and the gift of creation they have been given," said Professor of Art Don Robson. "It's an opportunity to showcase the depth of their talent with families, friends and the Concordia University, Nebraska community and beyond."
The artwork was judged by Concordia's full-time art faculty. Art majors were required to enter their work to be judged. When accepted, the artwork was displayed in the Marxhausen Gallery of Art on campus and eligible for monetary awards, including endowed scholarships:
Leo Sieck Endowment: Awarded to a student who shows great potential as a scholar in art history, theory and research. Majoring in art and in the upper 10% of his/her class.
Class of 1933 Endowment: Awarded with preference to students in Lutheran teaching education and service to the church.
Marxhausen Endowment: Established by Reinhold Marxhausen and family to recognize great artwork across a broad group of students. Exceptional ability.
Wayne and Wanda Lillich Endowment – Lillich Graphic Design Award: This award recognizes a student(s) in the area of graphic design that exemplifies professionalism, high attention to the craft of the discipline and overall quality of their design work.
Brommer Endowment – Brommer Art Award: The winner of the Brommer Art Award shall demonstrate a strong witness of Christian faith, great work as a student and strong representation in the student exhibition.
The Annual Student Art Exhibition is a spring ritual for the university's art community. First- and second-year art majors must submit five works of any type of art. Third- and fourth-year students must enter seven pieces. If desired, students are able to sell their art during and after the exhibition.
Art students who earned awards and scholarships include (alphabetical by state/country, city, last name):
Allise Loomis, sophomore, Centennial, Colo., Marxhausen Endowment
Jordyn Sturms, junior, Lone Tree, Colo., Brommer Scholarship
Carlos Acosta Davila, junior, Cali, Colombia, Marxhausen Endowment
Grace Stange, junior, Lawrenceburg, Ind., Marxhausen Endowment and Best of Show
Chelsea Wohlgemuth, sophomore, Alton, Iowa, Marxhausen Endowment
Sarah Johnson, junior, Carlisle, Iowa, Marxhausen Endowment and Best of Show
Hannah Willison, junior, Manning, Iowa, Marxhausen Endowment
Sylvia Braun, senior, Jefferson City, Mo., Class of 1933 Endowment
Evan Rodriguez, junior, Princeton, N.J., Leo Sieck Endowment
Cynthia Campbell, senior, Columbus, Neb., Marxhausen Endowment
Jade Rowe, sophomore, Cozad, Neb., Marxhausen Endowment
Amber Hopp, junior, Elkhorn, Neb., Marxhausen Endowment
Kathie Nguyen, sophomore, Grand Island, Neb., Marxhausen Endowment
Courtney Kuehn, freshman, Kenesaw, Neb., Marxhausen Endowment
Eva Lube, junior, Lincoln, Neb., Leo Sieck Endowment and the Wayne and Wanda Lillich Endowment
Tyler Ganskow, junior, Madison, Neb., Marxhausen Endowment
Jessica Wang, freshman, Milford, Neb., Marxhausen Endowment
Danielle Harstad, senior, Norfolk, Neb., Class of 1933 Endowment
Clyde Ericson, junior, Osceola, Neb., Marxhausen Endowment
Aubri Bro, junior, Papillion, Neb., Marxhausen Endowment
Emmiline Moll, junior, Seward, Neb., Marxhausen Endowment
Laura Sattler, senior, East Troy, Wis., Class of 1933 Endowment