Art students earn 2021 awards and scholarships
Published by Logan Tuttle 2 years ago on Thu, Apr 15, 2021 9:57 AM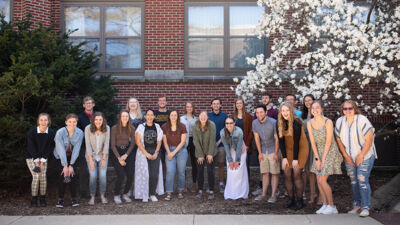 Concordia scholarship award winners and graduating seniors who attended the annual art awards ceremony on April 11 were, from left: (back row) Samuel Sisco, Stephanie Hilchen, Patrick Schneeberger, Hannah Mulligan, Jacob Brandt, Sarah Armbrust, Matthew Hawes, Chase Berry and Shanda Fujan; and (front row) Kassidy Grosserode, Claire Flood, Clarissa Spiehs, Celia Askelsen, Luisa Esquivel Bustamante, Sonja Brandt, Emily Niemeier, Tiffany Hovendick, Dylan Cookus, Hayley Denner, Emma Hoyer and Abi Gerber.
Concordia University, Nebraska's department of art recently announced this year's awards and scholarship recipients during the Annual Student Art Show on April 11.
These awards and scholarships are awarded based on a student's artwork in the annual Student Art Show that was on display in the Marxhausen Gallery of Art April 7-15. Last year's show was canceled due to the pandemic.
"It was great to see our students' artwork on display in the Marxhausen as a culmination of all of their hard work this year," said Don Robson, art department chair and professor of art. "They all put in countless hours on their works and it's a great feeling to be able to recognize them for their achievements."

Concordia's department of art awards and scholarships include:
Leo Sieck Endowment: Awarded to a student who shows great potential as a scholar in art history, theory and research. To be considered for this award, a student must be an art major and rank in the upper 10% of their class. This year's recipient is Kassidy Grosserode, a senior from Neligh, Nebraska.

Class of 1933 Endowment: Preference will be given to students in Lutheran teaching via education and service to the church. In order to be considered for this award, a student must be an art education major and pursuing an LCMS degree certificate. This year's recipient is Clarissa Spiehs, a sophomore from Hubbard, Iowa.

Wayne and Wanda Lillich Endowment – Lillich Graphic Design Award: This award recognizes a student or students in the area of graphic design that exemplifies professionalism, high attention to the craft of the discipline and overall quality of their design work. This year's recipient is Dylan Cookus, a junior from Milford, Nebraska.

Brommer Art Scholarship Award: The recipient of this award shall demonstrate a strong witness of Christian faith, great work as a student and strong representation in the student exhibition. This year's recipient is Kassidy Grosserode.
Marxhausen Endowment (students do not apply for the Marxhausen Endowment Scholarships): Established by Reinhold Marxhausen and family, these scholarship awards recognize great artwork across a broad group of students and media. This award scholarship is open to all art majors and minors currently enrolled at Concordia. These awards are provided to students whose work merits outstanding attention for its creativity, high degree of quality and/or clarity of vision. This year's recipients include:
Sarah Armbrust, senior, Ballwin, Mo.
Celia Askelsen, senior. Indianola, Ind.
Chase Berry, sophomore, Seward, Neb.
Jacob Brandt, senior, Knob Noster, Mo.
Luisa Esquivel Bustamante, senior, Morelia, Michoacán, Mexico
Hayley Denner, senior, Diller, Neb.
Claire Flood, senior, Firth, Neb.
Abi Gerber, sophomore, Columbus, Neb.
Kassidy Grosserode, senior, Neligh, Neb.
Matt Hawes, freshman, Omaha, Neb.
Tiffany Hovendick, senior, Milford, Neb.
Emma Hoyer, sophomore, Crete, Neb.
Hannah Mulligan, junior, Hastings, Neb.
Thori Nelson, sophomore, Davey, Neb.
Emily Niemeier, junior, Saint Libory, Neb.
Riley Riggs-Ramage, sophomore, Saint Edward, Neb.