Art helps 'tell the story' at Trinity Davenport
Published by Concordia University, Nebraska 11 years ago on Fri, Oct 22, 2010 6:45 PM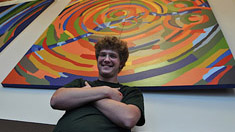 More than 100 adults, teens, and young children created art together on Oct. 15-16, 2010, at Trinity Lutheran Church in Davenport, Iowa. Their goal? To paint a mural for the narthex of their church that matched the year's theme, "I love to tell the story." Todd Meier, a junior art major at Concordia University, Nebraska designed the mural. The project was completed as part of an internship in ecclesiastical art through Concordia's Center for Liturgical Art.
Meier created several designs before deciding on a circular ripple theme in shades of orange and blue. These ripples represent the Mississippi River and the Quad Cities: Davenport and Bettendorf in Iowa and Moline and Rock Island in Illinois.
"With this design I wanted to capture the movement out of the Quad Cities and into the entire world," Meier said. "This movement need not always be physical, for today technology allows us to interact and witness to many different people: people in Davenport, in the United States and throughout the globe."
The CLA works with architects, liturgical consultants and master artisans in the design of worship space and the creation of ecclesiastical art. CLA managing artist Mark Anschutz mentored Meier throughout the design and preparation phases of the project. Pastor Karl Fay of Trinity Lutheran Church also worked with Meier to design an image that would be beautiful as well as meaningful to the congregation.