Art department announces award and scholarship recipients
Published by Concordia University, Nebraska 2 years ago on Fri, Apr 17, 2020 11:13 AM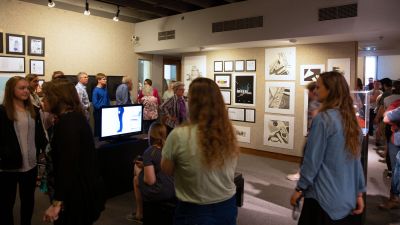 Attendees view student artwork at Concordia's 2019 Student Art Show in the Marxhausen Gallery of Art. This year's show was canceled due to the coronavirus pandemic.
Concordia University, Nebraska's department of art recently announced this year's scholarship recipients.
These scholarships are typically awarded based on a student's artwork in the annual Student Art Show that takes place in April and judged by Concordia's full-time art faculty. This year's exhibition was canceled due to the coronavirus pandemic, and instead, students applied for each scholarship and endowment.
"Although we were not able to hold our annual student exhibition, it is important for our department to recognize our students for their work ethic and creativity they have shown throughout this academic year," said Don Robson, art department chair and professor of art. "The art faculty spent a lot of time considering the students and their caliber of work, attitude and discipline, along with their applications and letter of recommendation to determine this year's awardees."

Concordia's department of art awards and scholarships include:
Leo Sieck Endowment: Awarded to a student who shows great potential as a scholar in art history, theory and research. To be considered for this award, a student must be an art major and rank in the upper 10 % of his/her class.

Class of 1933 Endowment: Preference will be given to students in Lutheran teaching via education and service to the church. In order to be considered for this award, a student must be an art education major and pursuing an LCMS degree certificate.

Wayne and Wanda Lillich Endowment – Lillich Graphic Design Award: This award recognizes a student or students in the area of graphic design that exemplifies professionalism, high attention to the craft of the discipline and overall quality of their design work.

Brommer Art Scholarship Award: The recipient of this award shall demonstrate a strong witness of Christian faith, great work as a student and strong representation in the student exhibition.

Marxhausen Endowment (students do not apply for the Marxhausen Endowment Scholarships): Established by Reinhold Marxhausen and family, these scholarship awards recognize great artwork across a broad group of students and media. This award scholarship is open to all art majors and minors currently enrolled at Concordia. These awards are provided to students whose work merits outstanding attention for its creativity, high degree of quality and/or clarity of vision.
Art students who earned awards and scholarships (listed alphabetically by state, with Nebraska first, city and last name) include:
Sam Sisco, junior, David City, Neb., Wayne and Wanda Lillich Endowment - Lillich Graphic Design Award
Claire Flood, junior, Firth, Neb., Marxhausen Endowment
Allison Pinkall, senior, Gretna, Neb., Marxhausen Endowment
Cody Williams, junior, Imperial, Neb., Marxhausen Endowment
Malena Goldenstein, senior, Kenesaw, Neb., Marxhausen Endowment
Dylan Cookus, sophomore, Milford, Neb., Marxhausen Endowment
Kassidy Grosserode, junior, Neligh, Neb., Leo Sieck Endowment, Marxhausen Endowment
Emily Niemeier, sophomore, Saint Libory, Neb., Marxhausen Endowment
Elisa Kurth, sophomore, Stromsburg, Neb., Marxhausen Endowment
Jayda Lyon, sophomore, Colorado Springs, Colo., Marxhausen Endowment
Antonio Blaine, freshman, Golden, Colo., Marxhausen Endowment
Everett Elder, junior, Greeley, Colo., Marxhausen Endowment
Monica Brown, sophomore, Northglenn, Colo., Marxhausen Endowment
Clarissa Spiehs, freshman, Hubbard, Iowa, Class of 1933 Endowment
Celia Askelsen, junior, Indianola, Iowa, Marxhausen Endowment

Sarah Johnson, senior, Waconia, Minn., Brommer Art Scholarship, Class of 1933 Endowment
Sarah Armbrust, junior, Ballwin, Mo., Marxhausen Endowment
Jacob Brandt, junior, Knob Noster, Mo., Marxhausen Endowment
Sonja Brandt, senior, Knob Noster, Mo., Marxhausen Endowment
Emma Brand, senior, Springfield, Mo., Marxhausen Endowment