"Art and Text: Images, Concepts and Insights" at Marxhausen
Published by Concordia University, Nebraska 12 years ago on Mon, Jan 24, 2011 5:52 PM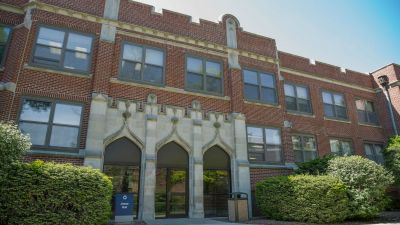 Art and text came together in Concordia's Art and Text exhibit at the Marxhausen Gallery of Art, which opened Sunday, Feb. 20. An opening reception for the show was held Sunday, Feb. 27, 1-4 p.m. in the Marxhausen Gallery and there was an exhibition talk at 2 p.m. in the Thom Leadership Education Center auditorium.
"Art and Text: Images, Concepts and Insights brings together sixteen North American artists who employ conceptual language to address concerns of Christian spirituality," according to exhibition curator Teresia Bush.
The exhibit, which has been compiled by Christians in the Visual Arts, includes Jenine Haard's collection, Archive, which uses white slip cards and human hair, and Gene Schmidt's series, Manhattan Measure. Schmidt physically measured the area of the Manhattan as part of his project, creating a multi-faceted expression of measurement using sculpture, performance art, film and photography.
The exhibit runs through Friday, April 1. The Marxhausen Gallery is the on-campus exhibition space for Concordia and hosts a variety of exhibitions each year. It is located in Jesse Hall and is open Monday-Friday 11 a.m.-4 p.m. and Saturday and Sunday 1-4 p.m.