Arena named in honor of Friedrichs
Published by Concordia University, Nebraska 3 months ago on Fri, Nov 6, 2020 9:02 AM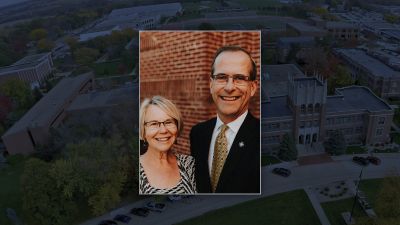 Concordia University, Nebraska recently announced the arena inside of Walz Human Performance Complex has been named Friedrich Arena in honor of Rev. Dr. Brian and Dr. Laurie Friedrich, for their steadfast service and leadership to the University. A dedication ceremony is tentatively planned for the spring.
"Concordia University has been richly blessed by the leadership of President Friedrich over the past 15 years," said Stuart Bartruff, Concordia Board of Regents chair. "He advanced the mission and vision of the University in the truest sense. He was very faithful and humble in his service to Concordia and the community-at-large. We also recognize Dr. Laurie Friedrich for her fervent support of Brian and the University during his tenure."
Brian Friedrich served as Concordia's 10th president from 2004-2019, after serving in the advancement office from 1994-2004. Throughout his presidential tenure, the university's enrollment increased from 1,315 students in 2004 to 2,520 in 2017. Friedrich oversaw many campus improvements including the Walz Human Performance Complex, the Center for Liturgical Art, the Holthus Family Plaza and most recently, the Dunklau Center for Science, Math and Business. Friedrich currently serves as president of Concordia University, St. Paul, Minnesota, his alma mater.
"To be part of Concordia Nebraska and have the opportunities we had for almost 29 years to engage with students, faculty, staff, the community and alumni was an incredible personal and professional experience," Friedrich said. "It's an institution that has given our family, Laurie, and myself, so much more than we ever gave it. To be recognized in that way is very humbling. I can't think of a space on campus I would rather have our family name associated with than the Walz Complex. Having the Friedrich Arena within the Walz Complex is truly a marvelous blessing."
"I was just surprised, humbled and honored," said Dr. Laurie Friedrich. "It's a place where we attended many events, both in the old gym and the new arena. We took our children to many events, too. It was fun to be able to watch our son Phil play there and coach. We're just so proud of all the athletes, coaches and staff that bring the campus together in that location. It's fun to see other students supporting each other there."
The Walz Human Performance Complex, built in 2009 and named for Rev. Dr. Orville Walz, who served as Concordia's president 1990-2004, is home to Concordia's athletic department and the health and human performance academic programs. The facility, featuring a fieldhouse with a 200-meter indoor track, multiple weight rooms and an athletic training room, is one of the premier athletic facilities in the National Association of Intercollegiate Athletics (NAIA).