Area youth cast in "Christmas Carol"
Published by Concordia University, Nebraska 10 years ago on Fri, Sep 23, 2011 4:00 PM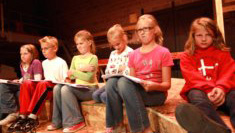 (L-r) Shannon Snow, Thomas Reinke, Lydia Lobmeyer, Ella Gray, Madison Geidel and Anna Snow get into character during a rehearsal for "A Christmas Carol."
Six Seward-area youth showed their theatre chops as part of the cast of an adaptation of Charles Dickens' classic Christmas Carol, produced by Concordia's theatre department.
The young actors, Madison Geidel, Ella Gray, Lydia Lobmeyer, Thomas Reinke, Anna Royuk and Shannon Snow, were selected from auditions held in September. They rehearsed each day for two hours with university student-actors and directors.
The rehearsals were designed to teach more than just lines. The children learned theatre vocabulary words and stage directions and then reviewed them after rehearsal. The young actors enjoyed their time on stage despite the work.
"My favorite part was getting to put on a show for lots of people to see," said Anna Royuk, who played Tiny Tim.
Student director Caitlynn Schwehn was excited about including local children in the production and about the unique opportunity working with them gave to Concordia's actors.
"They [actors] seemed excited to work with a different age group," said Schwehn, a junior from Grand Island, Neb. "Bringing in new actors and perspectives is always a fun challenge."
Proceeds from a free-will offering at each of the five performances benefited Operation Christmas Child.