Announcing In Harmony: A New Space for Music
Published by Concordia University, Nebraska 3 years ago on Fri, Oct 30, 2020 8:04 AM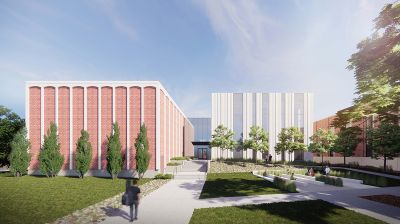 Concordia's Music Building will soon be remastered into a new 46,500 square-foot collaboration and study center.
Concordia University, Nebraska's nationally accredited music department will soon have a new first-class collaboration, practice and study center for students and faculty.
"Concordia's music department has a long-standing tradition of excellence and a respected reputation dating back to the university's early days," said Rev. Russ Sommerfeld, interim president. "Providing our students and gifted faculty with an updated facility will further enhance their experience on campus as they prepare to share their God-given talents with churches, classrooms and audiences around the world."
With 46,544 square feet, the remastered Music Center will enhance the spaces supporting Concordia's highly regarded program while creating new capacity and opportunities for an exciting future. The building will include 22 practice rooms and 13 teaching studios outfitted with the latest technology and designed for state-of-the-art acoustics and aesthetics—including floor-to-ceiling windows and larger band and choir rooms.
"This new space is intentionally designed to help foster our already-strong music community on campus," said Dr. Kurt E. von Kampen, music department chair. "The music faculty has been working with Concordia's administration and architects to ensure the finest details are implemented throughout the new space, especially when it comes to acoustics and the specific needs of our talented students."
The project will include renovations to the 200-seat recital hall, which will continue to house both a Casavant Frères organ and a Steinway & Sons concert grand piano, and the addition of a recording studio. In addition, the university's drama program will benefit from a new 100-seat theater, providing students a quality space in which to share their God-given talents. With these improvements, Concordia's performing arts departments will have opportunities to increase academic offerings and co-curricular experiences for students.
The project, titled In Harmony: Building a New Space for Music, is part of Answering The Call, Concordia's current fundraising campaign that has raised $71 million to date. Concordia's Board of Regents approved the $17 million project earlier this week with the intention of a 2021 groundbreaking, provided fundraising goals have been achieved.
"More than 10,000 alumni and friends have generously supported Concordia to make this a historic campaign for the university. This will be a wonderful capstone, as they and others now partner with us to make this long-awaited and much-needed space a reality," said Kurth Brashear, vice president of institutional advancement. "God has abundantly blessed Concordia."