Andromeda galaxy seen at Osten Observatory open house
Published by Concordia University, Nebraska 7 years ago on Tue, Oct 27, 2015 11:20 AM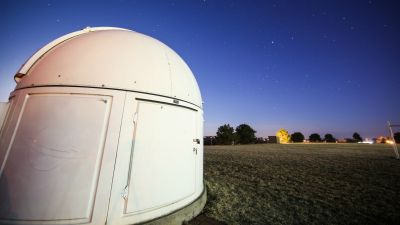 The Osten Observatory near Concordia's campus in Seward will hold an open house Nov. 3, 2015, from 8 to 9:30 p.m.
The nearest large galaxy to ours, Andromeda, will be seen at an open house Nov. 3, 2015, from 8 to 9:30 p.m. at the Osten Observatory near Concordia University, Nebraska. The public is invited to attend, and admission is free.
Andromeda, our neighboring galaxy with hundreds of billions of stars, will be featured at this open house, as well as Alberio, the colorful double star, and star clusters and nebulae.
Through a computer-controlled telescope, visitors will be able to see stars and planets. Professor of Physics Dr. Robert Hermann will provide a brief explanation of each one that can be seen, and he will answer questions from attendees. The viewing of all the objects will take place for 15 to 25 minutes.
The observatory is located on the northeast corner of Concordia's campus on East Hill Crest Drive in Seward. Visitors should be prepared to walk across a short length of field as the path to the observatory is not paved. The viewing will be cancelled if the sky conditions are cloudy or there is excessive winds at the starting time of the event.