Alums organize long-term flood relief efforts in Fremont
Published by Concordia University, Nebraska 4 years ago on Tue, May 28, 2019 11:43 AM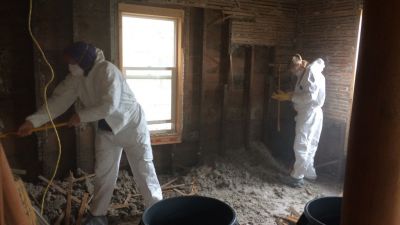 Photo Courtesy Remkea Ockander '00. Workers help clean up a building in Fremont that was damaged in the March flood.
Two Concordia University, Nebraska alums helped Good Shepherd Lutheran Church in Fremont launch a long-term recovery ministry aimed at bringing together physical rebuilding needs and practical assistance after the March flood.
Remkea Ockander '00 and Rev. Ryan Ankersen '10 both work for Good Shepherd, where Ockander is the director of youth and family ministry and Ankersen is the lead pastor. In May, Good Shepherd received a grant from The Lutheran Church—Missouri Synod (LCMS) World Relief and Human Care Disaster Response that will be used to hire a full-time person who will run Project Restore, the church's long-term recovery ministry.
"I would say 35 percent of Fremont was hit," Ockander said about the flood damage. "Our church was fine, but if you go south of town it's not great. Our community is surrounded by smaller communities and they weren't going to get the resources that we could as a hub. We could care for those communities and make sure their needs were being met, too."
When Fremont and the surrounding area sustained damage from the March flood, Ockander knew Good Shepherd had to do something to help and wanted God to show her what the church's role needed to be in the response efforts. Ankersen also asked God to use them, their ministry, their people and the church's facility to help people who were hurting. About 24 hours later, he said, Operation Blessing, a nonprofit humanitarian organization dedicated to demonstrating God's love by alleviating human need and suffering in the U.S. and around the world, came to Fremont and knocked on the church's door.
"I think God was putting that prayer on my heart and he certainly answered that prayer," Ankersen said. "It was an answered prayer for Operation Blessing, too, because they were looking for space and couldn't find any."
Samaritan's Purse, a nondenominational evangelical Christian organization that provides spiritual and physical aid to hurting people around the world, also came to Fremont for a couple of weeks after the flood took place.
Ockander connected with Orphan Grain Train, a nonprofit Christian volunteer network that shares personal and material resources with needy people in America and around the world, based in Norfolk, through fellow Concordia alum Grant Schmidt '83, who is the organization's vice president of operations.
"They have been amazing in the entire state of Nebraska," she said. "They are providing trucks of sheetrock and we have borrowed a shower unit. We could not have done that without Orphan Grain Train, there are so many resources that we can put back into the community. They're an incredible organization to work with."
Ockander and Ankersen were shown that they needed to focus on long-term relief. Many times in a disaster, Ockander said, there is an outpouring of relief efforts, but they typically only last four weeks. In order to sustain the long-term relief, Good Shepherd decided to focus on bringing in volunteer groups to assist homeowners with mucking out their homes, where water is pumped out of the house and precautions are taken to ensure the home doesn't sustain further damage.
In early May, a volunteer group from the UNL Lutheran Chapel assisted a homeowner who had lost everything. The group worked for six and a half hours and still weren't done, Ockander said. But those 85 volunteer hours would have taken the man four to six months to complete on his own.
"This poor man, he lost everything," Ockander said. "At the time of the flood, he was walking through his living room in waist-deep water waiting to be rescued. He lost his home and all of his possessions. How would he do 85 hours of work on his home to get it gutted?"
Ockander said when the group was helping the man, she saw him laugh and smile, which will go a long way to care for man's emotional health.
"Even if he may not be able to rebuild, the fact there were 12 college kids who came to help after their exams, after their school year is over, just helping him lift his spirits," she said. "That's also why these groups are so important to us. People do care."
If groups are interested in volunteering with Project Restore, they can sign up online on Good Shepherd's website, or call the church at 402-721-8412.