Alumni and community members invited to Homecoming and Alumni Reunion Weekend at Concordia
Published by Concordia University, Nebraska 3 years ago on Fri, Sep 13, 2019 11:17 AM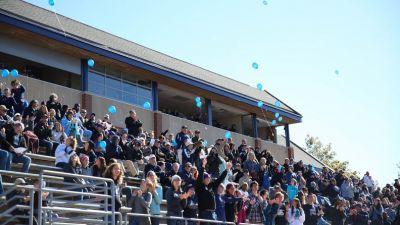 The Concordia Homecoming football game against Briar Cliff University is Saturday, Sept. 28, at 1 p.m.
Alumni of Concordia University, Nebraska will be welcomed back to campus Sept. 27-29 for special events during the 2019 Homecoming and Alumni Reunion Weekend and to celebrate 126 years of Concordia's ministry.
"Concordia is looking forward to welcoming back our alumni for a wonderful weekend of reunions, games and other events," said Jennifer Furr, senior director of alumni and university relations. "We thank God for the opportunity to have alumni and their families reconnect with one another and rediscover all their favorite Concordia memories."
There will be an open house held for the Dunklau Center for Math, Science and Business science wing Friday, Sept. 27, from 1 to 4 p.m., as well as faculty and staff guided tours Saturday at 9 a.m., 10 a.m. and 11:30 a.m. The new facility was built along Brommer Drive on Concordia's campus and houses the academic departments of science (biology, chemistry, physics and environmental science), math, business and computer science. Other open houses include Harvey and Carol Lange Center for Liturgical Arts Studio, Bartels Rock Museum, Marxhausen Gallery and other campus buildings.
Clark Kolterman will host alumni on a "Secrets of Seward" shuttle tour Friday. There will be a shuttle pick up at Janzow Campus Center at 8:30 a.m. and 1:30 p.m., for an exclusive tour of Seward. There are 12 seats available on the shuttle.
A free homecoming fair with games and other activities will take place Saturday, Sept. 28, from 11 a.m. to 1 p.m. at the C.G. "Kelly" and Virginia Holthus Family Plaza.
A pregame tailgate meal for Homecoming attendees and the public will be held starting at 11 a.m. at the Holthus Plaza and Brommer Drive. Tickets may be purchased in advance or at the door. Concordia's football game versus Briar Cliff University kicks off at 1 p.m. in Bulldog Stadium.
Additionally, there will be a formal homecoming banquet and alumni awards ceremony at the Ag Pavilion at the Seward County Fairgrounds, beginning at 5:30 p.m. Saturday. The Concordia Jazz Band will be performing, followed by a few words from President Brian Friedrich and the awards presentation.
Concordia will honor several selected alumni and friends of the university who have demonstrated excellent service in the church and the world. Honorees include:
Alumnus of the Year – Matthew Matousek, '96
Young Alumnus of the Year: David D. Dolak, '03
Servant Leadership Award: Rev. Aaron Dickerson '82
Lifetime Service Award – Courtney Meyer, '65
Family Heritage Award – Paul '37 and Mable Ebel Family
Lifelong Learner Award – Rev. Dr. Dean '70 and Dian Vieselmeyer '70
Honorary Bulldog Spirit Award – Kermit and Mary Krieser
Concordia will also induct several former Bulldog athletes into the Concordia Athletic Hall of Fame:
Ronald Bork '70, cross-country/track & field
Gentri (Brown) Tollefson '07, soccer
Erik DeHaven '01, football
JaMaine Lewis '08, football
Michael Saalfeld '09, track & field
2004-05 Concordia softball team
Visitors to campus are welcome to explore campus buildings; visit with faculty, staff and students; enjoy meals; attend event receptions and cheer on the Bulldogs at athletic events.