Alumni and community members invited to Homecoming
Published by Concordia University, Nebraska 6 years ago on Fri, Sep 25, 2015 11:47 AM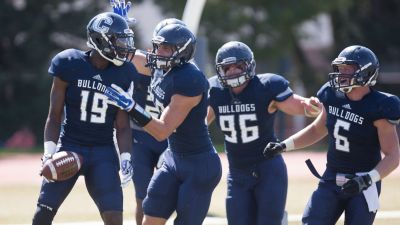 The 2015 Homecoming football game at Concordia is scheduled for Saturday, Oct. 10, at 1 p.m. against Nebraska Wesleyan University.
Alumni of Concordia University, Nebraska will be welcomed back to campus Oct. 9–11 for special events during the 2015 Homecoming and Alumni Reunion Weekend.
"We thank God for this special opportunity to host our homecoming guests," said Brian Friedrich, president of the university. "We look forward to spending time with our alumni, their families and community members who are on campus during this joyous annual event."
Honored class reunion gatherings on campus during the weekend include those for the college Class of 1955 and the Concordia High School Classes of 1955 and 1965.
The history department will also feature special activities to celebrate its program and the contributions of its students over the year. The celebration will feature a keynote presentation with Dr. Frederick Luebke along with a video presentation on Concordia's history and a VIP tour of the Nebraska National Guard Museum from 1:30 to 3:30 p.m. on Oct. 9. It will also include a special luncheon and dinner reception.
A free homecoming fair with games and other activities will take place Saturday from 11 a.m. to 1 p.m. at The "C.G." Kelly and Virginia Holthus Family Plaza.
A pre-game tailgate meal for Homecoming attendees and the public will be held starting at 11:30 a.m. in the Janzow Campus Center cafeteria and on The "C.G." Kelly and Virginia Holthus Family Plaza. Tickets may be purchased in advance or at the door. Concordia's football game versus Nebraska Wesleyan University kicks off at 1 p.m. in Bulldog Stadium, and at 6 p.m. Concordia's volleyball team will take on Nebraska Wesleyan University in Walz Arena.
Concordia will honor several selected alumni and friends of the university who have demonstrated excellent service in the church and the world. Honorees include:
Alumnus of the Year: Rev. Dr. Ray Mirly '66
Young Alumna of the Year: Dr. Michelle Quinlan '05
Mission & Ministry Award: Rev. Brad Birtell '88
Church Leadership Award: Dr. Carolyn (Stroebel) Sims '66
Friends of Concordia Award: Norman & Joyce Riffel
Lifetime Service Award: Judith Duda
Honorary Alumni Award: Dr. Jerrald Pfabe
Concordia will also induct several former Bulldog athletes into the Concordia Athletic Hall of Fame:
Gordon Bredow '64, Baseball/Basketball
Dick Everts '68, Baseball
Quinton Furr '01, Track & Field
Sarah Harrison Krueger '05, Basketball
Ross Wurdeman '02, Baseball/Football
1977-78/1978-79 Men's/Women's Swimming
Visitors to campus are welcome to explore campus buildings; visit with faculty, staff and students; enjoy meals; attend event receptions and cheer on the Bulldogs at athletic events.
Please visit cune.edu/homecoming for schedule, ticket and registration information.