Alum brings King Kong puppet performance to Concordia
Published by Concordia University, Nebraska 8 years ago on Tue, Jan 15, 2013 1:52 PM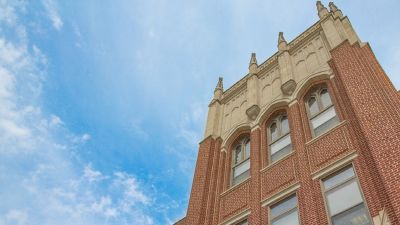 "King Kong: The Puppet Show," a comedic one-act retelling of the classic 1933 movie, was performed in the Studio Theater on the campus of Concordia on Friday, Jan. 18.
Directed, designed and adapted for the puppet stage by Lincoln-based artist and Concordia alumnus Ladd Wendelin, "King Kong: The Puppet Show" featured a unique mix of both live action performances and puppetry. The show included memorable moments from the film, not to mention a few surprises along the way.
"We love to see the work of alumni and to have them back on campus," said Bryan Moore, assistant professor of communication and theatre. "And it's King Kong with puppets. Having something fun like this to share with the campus and community is a real treat." Joining Wendelin in performance are actors and actresses from the Lincoln theatre scene.
"King Kong: The Puppet Show" follows the adventures of a floundering nature filmmaker, who learns of a mysterious island from a sailor. Having captivated a beautiful, unemployed actress, Denham and the intrepid crew set sail for Skull Island, home to a simian overlord known as Kong. When Denham seizes the opportunity to capitalize on the great ape, Kong is whisked away to civilization where he unleashes terror and mayhem with tragic results.