No breakpoint
Breakpoint
sm
Breakpoint
md
Breakpoint
mlg
Breakpoint
lg
Breakpoint
xl
Breakpoint
2xl
Concordia University's Rho Omicron chapter of Sigma Tau Delta, a national honor society for students studying English, is devoted to promoting scholarship among students of English at Concordia and interest in English language and literature among all students on campus.
Sigma Tau Delta is involved in a variety of activities both on and off campus. The group provides services for the university's annual Gathering of the Talents, particularly in judging student writing. Sigma Tau Delta also takes on service projects such as recording readings of children's books and writing out the stories of nursing home residents. Every year Sigma Tau Delta publishes Potpourri, a collection of poetry and fiction written by Concordia students from all programs of study. The group also holds campuswide literary events such as poetry jams and plays host on trips to theatrical productions.
Students with a major, minor or concentration in any area of English and who meet certain grade point average and class rank requirements are eligible for membership in Sigma Tau Delta. Rho Omicron has about 30 members who meet to discuss issues in English that are both contemporary and timeless.
Find Sigma Tau Delta, the International English Society, at english.org.
Meet our Faculty Sponsor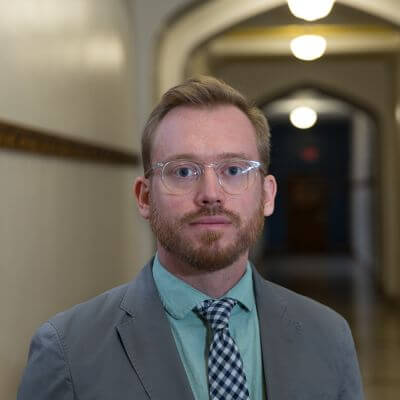 Dr. Gabriel Haley
Associate Professor of English
Department of English, Communication and Theatre Arts