Pray for Concordia
We invite you to pray with us to support the work of Concordia University, Nebraska, and to uphold students, faculty and staff, alumni and friends as they live each day in God's grace.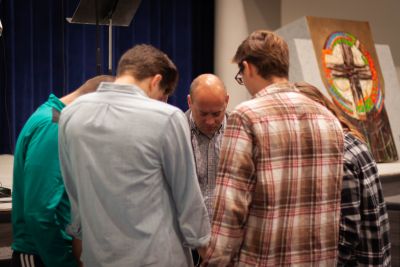 Students
Ask our Lord's blessing for all the students who study at Concordia, both undergrad and graduate, that they might excel in their studies and in the professions to which they are called.
Ask our Lord's blessing on all student activities, athletics and fine arts, that they might enrich students' lives and give them opportunities to glorify God and bear witness to His divine love.
University, Faculty & Staff
Thank God that Concordia has the privilege of being used as His instrument to equip men and women for His witness, service and leadership in the church and world.
Pray Concordia might have the opportunity through increased enrollment to educate and shape the lives of even more students with an excellent Lutheran, Christian education.
Pray Concordia's commitment to Bible study, chapel and corporate worship may flourish, that the Spirit might work faith, love and hope in the hearts of the Concordia community.
Ask the Spirit of God to give joyful hearts to faculty and staff, that they might never be lacking in zeal to accomplish in love the tasks set before them each day in service to our Lord.
Pray Concordia might grow in ability to make a powerful impact into diverse communities and cultures, both domestically and internationally.
Alumni & Friends
Thank our God for all those who have attended Concordia and pray that each day our Lord would use them, their gifts and talents to bless all with whom they live, work and play.
Give thanks for all who value Concordia and provide support through their time, talent and treasure, and pray God would move others to embrace and uphold her mission and ministry.