Alumni Awards
During Homecoming and Alumni Reunion Weekend, the Concordia Alumni Association will honor alumni and friends for their outstanding service and accomplishments.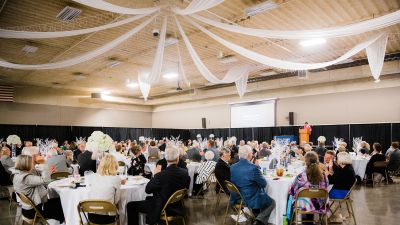 Alumnus of the Year
An alumnus who has demonstrated outstanding Christian service and leadership in the community, church and world; and recognized for outstanding performance in his/her vocation.
Young Alumnus of the Year
An alumnus who graduated within the last 15 years and has made a significant contribution as a servant leader in the community, church and world; recognition for outstanding performance in his/her vocation.
Servant Leadership Award
An alumnus or friend of Concordia serving in or retired from a local or global mission field or ministry demonstrating servant leadership to the church and world.
Lifetime Service Award
An emeriti or retired faculty or staff member who demonstrates outstanding Christian service and leadership in the community, church and world through contributions of his/her time, talent and treasure.
Lifelong Learner Award
A graduate alumnus of Concordia who has demonstrated a commitment to service through volunteerism and/or significant vocational achievement.
Family Heritage Award
A family that has had at least three generations attend Concordia and that supports Concordia through contributions of time, talent and treasure.
Honorary Bulldog Alumni Award
Friend(s) of Concordia who have demonstrated faithful and significant support of Concordia through contributions of time, talent and treasure.
2022 Alumni Award Recipients
Lenny Luft '99 - Alumnus of the Year
Leonard Luft, a 1999 Concordia graduate, is a 20-plus-year veteran of the Charles City, Iowa Police Department. During this time, he also served the Iowa National Guard for 12 years, with two overseas deployments.
Luft is married to Wendy of 21 years, who has been a realtor in Charles City. The couple has three children—Logan, Landon and Lilly. After the death of their son Logan in 2017, Leonard and Wendy championed the enactment of "Logan's Law" by the Iowa Legislature in 2019, which allows Iowa residents to declare themselves as an organ, eye and tissue donor on their hunting and fishing licenses.
Rev. Timothy Koch '06 - Young Alumnus of the Year
Rev. Timothy Koch, a 2006 graduate of Concordia University, Nebraska, earned his master's of divinity degree in 2010 and his master's of sacred theology in 2013, both from Concordia Seminary in St. Louis. He has served as pastor at Emanuel Lutheran Church in Milbank, South Dakota since 2018.
After graduating from the seminary, Koch began his pastoral career at a dual point parish in Cresbard, South Dakota and Wecota, South Dakota from 2011-18. He also served as a professor at the seminary in St. Louis from 2015-16.
Throughout his time in his education and as a pastor, Koch has received several awards pertaining to his God-given talent for speaking and his passion for small town ministry. During his time at the seminary, he received the John Chrysostom, or Best Preacher in Class, Award. During his career, he was invited to be a plenary speaker at the Rural and Small-Town Ministry conference in Kansas City and was asked to be a fellow for Sword and Swan Media House.
Koch says the joy, connections and passion for serving that he experienced during his time at Concordia encouraged him to pursue his higher education and empowered him to bless others with his talents.
Koch is married to Emily (Pryor), who also graduated from Concordia in 2006. They have been blessed with four children—Ezra, Evelyn, Levi and Annie.
Rev. James Wiggins Jr. '81 + - Servant Leadership Award
At Concordia, the Rev. James Wiggins Jr. was taught that he was an instrument of grace—one who should be used to impact his local community for the greater good of all. Wiggins realized this truth in a variety of local communities. His reach expanded from Illinois to North Carolina, to Michigan, to Washington D.C. and to Jacksonville, Florida, where he served as head pastor at St. Paul Lutheran Church.
A 1981 graduate of what was then known as Concordia College, Wiggins continued onto Concordia Theological Seminary in Fort Wayne to earn his master's in divinity in 1986. During his time in Seward, Wiggins said he felt Concordia's inclusive nature and exemplified it himself in different careers and awards he received in subsequent years.
His gifts for understanding and solving community-based issues caused him to receive the Crop Walk Leadership Award and serve as President of the Black Clergy Caucus of The Lutheran Church—Missouri Synod, chairperson and member of the Concordia College (AL) Board of Regents, First Vice President of the Southeastern District-LCMS, and co-chair of Interfaith Coalition Action Reconciliation and Empowerment (ICARE). Wiggins hailed his classroom experience, interaction with peers, and overall experience at Concordia as happenings that encouraged his long and varied career in ministry.
Wiggins was called to his heavenly home in February 2021. He is survived by his loving wife, LoRetta, five children and nine grandchildren.
Jeremy Moore '11 - Lifelong Learner Award
Jeremy Moore, president of Skutt Catholic High School in Omaha, Nebraska, earned his master's degree in educational administration from Concordia in 2011. Throughout his tenure at Skutt, which started in 2004, he has assumed leadership roles in various capital and campus projects, as well as serving on a multitude of committees. After serving as strength and conditioning coach and activities director, his vision, passion and desire to serve Skutt in a greater capacity led him to his current role as president, which began in 2017.
After earning a bachelor's degree from the University of Nebraska-Lincoln in 2000, Moore began his teaching career at Grand Island Central Catholic, his alma mater, in January 2001. Moore is currently pursuing his doctorate in interdisciplinary leadership from Creighton University.
Jeremy has been married for 11 years to his wife, Heidi, who is a second-grade teacher in Elkhorn, Nebraska. The couple has two children, Tyler and Sydney.
William Wolfram – Lifetime Service Award
With more than 45 years of service within Concordia's department of art, professor emeritus William Wolfram fostered the expansion of the art program from a handful of students to more than 100 students currently pursuing fine arts degrees. Wolfram strived to instill the highest level of craftsmanship, no matter what the medium and works to encourage and sustain the faith of those around him. His students over the decades are witnesses to his legacy of service. In recent years he has become actively involved with ecclesiastical art projects working for The Center of Liturgical Art.
"Teaching at Concordia has enriched my life," he says, "I have grown spiritually here and I have appreciated and enjoyed working with art students."
Recently, Concordia University Chicago has developed the William Wolfram Student Award in Liturgical Art, recognizing student artists who shows commitment to the Christian faith and practice, excellence in artistic expression, sustained connection to the liturgical worship tradition and commitment to the creation of art purposed for use within liturgical worship settings.
Wolfram, who lives in Seward, earned his bachelor's from Concordia College in Moorhead, Minnesota, before earning two master's degrees, including a Master of Fine Arts degree, from the University of Arizona.
Dave and Dr. Jean Jones – Honorary Bulldog Alumni Award
Concordia University, Nebraska holds a special place in the hearts of Dave and Jean Jones. While Dave has been an avid supporter, Jean served as vice president of marketing and enrollment management for a number of years after previously serving as interim marketing director, serving on the Concordia Foundation Nebraska Board of Directors and teaching in the degree completion program.
Nebraska natives, Dave was born and raised in Seward and Jean in Bloomfield. The couple met at the University of Nebraska-Lincoln, where Dave earned a degree in business and agriculture and Jean in elementary education. Dave began his career in banking at today's Cattle Bank & Trust before transitioning to farming, which became their family business and passion until the early 1990s. Jean earned her master's in 1995 and doctorate in 1999, both in education, from the University of Nebraska-Lincoln.
In the early 90s, Dave began his second tenure at Cattle Bank, serving as vice president and working in agriculture and commercial loans departments, and Jean began her career at Concordia. The couple retired in 2008, providing them with time to attend even more Concordia events. They can be found on campus learning about the new agricultural science program and supporting students at musical and athletic events.
"We are both honored and humbled to be Alumni Award Recipients and are thankful to be a part of the Concordia community," the couple says.