No breakpoint
Breakpoint
sm
Breakpoint
md
Breakpoint
mlg
Breakpoint
lg
Breakpoint
xl
Breakpoint
2xl
Alumni Awards
During Homecoming and Alumni Reunion Weekend, the Concordia Alumni Association will honor alumni and friends for their outstanding service and accomplishments.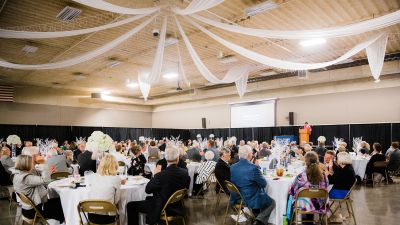 Alumnus of the Year
An alumnus who has demonstrated outstanding Christian service and leadership in the community, church and world; and recognized for outstanding performance in his/her vocation.
Young Alumnus of the Year
An alumnus who graduated within the last 15 years and has made a significant contribution as a servant leader in the community, church and world; recognition for outstanding performance in his/her vocation.
Servant Leadership Award
An alumnus or friend of Concordia serving in or retired from a local or global mission field or ministry demonstrating servant leadership to the church and world.
Lifetime Service Award
An emeriti or retired faculty or staff member who demonstrates outstanding Christian service and leadership in the community, church and world through contributions of his/her time, talent and treasure.
Lifelong Learner Award
A graduate alumnus of Concordia who has demonstrated a commitment to service through volunteerism and/or significant vocational achievement.
Family Heritage Award
A family that has had at least three generations attend Concordia and that supports Concordia through contributions of time, talent and treasure.
Honorary Bulldog Alumni Award
Friend(s) of Concordia who have demonstrated faithful and significant support of Concordia through contributions of time, talent and treasure.
2019 Alumni Award Recpients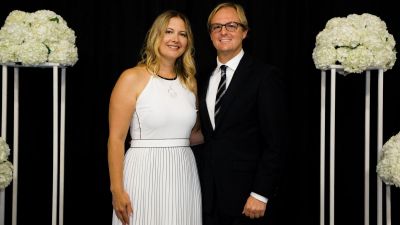 Alumnus of the Year - Matthew Matousek '96
Originally from McCool Junction, Nebraska, Matthew Matousek learned the value of hard work from his blue collar family and holding a job since he was 10 years old. He carried his work ethic with him to Concordia while he played baseball and held a job to pay for his tuition and living expenses.
He describes his time at Concordia as fun, enlightening and necessary. It was special to be part of so many traditions like Saturday football, CIT road trips, home basketball games, Spring Weekend and the Talent Show, among many others. Matousek cherished the opportunities to attend daily chapel. In today's world with our reliance on digital devices and social media, traditions like physical, daily chapel are more important than ever, he says.
Matousek graduated from Concordia in 1996 with a Bachelor of Arts degree in education with a commercial art emphasis, in addition to a colloquy for Lutheran theology. Concordia provided him with opportunities to further his understanding of personal responsibility academically and financially, while also helping foster the value of relationships.
After graduation, Matousek took a short-term call as the fifth-grade teacher at Trinity Lutheran in Fremont, Nebraska. In 1997, he and his wife, Dr. ShaRhae (Prochnow) Matousek '95, moved to Minneapolis, where he accepted a call to St. Peter Lutheran in Edina, Minnesota. Matousek taught seventh grade math, junior high sciences, third grade art, he served as a computer and technology coordinator, while also coaching basketball and baseball. Matousek has also served as the technology consultant for The Lutheran Church—Missouri Synod Minnesota South District, among other various church responsibilities, including janitor.
In 1999, Matousek was able to utilize his creative talents and business acumen, serving in various marketing and creative roles at Onvoy, Inc., a mid tier tele-communications company known for its fiber-optic network and advanced technology platform. Matousek helped design and develop interfaces for partner organizations like Cisco Systems and clients like Lockheed Martin. His education and work experiences helped him qualify for leader programs of study at Harvard Business School and the Stanford Graduate School of Business.
In 2006, Matousek joined UnitedHealth Group (UHG) to serve in their Medicare organization, UnitedHealthcare Medicare & Retirement, as the e-commerce strategist where he helped launch the Medicare Part D benefits business. He went on to serve in various leadership roles at UnitedHealthcare Medicare & Retirement between 2006-17, before becoming the vice president of digital strategy for UHG's Medicaid business, UnitedHealthcare Community & State. Matousek was part of a team that developed a health care mobile app that gained national attention in 2015, featured on national television and popular news websites. In February 2019, Matousek also became the vice president of digital product and marketing in the same business. Today, UnitedHealthcare Community & State serves 6.4 million Americans and UHG is a Fortune 6 Company.
Matt and ShaRhae live in Eden Prairie, Minnesota and have three children – Noah (19), Jonah (17) and Emma (14). When the couple isn't working, they both serve on various boards within their community and love attending their children's events and sports.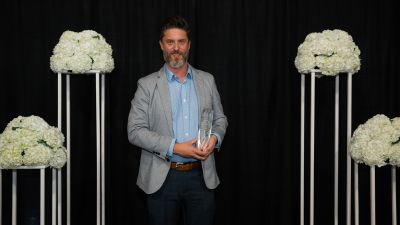 Young Alumnus of the Year - David D. Dolak '03
After the first few weeks of David Dolak's freshman year at Concordia, he was beyond fascinated with studying art. He was pushed by his professors to channel his drive and talents, and he also learned valuable lessons from his peers.
Dolak's classes and assignments at Concordia taught him how to learn, he said, which is a skill one needs throughout their entire life. He learned how to associate art and design with disciplines and modes of thought that on the surface have nothing to do with art. Those lessons he learned at Concordia has stayed with Dolak throughout his career and many aspects of his personal life and have served him in ways he cannot begin to measure.
After graduating from Concordia in 2003 with a Bachelor of Fine Arts in commercial art and studio art, Dolak worked as a graphic designer at DKD Enterprises in David City, Nebraska from 2003-04, and then at Artisan Creed in Lincoln from 2004-06. In 2006, Artisan Creed and Ayres Kahler, a Lincoln-based web design company, merged with Dolak taking over as art director until 2007. That year, he moved to St. Louis, Missouri to be the art director at Phoenix Creative Company, a full-service marketing communications agency. In 2013, Dolak became a partner, owner and chief creative officer of Phoenix Creative, a position he still holds.
Dolak continued his education, earning a Master of Art in painting and a Master of Fine Art in painting from Fontbonne University in St. Louis in 2012 and 2016, respectively.
In 2010, he received a Best of Show award from Art St. Louis. In 2012, he was included in a group show of emerging St. Louis artists at the Duane Reed Gallery. Away from the studio, Dolak has been named to the Who's Who in Shopper Marketing list for 2017 through 2019. Most recently, Dolak along with his agency team, won a Super Reggie Award from the Association of National Advertisers for best Shopper Marketing Campaign in 2019, beating out multiple agencies 20 times the size of Phoenix Creative.
Dolak and his wife, Allison, a 2002 Concordia Nebraska graduate, live in Lake St. Louis, Missouri and have two sons, Caleb (9) and Jacob (5).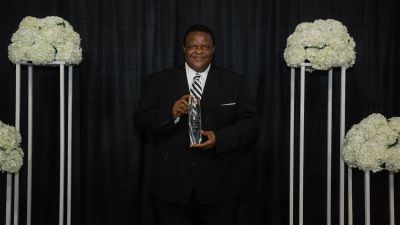 Servant Leadership Award - Rev. Aaron Dickerson '82
Rev. Aaron Dickerson came to Concordia not knowing what he wanted to do in life, but he left with a passion for education and ministry. Dickerson graduated from Concordia in 1982 with a Bachelor of Science in Education, majoring in elementary education and a minor in early childhood education.
He credits Concordia for preparing him to be the person he is today because of the great role models he looked up to while on campus. After graduation, Dickerson served as principal at Grace Lutheran Church and School in Dallas, Texas, from 1982-94. He then went on to serve as principal at Cross of Calvary Lutheran Church and School in Memphis, Tennessee from 1994-05. In 2005, Dickerson took a call to serve as principal at Christ Lutheran Church and School in Atlanta, Georgia, a role he had for five years before taking a call to Unity Lutheran School in East St. Louis, Illinois in 2010, where he has served as principal since 2011. He is also the pastor of Transfiguration Lutheran Church in St. Louis, Missouri.
In addition to serving in various school leadership roles, Dickerson received his pastoral ministry degree from Concordia Seminary in St. Louis in 2007, a Master of Education Administration from Concordia University Portland in 2012 and a cooperative urban teacher education degree from Rockhurst College in Kansas City, Missouri. He attends The Lutheran Church—Missouri Synod's Principal Academy and is a National Lutheran School Accreditation Visiting Team captain.
Dickerson has been recognized for his leadership throughout his tenures as principal, including being named the 2006 Outstanding Urban School Principal by what was then known as Wheat Ridge Ministries, he has received the Rosa J. Young Service Award for outstanding leadership in Black Ministry and the Spiritus Christi Award from Concordia University Chicago in 2015.
Dickerson and his wife Charlene live in Belleville, Illinois and have two daughters, Aramie and Keyera.
Lifetime Service Award - Courtney Meyer '65
Courtney Meyer, a native of Frohna, Missouri, was a junior college transfer when he came to Concordia to play football and baseball. His time at Concordia gave him a solid foundation, he says, spiritually, academically and through participation in sports he was prepared for his calling as a teacher and a coach.
After graduating from Concordia in 1965 with a Bachelor of Science in Education in geography, Meyer accepted his first call to serve at Martin Luther High School in Maspeth, New York from 1965 to 1967. Maspeth is in the New York City metro, which was a culture shock for Meyer coming from a town of 200. From 1968 to 1970, Meyer was an assistant football coach and teacher at Long Island Lutheran School in Brookville, New York. He was a graduate assistant at Southeast Missouri State University for the 1970 season while earning his Master of Arts in physical education. Meyer was also a graduate assistant at Concordia Nebraska for the 1971 season.
In 1972, Meyer took his first football head coaching job at Mayer Lutheran High School in Mayer, Minnesota, where he went 35-10-1 over five seasons. In 1977, Meyer was named the head coach at what was then known as Concordia College Wisconsin, going 35-19 in six seasons, including two undefeated conference records.
Meyer returned to Seward in 1990 to be the head coach at Concordia Nebraska. He retired in 2008 as the program's all-time winningest coach with 70 victories. Meyer's best season as the Bulldog head coach came in 2001 when Concordia set a school record for wins, going 10-2 on the season and earning the GPAC co-championship and a berth in the NAIA Football Championship Series. With the team having a stellar 2001 season, Meyer was named GPAC coach of the year. He currently serves as an assistant coach for the Bulldogs, coaching kickers, punters and long snappers.
Throughout his coaching tenure, Meyer has been recognized for his leadership on and off the field for cultivating men of character. Meyer has also received three coach of the year awards, two while at Concordia Wisconsin and one at Concordia Nebraska, he served as president of the NAIA Football Coaches Association from 1999-00, as well as the NAIA football coaches' representative from 2002-04. He served on the American Football Coaches Association Ethics Committee from 2002-04. In 2007, Meyer received a Lifetime Achievement Award from the Lutheran Admissions Counselors of the LCMS.
Meyer is married to Connie (Kirchner), a 1978 Concordia graduate. The couple live in Seward and has three adult children: Caleb (Renee), Joshua (Erin) and Anna (Keegan Bloomfield).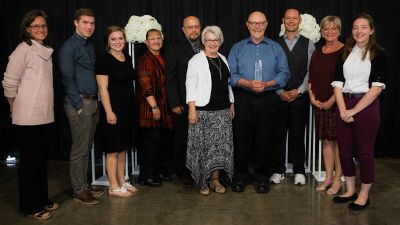 Family Heritage Award - Paul '37 and Mable Ebel Family
Four generations of Paul Ebel's family have attended Concordia since he graduated from what was then Concordia Teachers College in 1937 with 28 of his classmates. It all started when Paul's uncle, Concordia professor Walter Hellwege, encouraged him to attend when he was a sophomore in high school.
After graduating from Concordia, Paul eventually met his wife, Mable, and the couple had three sons, Alfred, Edward and Kenneth. Alfred graduated from Concordia in 1964 and his wife, Nancy (Seim), graduated in 1966. Kenneth and his wife, Karen (Kruse), graduated in 1968. Ken and Karen have two daughters, Lisa (Paul DiModia) and Erika (Matt Augustine) and six grandchildren. Edward and his wife, Loretta (Lamas), live in Sun City, Arizona, where Edward owns a painting business. Edward and Loretta have three children, Lance (Kelly), Doug (Julie) and Katie (Jerry) and eight grandchildren.
Alfred is a retired teacher, missionary and pastor, having taught in New Guinea and at Concordia Teachers College in Seward. Alfred attended Concordia Theological Seminary in Ft. Wayne, Indiana and served as a pastor in Hawaii, Montana, South Africa and New Mexico. Kenneth was a Lutheran School teacher in Milwaukee, Wisconsin and then a professor of biology at Concordia Irvine, recently retiring after teaching there for nearly 40 years. Alfred and Nancy have two sons and a daughter, Robert, Thomas '94 and Susan '95. Robert's wife, Joni (Rerucha), is a 2001 Concordia graduate and currently teaches at Columbus Middle School.
Thomas went on to be the head athletic trainer at Concordia Nebraska from 1995-2001 before holding the same position at Montana State University in Billings. His wife, Angela (Miller), is a 1994 graduate of Concordia and currently teaches at Medicine Crow Middle School in Billings. Thomas and Angela have four children—Joshua, Benjamin, Alison '18 and Malia, set to graduate in 2021. Alison is married to Philip Yox '17 and she has accepted a call to teach at Trinity Lutheran School in Boone, Iowa, while Philip is working on his doctorate in chemistry at Iowa State University. Malia competes on the Concordia speech team and is working on a business major with a double concentration in marketing and communication.
Susan married Rev. Glenn Fluegge '95 and the couple has five children—Eliana, Jesse, Caleb, Samuel and Abigail. Susan is an administrator in the School of Arts and Sciences at Concordia University Irvine, and Glenn is a Theology faculty member and director of the Cross-Cultural Ministry Center at Concordia Irvine.
Of Paul and Mable's eight grandchildren, six of them have graduated from a Concordia University. Four of their great-grandchildren are currently attending, or have graduated from a Concordia University.
"All of my dad and mom's sons and families through four generations go to church, love The Lutheran Church—Missouri Synod and are Christian teachers and examples to their children and their great grandchildren," Alfred says.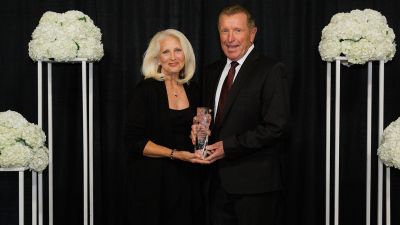 Lifelong Learner Award - Rev. Dr. Dean '70 and Dian Vieselmeyer '70
Dean and Dian (Lofing) Vieselmeyer have been partners in Lutheran education ministry since graduating from what was then Concordia Teachers College (CTC) in 1970. Coming from Lutheran families, both of them knew their lives would be filled with service, learning and teaching.
Dean said his faith grew as a student at Concordia as he heard faculty testify to their faith and he saw the models of service and dedication in the faculty, staff and administration. Dian said CTC prepared her to teach, but the greatest gift was learning how to serve others.
After graduating from Concordia, Dean received a master of divinity from Concordia Theological Seminary in Springfield, Illinois. Dian taught first and second grades at Immanuel Lutheran School in Springfield and was also a library assistant at the seminary.
In 1977, the couple returned to CTC as Dean served as an assistant football coach, strength coach, director of student life and assistant professor of theology, teaching classes on the New Testament and marriage and family in parish education. Dian served as a volunteer tutor for the football team, learning center coordinator and remedial reading instructor.
No matter which stage of their lives the Vieselmeyers were in, they continued their own education. Dean earned his master of science in human development from the University of Nebraska-Lincoln in 1982, Dian earned her master of arts from CTC in 1983, Dean earned his doctor of philosophy, with a major in education and a minor in curriculum from UNL in 1989 and Dian is projected to finish her doctorate in educational leadership from the University of Phoenix this fall.
Since 1985, Dean and Dian have served in a multitude of roles at Concordia University Irvine, where Dean is a professor of theology and a member of the faculty for the Master's in Coaching and Athletic Administration (MCAA) program and Dian is an assistant professor for the same program and dean of student success.
When the Vieselmeyers arrived at Irvine, the college's retention rate was below 60 percent. As the vice president of student services, Dean set a goal of increasing retention by developing more student services like career counseling and academic advising. By adding these services, students were able to build relationships with counselors and advisers, and the campus community began to grow exponentially. By the late 1990s, Irvine's retention rate reached 81 percent.
In 2008, the Vieselmeyers helped Irvine build its MCAA program, as Dean was the online director and Dian was and still is on the faculty. Since its development, the MCAA program has graduated nearly 3,500 students and has become known as one of the top programs of its kind in the nation.
The Vieselmeyers served in a number of roles at Irvine dean of students, executive vice president for community and church relations, director of the online master of arts in coaching and athletic administration program and Dian was an academic advisor, freshman instructor, director of academic advising and assistant professor for the school of education.
"It doesn't matter where or when—Concordia Nebraska in the 1970s and 1980s, or Concordia Irvine since 1985, we have been learning, serving and leading wherever God's roadmap has taken us," Dian says.
From 1992-2016, Dean returned to the football sidelines, coaching at Orange Lutheran High School in Orange, California, where he served as the defensive coordinator and assistant head coach, defensive line and special teams coach, strength coach and as the servant leadership coach and coordinator.
Their educational careers have taken them across the country, teaching and serving in five states over the last 49 years. Throughout their journey, the Vieselmeyers have inspired countless students through their leadership and passion for learning. The couple lives in Tustin, California and has two adult sons, Brent (Marnie) and Brad (Dana), along with four grandchildren.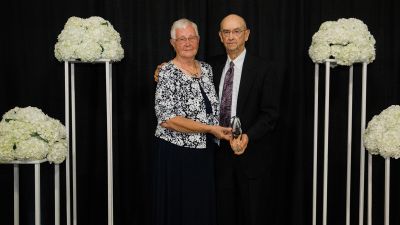 Honorary Bulldog Spirit Award - Kermit and Mary Krieser
Kermit and Mary Krieser are two of Concordia's biggest fans—attending the majority of Concordia's home games and music events over the last 18 years—because they believe in the university's mission and feel strongly about supporting its students.
Lifelong Seward County residents, growing up in Garland and helping their families farm, the Kriesers have watched how Concordia continues to impact the community and world over the last seven decades. After they were married 53 years ago, the Kriesers purchased land just west of Kermit's home. He continued to help his brothers farm his family's land, while Mary entered the workforce after high school, working in a podiatrist's office in Lincoln for 32 years before working at Kawasaki, the Seward Coop and Production Sales in Seward.
Kermit and Mary always admired Concordia, but between working and farming, they weren't able to attend the university's events until Mary retired 18 years ago. The couple has made it a point to devote more time to cheering on Concordia's athletes and performers and to be more active supporters. Active members at St. John Lutheran Church, the couple has enjoyed building friendships within the church and Concordia communities.
Through attending more events, the Kriesers are grateful for the family atmosphere and the Christian environment found on campus. Kermit says he appreciates how Concordia coaches treat their players well and how athletes and performers strive to excel in the classroom.
The Kriesers do everything together – from taking motorcycle rides across the country to attending Bulldog Booster Club luncheons every Tuesday. In their 53 years of marriage, they have not spent one night apart, a rare feat.