Alumni Awards
During Homecoming and Alumni Reunion Weekend, the Concordia Alumni Association will honor alumni and friends for their outstanding service and accomplishments.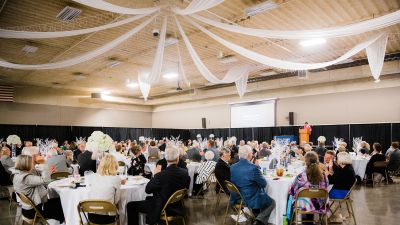 Alumnus of the Year
An alumnus who has demonstrated outstanding Christian service and leadership in the community, church and world; and recognized for outstanding performance in his/her vocation.
Young Alumnus of the Year
An alumnus who graduated within the last 15 years and has made a significant contribution as a servant leader in the community, church and world; recognition for outstanding performance in his/her vocation.
Servant Leadership Award
An alumnus or friend of Concordia serving in or retired from a local or global mission field or ministry demonstrating servant leadership to the church and world.
Lifetime Service Award
An emeriti or retired faculty or staff member who demonstrates outstanding Christian service and leadership in the community, church and world through contributions of his/her time, talent and treasure.
Lifelong Learner Award
A graduate alumnus of Concordia who has demonstrated a commitment to service through volunteerism and/or significant vocational achievement.
Family Heritage Award
A family that has had at least three generations attend Concordia and that supports Concordia through contributions of time, talent and treasure.
Honorary Bulldog Alumni Award
Friend(s) of Concordia who have demonstrated faithful and significant support of Concordia through contributions of time, talent and treasure.
2022 Alumni Award Recipients
Kjersten (Langewisch) Tucker '09 - Alumnus of the Year
Kjersten (Langewisch) Tucker '09 is Lead Interior Architect and Senior Associate at Sinclair Hille Architects in Lincoln, Nebraska. With ten years of industry experience, she has worked on notable projects across the country, including the Dormie Club golf network facilities, the Midwest Bank headquarters in Norfolk, Nebraska, the Lied Place Residences, and, here at Concordia, the Dunklau Center for Science, Math and Business, the Center for Liturgical Art, the Victory Bell and colonnade around Bulldog Stadium and the highly anticipated addition to and remodeling of the music building.
A Nebraska native, Kjersten received a Bachelor of Arts degree from Concordia Nebraska, majoring in Physical Science Studies and also in Ecclesiastical Art. She received her Masters of Architecture from the Georgia Institute of Technology in 2012 and became a registered architect in 2015.  
Citing her time on campus as a period that deepened her faith and stretched her mind and skills, she said her science major pushed her out of her comfort zone in logic and problem solving, and her ecclesiastical art major developed her aesthetic eye and taught her so much about how space and art can work together to create a powerful worship experience. She especially thanks her outstanding professors and mentors Mark Anschutz, Bill Wolfram, Dr. Rob Hermann and the Drs. Kristy and John Jurchen.
During her years at Concordia, Kjersten sang in the A Cappella Choir, acted in and designed the logo for the Improvables, sang and danced in the musical theater production Kiss Me Kate, worked as an admissions ambassador, was elected to the Homecoming Court, helped lead the Weekend of Welcome, and participated in Student Activities Council and Spring Weekend. She also worked summers at the Center for Liturgical Art, helping with everything from contracts to the construction of stained glass works, chancel furnishings and bibelots. She joined and helped lead a study tour in Ukraine and spent a semester on the island of Kefalonia in Greece, where she studied sustainable architecture.
Kjersten said there were times she considered giving up on a career in architecture, as the path is not easy, but she said God used the wisdom of family members and friends to encourage her at just the right times. She encourages students to listen to those who love them and love the Lord, because they offer valuable encouragement and affirm His plans.
In addition to her work at Sinclair Hille, Kjersten is active in the community. She participated in the Fellows Program for Leadership Lincoln, and currently serves as a board member for Concordia's Center for Liturgical Art. A third-generation Concordian, Kjersten's grandparents (Don Langewisch '60 and Vicky (Cloeter) Langewisch HS '56 CO '58) and parents (Dr. Andrew Langewisch '82 and Pam (Menge) Langewisch CO '82 GR '88) met at Concordia Nebraska. While she met her husband Jacob at Georgia Tech, she said she is already preparing her children Dietrich, Annika and Ezekiel to be Bulldogs.
Jonathan Jank CO '08 GR '11 - Young Alumnus of the Year
Jonathan Jank credits his time at Concordia Nebraska for instilling in him the desire to be a servant leader. He received a Bachelor of Science in Business Administration from Concordia Nebraska in 2008 and a Master of Business Administration in 2011.
Jonathan recalls his years at Concordia as a time full of opportunities to grow in relationships with Jesus, campus and community professionals, and students who became lifelong friends. He credits his professors for challenging him personally, professionally and spiritually. Concordia Nebraska's various music groups allowed him to travel to seven international countries and 29 states in the United States.
Jonathan also holds an Executive Development Certificate through the Economic Development Institute (EDI) from the University of Oklahoma (2015) and is a graduate of the Institute for Organization Management (IOM) through the U.S. Chamber of Commerce Foundation (2019).
Active in the community in the Seward, Nebraska, area, Jonathan currently serves as president and CEO for Seward County Chamber and Development Partnership. He has also served as executive director for Seward County Economic Development Corporation and as executive director of Seward County CASA.
His volunteer service includes work with Connecting Young Nebraskans, the Concordia Nebraska Alumni Council and the Kiwanis Club of Seward. He is the former president, vice president, and scholarship chairperson of Nebraska Chambers Association, a current member of the Ag Advisory Council at Concordia University, Nebraska and current scholarship chairperson of Nebraska Economic Developers Association.
In 2019, Jonathan was honored as the Nebraska Economic Developers Association "Professional of the Year" in the Community Category. In 2021, he led Seward County Chamber & Development Partnership (SCCDP) to become an Accredited Chamber through the U.S. Chamber of Commerce. The SCCDP is now only one of six accredited Chambers in the state of Nebraska and one of less than 200 in the U.S. out of approximately 7,000.
Jonathan lives in Seward County, Nebraska, with his wife, Rachel (Mol) Jank '09 and their two sons, Philip and Theodore. They are active members of St. John Lutheran Church in Seward. Rachel and Jonathan have both previously served on various church boards and participate in music ministry at St. John. Rachel is a full-time staff member with the TRIO program at Doane University, has published various articles in English academic journals and is active in the Nebraska and National Writing Project. Rachel and Jonathan together own and operate a real estate development business, Jank Enterprises & Investments, LLC.
Michael Blackshear '81 - Servant Leadership Award
Michael Blackshear '81 has joyfully served others throughout his education career of more than 37 years. With a heart for service that was awakened during his time at Concordia Nebraska, he said Concordia manifested within him an understanding that there was a world bigger than he had previously experienced and that there are people with great needs. At Concordia, he was encouraged to make a difference. He recalls the lasting impact and support of football coaches and athletic department staff and said he still enjoys life-long friendships today from his time at Concordia.
In addition to receiving a Bachelor of Arts in Education and a Bachelor of Science in Middle School and High School Physical Education and Health from Concordia Nebraska, he also earned a Master of Arts in Educational and Instructional Leadership from St. Louis University in 2002 and an Education Specialist Degree from Lindenwood University in 2014.
Michael most recently served at Cardinal Ritter College Prep High School in Saint Louis, Missouri, as principal. Cardinal Ritter College Prep is one of nine predominantly Black Catholic high schools in America. Since opening, Cardinal Ritter College Prep has annually enjoyed a 100% graduation rate and college acceptance for its seniors. Michael's teaching career also includes leadership roles at North Technical High School in St. Louis, Missouri; Hazelwood East High School in St. Louis, Missouri; Normandy High School in St. Louis, Missouri; and Our Lady of Mount Carmel Grade School in St. Louis, Missouri.
In his role as principal of Cardinal Ritter College Prep, Blackshear planned curriculum, developed classroom management strategies, and prepared students for a future in college or skilled trade work. He focused extensively on nurturing the diverse community of students the school serves, encouraging students of all family circumstances, faith backgrounds and financial circumstances.
The recipient of numerous recognitions, Michael's awards and honors include the Iota Lambda Sorority, Inc. "Apple for the Teacher Award (2018), the Cardinal Ritter College Prep Alumni Association Legacy Award (2017), Who's Who Among High School Educators (1999; 2000; 2001; 2002; 2003; 2004; 2005), St. Louis American Newspaper "Excellence in Education" (2004), Martin Luther King, Jr. Classic-St. Louis Gateway Classic Community Service Award (1997), St. Louis Coaches Association Outstanding Football Coaches Award (1986) and more.
Michael is one of nine children born to Beatrice and Percy Blackshear, Jr. Michael met Brunetta (Stallworth) Blackshear '80 - his college sweetheart - while attending Concordia in August 1978. Throughout 41 years of marriage, God has blessed the duo with productive professional careers in education. Michael and Brunetta have two daughters, Rayna and Jordyn, and a son-in-law to-be, Arnez Newton, all of whom are highly-respected educators. They also have one granddaughter, Aubrielle.
Lesa Covington Clarkson '80 - Lifelong Learner Award
Lesa Covington Clarkson '80 currently serves as Associate Professor of Mathematics Education in the Department of Curriculum and Instruction at the University of Minnesota. A mother of three and grandmother of three, Lesa knew from an early age that she wanted to be a teacher. She also knew that she wanted to teach mathematics at the high school she attended. Many of her high school teachers attended Concordia, and that strongly influenced her college choice. Living in Seward was very different than her upbringing in Los Angeles, but she immersed herself in campus life, equipping herself to become the best math teacher possible and also participating in student council, cheerleading, track and more.
With a career in education spanning 42 years, Lesa has served at a variety of settings including LA Lutheran High School; LA Unified School District; Concordia University, Irvine; Concordia University, St. Paul; St. Paul Public Schools and the University of Minnesota.
In addition to earning a Bachelor of Science in mathematics and physical education at Concordia University, Nebraska, Lesa also holds a Master of Arts in secondary curriculum and instruction from California State University in Los Angeles and a Ph.D. in mathematics education from the University of Minnesota in Minneapolis.
A widely-published author and respected researcher, Lesa's work has been distributed in numerous academic journals and publications, and she has presented at national and international professional association meetings. She has also served as principal investigator or co-principal investigator for a large number of sizable financial grants benefitting underserved and underrepresented youth.
Lesa's research focuses on mathematics in urban settings. She is also the founder of Prepare2Nspire, a near-peer tutoring and mentoring program for middle and high school students. Since the 2011 Minnesota eighth-grade algebra legislation, she has been focusing on the effects of this law on African-American students and their academic trajectories.
In addition to a wealth of past community involvements, Lesa recently served as a judge in the National Miss American Miss National Pageant. She is a lector at Woodbury Lutheran Church and is a member of the Benjamin Banneker Association (BBA), Minnesota Council of Teachers of Mathematics (MCTM), National Council of Teachers of Mathematics (NCTM) and American Education Research Association (AERA).
Lesa's work, research and advocacy have merited a number of awards and distinctions including the President's Community Engaged Scholar Winner, University of Minnesota (2018), the Inspiring Women in STEM Award, Insight Into Diversity (2016), Josie R. Johnson Human Rights and Social Justice Award Faculty/Staff Recipient, University of Minnesota (2011) and many other recognitions.
Marcile Brehmer – Lifetime Service Award
Marcile Brehmer has worked at Concordia University, Nebraska for more than 52 years. She began her work for the university shortly after finishing high school and has served as admissions secretary (1970-1973), admissions secretary and word processing center (1973-1976), word processing – clerk secretary (1976-1981), assistant secretary to the registrar and word processing (1981-1984), development secretary and word processing (1984), data processing supervisor (1984-1989) and as operations manager of the computing center (1989-2010). Currently, she works as the computing services operations manager, a position she has served in since 2010.
Following high school graduation, Marcile said she originally intended to work at Concordia for a few years and move on to other opportunities. She said her plan was very simple, but God's plan for her was amazing. Marcile quickly discovered that she had no desire to work elsewhere, and Concordia became her second home. During her time on campus, she said she has had the opportunity and privilege to work with many who live their Christian faith daily. She said it is a joy to meet and work with students and their families from all over the world.
Marcile said her journey at Concordia Nebraska has connected her with Christ-centered people and allowed her to build priceless friendships. She said her time at Concordia has also reminded her again and again how important it is to put your life in God's hands because when you trust in Him, He will guide you every step of the way.
Gerald and Mary Meyer – Honorary Bulldog Alumni Award
Gerald D. "Jerry" Meyer is originally from Eagle Grove, Iowa, and attended Eagle Grove High School, and then University of Northern Iowa where he earned a Bachelor of Science in history education along with a coaching certification. He also attended Wayne State College in Nebraska, earning a master's degree in curriculum and instruction.
Jerry grew up spending summers in the late 1960s and early 1970s working for his WWII veteran grandfather at a Phillips 66 full-service station in Ida Grove, Iowa. He learned how to pump gas, wash windows, and check tire pressure and oil levels. He also learned about customer service and providing a positive experience for customers. Jerry said his grandfather was a very hard-working and very humble man, and he will never forget the life lessons he learned from him. In return, he tries to help people that can in no way repay him.
Jerry enlisted in the Iowa National Guard in 1984 and has an extensive military resume that includes a Bronze Star with oak leaf cluster for service in Afghanistan, UH-1 helicopter crew chief, air assault badge, airborne badge, National Guard marathon team, National Guard biathlon team, ROTC commission and more. He retired as a Colonel in 2016 from the Nebraska National Guard and currently serves as a Nebraska National Guard historian.
His work in education includes serving as a teacher and coach at both Iowa's Exira High School and Nebraska's Columbus High School. Jerry is also the founder of the Andrew Jackson Higgins National Memorial in Columbus, Nebraska.
A long-time friend of the Concordia Nebraska, Jerry worked with past university president Brian Friedrich to found the Concordia Learning Center at the Nebraska National Guard Museum in Seward. This learning center utilizes technology to instruct student museum visitors. The center provides the schools with standards-approved curriculum in select topic areas. The learning center also has a display on chaplains that provides a Christ-centered theme. During his time serving the museum, Jerry said he has had the opportunity to work with some of the best history students from Concordia as interns, where they helped develop displays and provided oversite of exhibits.
Jerry and his wife Mary (Sullivan) married in 1987 and have three children: Jacob, Joshua and Meghan. He said his family has been his biggest support, especially during long periods of separation due to his military service.
In Seward, Jerry, Mary and their family are all part of the Fourth of July Committee, guiding the participation of the Nebraska National Guard Museum in community events and other efforts.
Jerry has been named an outstanding alumnus at Wayne State College, is a recipient of the SCHEELS Hometown Hero award, has served as a York Radio color commentator for Seward High School Football and enjoys working as an executive travel guide to World War II battle sites in Europe each year and is a member of the Nebraska National Guard Historical Society.