No breakpoint
Breakpoint
sm
Breakpoint
md
Breakpoint
mlg
Breakpoint
lg
Breakpoint
xl
Breakpoint
2xl
Recreation & Sports Studies Courses
The following sample course of study is an example of the sequence of courses you might take in order to receive your degree. Please plan to discuss your actual course of study with your advisor, who can help you stay on track to meet your academic and professional goals.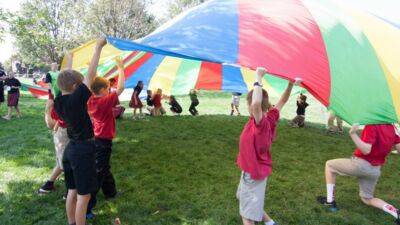 Semester 1
Lifetime Wellness
A course designed to provide an understanding of the values of wellness in our contemporary society and to aid the student in developing a personalized wellness program for optimal health.
1


credits
Introduction to Psychology
The course is a survey of psychology as a natural science and a social science. As a study of human behavior and the mind, the course examines current sub-areas of psychology with attention to neurology, the environment, situation and experience, and the self. Throughout the content, the course also considers how presuppositions in philosophy and theology intersect, integrate, and conflict with views on the human condition.
3


credits
Fundamentals of Art
An introduction to art. Emphasizing production of art through the exploration of design elements and principles; interpretation of art through cultural and historical context; investigation of nature and values of art. This course is for students with limited or no previous experience in art.
3


credits
Orienteering
Half semester. Development of map and compass skills. Same as GEOG 142.
0.5


credits
Flag Football
Half semester.
0.5


credits
General Education
General education from across the university
10


credits
Semester 2
First Aid and CPR
Safety, prevention of injuries, and first aid and CPR procedures as outlined by the American Red Cross.
1


credits
Alpine Skiing
Half semester. Spring break ski trip required.
0.5


credits
General Education
General education from across the university
12


credits
Semester 3
Recreational Sports
Half semester. Includes horseshoes, bocce ball, eclipse ball and other activities.
0.5


credits
Programs in Individual, Dual, and Team Sports
Students will use current teaching models to learn and evaluate age appropriate teaching progressions and assessment techniques of individual sports (e.g., track and field, golf, and bowling), dual sports (e.g., tennis, badminton, and racquetball) and team sports (e.g., basketball, soccer, volleyball). Students will become proficient in both performing and teaching specific skills related to the sports.
3


credits
Motor Learning and Development
The analysis of research findings and empirical evidence concerning the learning of motor skills, with emphasis on synthesizing these materials into useful concepts which will aid the practitioner. Provides a knowledge base in the study of changes in motor behavior across the lifespan, the processes that underlie these changes and the factors that affect them.
3


credits
Foundations of Recreation & Sports
An introduction to the scope of recreation and sport professions. Emphasis on the formation of a sound philosophy for a professional in the field. 15 hours of field experience required.
2


credits
Folk Dance
Half semester.
0.5


credits
General Education
General education from across the university
7


credits
Semester 4
Theory of Coaching
This course provides an overview of coaching sports. It is designed for the student to develop a coaching philosophy and understand coaching techniques, the importance of communication in various interactions, psychology of sports and athletic competition, logistical planning, physical development of athletes, and motivation in sports.
2


credits
Aerobics
Half semester. May include step, kickboxing, and the different components to a group of aerobic workouts. A considerable amount of physical exertion is involved so the course is for students with no apparent health risks.
0.5


credits
General Education
General education from across the university
9


credits
Semester 5
Management of Recreation and Sports
Acquaint students with the responsibilities and knowledge required in administrating physical education, recreation and sports programs.
3


credits
Group Techniques
A seminar–laboratory approach for the study of group work and the group process as they apply to the self, the classroom, youth work, business, and society.
3


credits
General Education
General education from across the university
6


credits
Semester 6
Programs in Leisure and Adventure Activities
Performance and analysis of fundamental movements and skills in leisure and adventure activities. The role of leisure and adventure programs for various developmental levels.
2


credits
Adapted Physical Activity
The course focuses on the theories, principles, and practices of working with individuals with special needs in physical education, recreation, and sport programs.
3


credits
Recreation and Sport Facility Management
Management and design principles applied to recreation and sport areas and facilities. Emphasis on operation efficiency, scheduling, quality service, fiscal responsibility and maintenance management and planning. Additional emphasis on physical accessibility of facilities.
3


credits
Geography of Sports and Outdoor Recreation
Sports and outdoor recreation are extremely important components of American life and are multi-billion dollar industries. Where and why these activities take place is very geographic; this course examines the spatial distribution of sports and outdoor recreation in the United States. Students will utilize GIS mapping software and other Internet-based mapping programs to examine the distribution of different types of sports and outdoor activities, conduct research on select topics, learn from guest speakers, and participate in fieldwork. Same as ESCI 291.
3


credits
General Education
General education from across the university
5


credits
Semester 7
Recreational Programming
The principles and practices of conducting recreational programs for schools, churches, community organizations, and various populations. Emphasis will be on non-sport related recreation programming with administrative and leadership roles being stressed.
3


credits
Sport Ethics
This course is designed to create awareness of important ethical issues in sport and to provide students with skills and information to competently respond to them as they might occur in a professional environment. Real-life issues from a variety of perspectives (player, coach, administrator, parent, etc.) will be explored.
3


credits
General Education
General education from across the university
7


credits
Semester 8
Senior Seminar in Recreation & Sport Studies
A capstone course that allows students to integrate knowledge, experience and research in the exploration of professional issues and trends in recreation and sport.
1


credits
Recreation Program Design
This course is designed to provide the skills and knowledge necessary to provide leadership in the designing, implementation and evaluation of community and privately-based recreation programs.
3


credits
Legal Aspects of Exercise, Recreation, and Sports
Legal concepts and principles related to the administration, instruction, training and coaching of exercise, recreation and sport. Issues regarding personnel, facilities, equipment, transportation, medical aspects, liability, age and gender will be examined.
3


credits
General Education
General education from across the university
6


credits