No breakpoint
Breakpoint
sm
Breakpoint
md
Breakpoint
mlg
Breakpoint
lg
Breakpoint
xl
Breakpoint
2xl
Coaching & Athletics Administration Courses
The following sample course of study is an example of the sequence of courses you might take in order to receive your degree. Please plan to discuss your actual course of study with your advisor, who can help you stay on track to meet your academic and professional goals.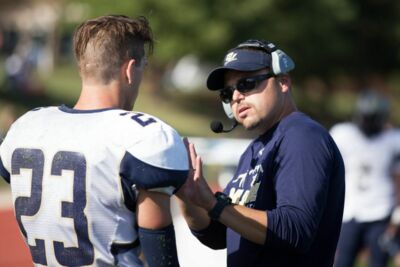 Core Courses
Principles of Coaching and Leadership
The purpose of this course will be to promote athletic growth, development, and learning, while teaching age-appropriate skills, including an analysis of National Standards for Sport Coaches (NSSC).
4


credits
Ethics And Sport
This course will examine and analyze the philosophy and ethics of coaching as students look at how values are communicated, and how to facilitate positive social and emotional growth. Students will write a personal statement of their philosophy of coaching as they work through ethical dilemmas in sport.
4


credits
Research Methods and Analysis
This course will provide an introduction to action research, research techniques, and professional portfolio development.
4


credits
Legal Aspect of Sport
Legal aspects of sport administration and coaching, including analysis of liability, application of sport law, and risk management will be included in this course through case reviews.
4


credits
Culminating Project
In this course students will develop a comprehensive portfolio through the application of the knowledge and skills related to the student's specific area of coaching.
4


credits
Sample Elective Courses
Faith-Based Coaching
Faith-based coaching centers on the concept of Christian athletic leadership and transformation coaching. This course will enrich coach's understanding on the concepts of vocation, the calling of coaching, and servant leadership as it relates to the Great Commission of Jesus Christ (Matthew 28:19). This class will focus on not only the coach's responsibilities of skill teaching but the importance of building a legacy based on significance and not just personal success.
4


credits
Strategic Planning and Marketing of College Athletics
This course examines the overall strategic planning, marketing, fundraising, and the effective fiscal operations of a collegiate athletic programs. This course will provide students with the foundation to manage a long-term strategic plan, budget, and marketing focus for a college athletic department that allows the department to grow and meet their respective vision and goals. Additional focus will be placed on the development and operational skills of decision-making for both effective marketing and fundraising in collegiate athletics and the integration of the personal sales process into that campaign.
4


credits
Sport Technologies
Current uses and the application of technology in sport will be examined in this course including video analysis of skill, analysis of computer data printouts, and integration of technology with coaching and administration applications. Students will apply skills, strategies and tactics in applied analysis training.
4


credits
Advanced Strength, Speed and Conditioning
This course provides an overview of strength and conditioning. Emphasis is placed on the exercise sciences (including anatomy, exercise physiology, and biomechanics) and nutrition, exercise technique, program design, organization and administration, and testing and evaluation. This course is designed to prepare students for the nationally accredited Certified Strength and Conditioning Specialist (CSCS) certification exam.
4


credits
Nutrition for Sport
This course covers the essentials of human nutrition that improve and sustain optimal performance for sport and exercise. The effects of eating disorders (in both male and female athletes), weight management, and sport nutrition resources are also discussed.
4


credits