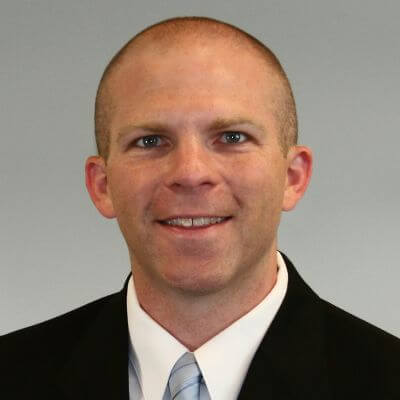 Hometown: Omaha, Neb.
Alma Mater: Concordia University, Nebraska
Drew Olson realized a career long goal on March 12, 2019, when the Concordia University women's basketball team celebrated the program's first ever national title. Olson completed his 17th year as the program's head coach in 2022-23. The program's all-time winningest coach (443-133), Olson guided the Bulldogs to their first-ever national title game appearance in 2015. They reached the same stage again in 2018 and 2019. The 2019-20 team had garnered the No. 1 overall seed at the 2020 national tournament that was canceled before the first round was finished.
Over the past 12 seasons, Olson has directed his teams to a combined 12 GPAC titles (tournament and regular season), 12 national tournament trips, five national semifinal appearances, an overall record of 336-76 and a GPAC mark of 204-48. The 2019-20 (32-2), 2018-19 (35-3), 2017-18 (36-2), 2014-15 (35-3), 2016-17 (34-3) and 2011-12 (34-3) squads each eclipsed the 30-win mark. The 2017-18 team equaled a program record for wins in a single season. From the 2011-12 through 2020-21 seasons, Concordia was ranked in the official NAIA poll in 102 of 104 polls.
Olson has led the Bulldogs to national tournament appearances in 15 of the past 16 years. His 15 national tournament trips and 27 national tournament wins are the most among all coaches in the history of Concordia women's basketball. He owns a record of 27-13 at the national championships with a national championship banner and two national runner up finishes. Named the 2012, 2017 and 2018 GPAC Coach of the Year, Olson garnered Midlands/State College Coach of the Year honors from the Lincoln Journal Star and Omaha World-Herald in 2015. He has been tabbed a Women's Basketball Coaches Association Region II coach of the year four times (2012, 2015, 2017 and 2018). In March of 2018, Olson was named the United States Marine Corps/WBCA NAIA National Coach of the Year. A year later, the NAIA awarded Olson with the Phyllis Holmes National Coach of the Year award.
In addition to his 443 overall wins, Olson has compiled a conference mark of 258-85 following the 2022-23 season. On Nov. 12, 2014, Olson surpassed Carl Everts (195 wins) for most victories in program history. Olson later picked up his 200th career win when the Bulldogs topped Doane on Dec. 3, 2014. His 300th triumph occurred Jan. 10, 2018, versus Briar Cliff while win No. 400 came over Dordt on Feb. 3, 2021.
Over his 17 seasons, Olson has coached nine players who have combined for 18 All-America awards. Bailey Morris (2011-15) won back-to-back GPAC player of the year awards (first in program history), was twice named First Team All-America and became Concordia's first-ever NAIA Division II National Player of the Year. Morris ended her career as the program's all-time leading scorer. The most recent All-Americans are Taysha Rushton (2022), Taylor Cockerill (2021), Philly Lammers (2017-2020), who became the first in program history to earn first or second team All-America honors all four years, and Grace Barry (2020). In addition, Lammers (NAIA Liston Award) and Barry (CoSIDA All-American of the Year) were rewarded with major national awards for their combined work athletically and academically.
A native of Omaha, Neb., Olson was a three-year letterwinner for the Bulldogs in both basketball and tennis. During his basketball career he helped the Bulldogs make two NAIA National Tournament appearances, win three Concordia Invitational Tournament (CIT) titles and capture a GPAC tournament championship.
He was honored individually as an NAIA All-America Honorable Mention selection and a NAIA Scholar-Athlete. He was also a GPAC All-Conference selection and the Concordia Athlete of the Year in 2003. Olson's coaching resume includes a stop at Bellevue University (Bellevue, Neb.) where he served as an assistant men's basketball coach for three seasons. During Olson's time at Bellevue, the Bruins compiled a record of 74-21 and made three NAIA national tournament appearances, finishing as national runner-up once. In addition, they won two Midlands College Athletic Conference (MCAC) regular season and tournament titles.

Coaching is a familiar career choice for the members of the Olson family as his father, Rich, has coached girl's basketball at the high school level for more than 30 years. Drew's brother, Jarrod, is also in the college coaching ranks, taking over as head women's coach at California Baptist University in 2012 after six seasons as head coach at Florida Southern College.
Drew and his wife M'Leigh reside in Seward with their daughter Adelyn and sons Jacoby, Quinton, Ian and Nathan.
Bulldogs Under Coach Olson
---
2006-07: 19-13 Overall, 10-8 GPAC
2007-08: 26-7 Overall, 13-6 GPAC
2008-09: 26-9 Overall, 14-4 GPAC
2009-10: 21-11 Overall, 11-7 GPAC
2010-11: 15-17 Overall, 6-12 GPAC
2011-12: 34-3 Overall, 18-2 GPAC (1st)
2012-13: 25-7 Overall, 16-4 GPAC
2013-14: 25-8 Overall, 16-4 GPAC (T-1st)
2014-15: 35-3 Overall, 18-2 GPAC (2nd)
2015-16: 22-10 Overall, 14-8 GPAC (2nd)
2016-17: 34-3 Overall, 19-1 GPAC (1st)
2017-18: 36-2 Overall, 19-1 GPAC (1st)
2018-19: 35-3 Overall, 19-3 GPAC (T-1st)
2019-20: 32-2 Overall, 21-1 GPAC (1st)
2020-21: 22-9 Overall, 17-5 GPAC
2021-22: 16-14 Overall, 13-9 GPAC
2022-23: 20-12 Overall, 14-8 GPAC
Total: 443-133 Overall, 258-85 GPAC (17 years)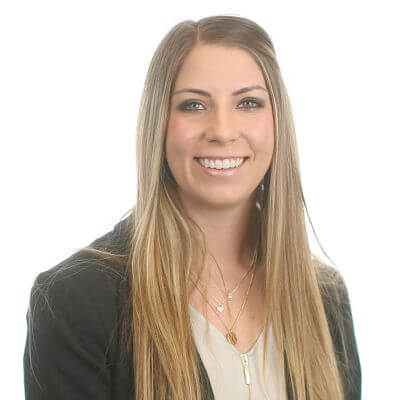 Tae'lor Purdy-Korell
Academic Student Services, Athletics
Assistant Women's Basketball Coach
402-643-7194 Email Walz 109E
Hometown: Agate, Colo.
Alma Mater: Regis University
Tae'lor Purdy-Korell completed her eighth season as an assistant women's basketball coach at Concordia University in 2023-23. The 2016-17 season marked her first as a full-time assistant on Head Coach Drew Olson's staff.
Over the eight seasons Purdy-Korell has been on the bench, the Bulldogs have produced a combined record of 217-51 with national tournament appearances each season. The 2016-17, 2017-18 and 2018-19 squads each reached at least the national semifinal round and each swept GPAC regular-season and postseason titles. At 36-2 overall, the 2017-18 Bulldogs equaled a school record for most wins in a season. The 2018-19 team then realized the ultimate goal by winning the program's first ever national title. The 2019-20 edition also swept GPAC regular-season/postseason titles and earned the No. 1 overall seed at the national tournament before the event was canceled.
Purdy-Korell put together a distinguished playing career at Regis University in Denver, Colo. Named the 2014 Regis Women's Athlete of the Year, Tae'lor earned First Team All-Rocky Mountain Athletic Conference three times and received Honorable Mention All-America recognition while competing at the NCAA Division II level. She averaged 21.8 points and 10.2 rebounds per game her senior season and earned numerous additional honors, including selection to all-region and Capital One Academic All-America/All-District teams. In 2015, Tae'lor received the Sportswoman of Colorado College Basketball award.
Following her impressive collegiate career, which saw her total 1,850 points (second in Regis history), Tae'lor played professionally for CBV Binnenland of Barendrecht, Netherlands. She averaged 12 points and six rebounds and had season single-game highs of 29 points, 10 rebounds and five steals.
Tae'lor earned numerous degrees from Regis University, including a bachelor of science in biology, a bachelor of arts in Spanish and a master of science in health care administration.
Tae'lor is married to Lance Korell, former men's basketball assistant coach at Concordia University. They have a daughter named Kan'yon and a son named Creek.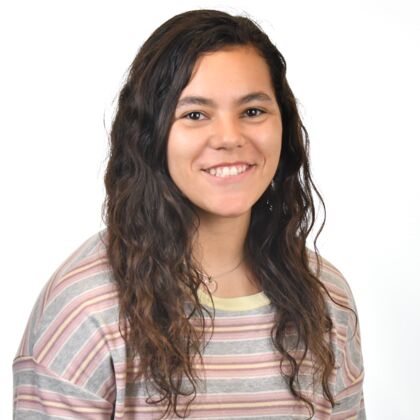 Emmiley Hendrixson
Athletics
Graduate Assistant Women's Basketball Coach
Email Walz 108D
Hometown: Haven, Kan.
Alma Mater: Sterling College
Emmiley Hendrixson immediately shifted to a coaching role following a successful collegiate playing career at NAIA member Sterling College (Kan.). The 2022-23 season represented Hendrixson's first as a Graduate Assistant on the Concordia Women's Basketball staff. The campaign resulted in another trip to the NAIA National Championship tournament for the Bulldogs.
As a senior at Sterling in 2021-22, Hendrixson averaged 15.7 points per game while helping lead the Warriors to a Kansas Collegiate Athletic Conference championship and national tournament appearance. Hendrixson was named Second Team All-KCAC in her final season. Over three years with the Warriors, Hendrixson piled up 1,153 points. Her 41 points in a single game equaled a KCAC record and broke the school record. Hendrixson led Sterling to four combined KCAC titles and to three national tournament appearances.
The Haven, Kan., native graduated from Sterling with a Bachelor of Arts degree in Sport Management. She is pursuing a master's degree in Coaching and Athletic Administration from Concordia. Emmiley is the daughter of Roy and Tammy Hendrixson and has three brothers: Zach, Tim and Jeff.