Concordia's athletics facilities are among the best in the nation for small colleges and its strength and conditioning programs take full advantage of them. Weight rooms are located inside Walz Human Performance Complex, completed in 2009, and the P.E. Building, remodeled in 2012. Bulldogs strength and conditioning programs also make use of the fieldhouse, stadium track/field and the numerous practice fields at Concordia.
Training
Strength and conditioning efforts at Concordia glorify God and take inspiration from Romans 12:1, which reads: "Therefore, I urge you, brothers, in view of God's mercy, to offer your bodies as living sacrifices, holy and pleasing to God--this is your spiritual act of worship."
The primary objectives of strength and conditioning at Concordia are to improve athletic performance and prevent injury.
Common training components
SPORT SKILL
POWER

Explosive exercises
Jump training

STRENGTH

Focus is on multi-joint exercises with single-joint used to further stability
Primarily body weight & free weight exercises
Static & dynamic core exercises for flexion, extension, and rotation

SPEED

Linear and lateral movement
Resisted training with hills, stairs, and sleds

AGILITY

Acceleration & deceleration
Reaction time

CONDITIONING

Manipulate work to rest ratios to achieve desired adaptations
Various activities to elevate heart rate are used

MOBILITY & STABILITY

Ability to move through a functional range of motion
Balance and control to move safely and efficiently

NUTRITION

Daily nutrition affects energy, recovery, and immune system health
Focus is on proper nutrition before supplementation
Hydration throughout the day and before, during, and after training

REST & RECOVERY
INTANGIBLES

Work ethic
Mental toughness
Competitive drive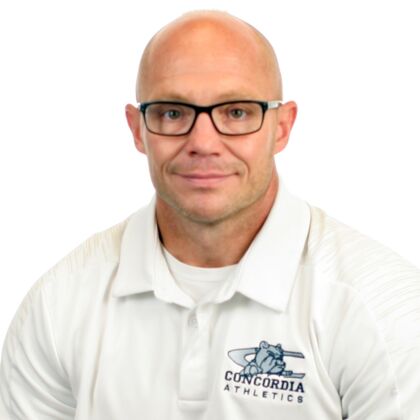 Previously the head strength and conditioning coach at Northern State University, Todd Berner began his tenure as Concordia's first-ever full-time Director of Strength Training and Conditioning in the summer of 2015.
Berner, who had worked at NCAA Division II Northern State since 2010, brings more than nine years of collegiate strength and conditioning experience to the position. While part of the Wolves athletic department, Berner oversaw training for 15 men's and women's teams. Berner tasked himself with designing and instructing strength and training routines, demonstrating exercises, leading speed and agility drills, monitoring progress and networking with coaches in regards to progress and development of athletes.
Berner now serves all 21 Bulldog athletic teams and more than 600 student-athletes in an effort to maximize strength, speed and agility while promoting proper nutrition. He collaborates with head coaches to develop strength and conditioning activities for all athletes in addition to managing and supervise the Walz weight room. Berner oversaw training for 15 men's and women's teams. Berner tasked himself with designing and instructing strength and training routines, demonstrating exercises, leading speed and agility drills, monitoring and networking with coaches in regards to progress and development of athletes.
Prior to his time at Northern State, Berner worked at Winona State University from 2007 to 2010 as the Associate Director of Strength and Conditioning. Berner also served as a graduate assistant in strength and conditioning for two years at Winona State, a department that included 15 total athletic teams.
A native of York, Neb., Berner earned his bachelor of science in exercise science from the University of Nebraska-Lincoln in 2000. He received his master of science in education leadership from Winona State in 2007.
Todd lives in Seward with his wife, Cari, and sons, Quinn and Easton.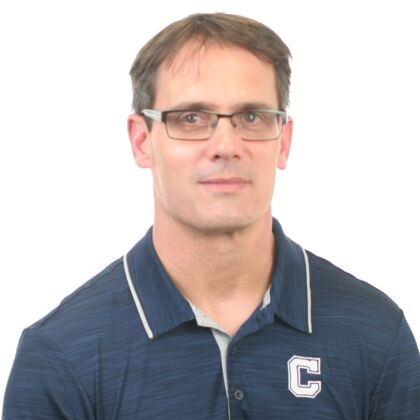 Head Lifting Sports Coach / Assistant Strength and Conditioning Coach
402-643-7178 Email PE 001B
Hometown: Penngrove, Calif.
Alma Mater: University of California, Davis
Freddie Myles was introduced as the first head coach in the history of Concordia Men's and Women's Lifting Sports, which are set to begin athletic competition in 2022-23. Myles also serves as role as Assistant Strength and Conditioning Coach.
Most recently, Myles has served as Assistant Strength Coach at NCAA Division II Sonoma State University in Rohnert Park, Calif. Myles filled that role while operating his own gym, Myles Ahead Fitness, Inc., a training ground for elite powerlifters. Since opening the facility in January 2005, Myles has worked with 21 national champions in weightlifting and powerlifting, three American record holders, seven international competitors, one Pan American champion, four world champions and four national championship teams. Myles has also developed scholarship athletes in the sports of softball, soccer, track & field and weightlifting as part of his individualized strength and conditioning programs.
Myles is a certified Strength and Conditioning Specialist (CSCS) and has earned USA Weightlifting Level 4 certification. During his career, Myles has served roles as president of the Pacific Weightlifting Association (2014-18) and USA Weightlifting Youth Committee member (2014-16) and managed city youth wrestling and track & field programs.
Myles graduated with a Bachelor of Science in Exercise Biology from UC Davis in 2002. He earned his Master of Science in Applied Exercise Science with a concentration in Strength and Conditioning from Concordia University, Chicago. Freddie and his wife Niki have three children, Desmond, 12, Annemarie, 9, and Gabrielle, 7.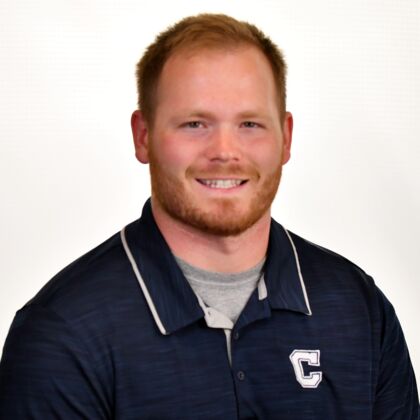 Assistant Coach Lifting Sports and Strength & Conditioning Coach
402-643-7132 Email Walz 022B
Hometown: Grand Island, Neb.
Alma Mater: Concordia University, Nebraska
A former Concordia University student-athlete, Chevy Stout became a full-time staff member in April 2023. Stout serves as the Assistant Coach for Lifting Sports and in Strength and Conditioning. Following his time as a Bulldog Football player, Stout transitioned into a role as Graduate Assistant Strength & Conditioning Coach, beginning with the 2021-22 academic year.
As a Bulldog student-athlete, Stout earned a reputation for his ability as a blocking fullback. The native of Grand Island, Neb., earned Honorable Mention All-GPAC accolades as a senior in 2020. He gained notoriety in the fall of 2020 when Barstool Sports recognized him as "America's Fullback." Stout earned his bachelor's degree from Concordia in Exercise Science (minor in Coaching). Stout completed his graduate assistantship with a Master of Science in Coaching and Exercise Science. Stout is a certified strength and conditioning specialist through the NSCA and holds a United States of America weightlifting certification.
Said Coach Freddie Myles of Stout, "I'm excited to have Chevy Stout as part of our team. He brings technical and practical knowledge, a positive coaching presence and experience of what it takes to be a successful Concordia athlete."
Chevy is the son of Duane and Michelle Stout and has two older brothers, Dalton and Ransom.