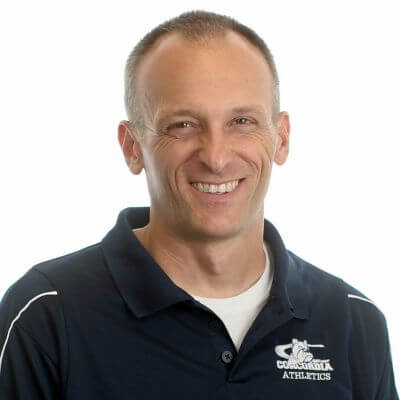 Alma Mater: Concordia University, Nebraska
Matt Beisel officially began his duties as head coach of the Concordia University cross country and track and field programs in June 2016. Beisel is a 1992 graduate of Concordia.
In seven seasons as head coach, Beisel has led his programs to considerable heights. Most recently, the Bulldog women's track program swept 2023 GPAC indoor and outdoor titles and placed sixth in the NAIA at the 2023 indoor national championships behind pole vault national champion Josie Puelz. Beisel is now a 10-time GPAC Coach of the Year (nine times for track and once for cross country) and an eight-time NAIA Midwest Region Women's Track & Field Coach of the Year (as selected by the USTFCCCA). The women's track and field program has won nine-straight GPAC titles while the 2019 women's cross country team broke through with a conference title and 12th-place national claim. Meanwhile, the Concordia men also placed as the 2019 GPAC indoor runners up. Other recent accomplishments on the men's side have included national place finishes of ninth at the 2019 NAIA indoor championships and 12th at the 2021 NAIA indoor championships. Beisel has led the track programs to a combined 14 NAIA top-10 national team finishes.
In his first season leading the track and field programs, Beisel helped guide the Bulldogs to men's national finishes of second for indoor and fifth for outdoor. Meanwhile, the Concordia women turned in national finishes of seventh for indoor and sixth for outdoor. Concordia athletes produced a total of 29 All-America awards, six national titles and 19 GPAC event championships in 2017. The All-America count rose to 37 in 2019 as both programs took a step forward (12 All-Americans at the 2020 indoor meet). From 2019 outdoor through 2022 outdoor, the women's program placed in the NAIA top five at six-consecutive national meets. Adrianna Rodencal swept GPAC indoor and outdor Athlete of the Year awards in 2023. Beisel also coached Emily Sievert to national championships appearances in cross country in 2016 and 2017. Then in 2021, Rylee Haecker, Calvin Rohde and Camden Sesna qualified for cross country nationals. Another distance performer, Taylor Grove won the GPAC 10,000 meter (2018) and 3,000 meter (2019) titles and qualified for nationals in the marathon in 2017, 2018 and 2019. In 2022, the men's cross country team placed second in the GPAC while the women earned an at-large bid to the national meet.
Beisel, who spent six years (2008 – 2013) as head track and field coach at Concordia University-Chicago (CUC), where he also served four years as assistant cross country coach, possesses 23 years of coaching experience. He shifted back to the collegiate ranks after having been the head track and field and cross country coach as well as a science teacher at Valley Lutheran High School in Phoenix, Ariz., from 2014 until moving back to Seward in 2016.
A former all-district runner and national qualifier as a Bulldog, Beisel represents an ideal fit at Concordia. In each of his previous coaching stops he built Christ-centered programs that improved tremendously under his guidance. Beisel inherited an NCAA Division III CUC track program of just 12 athletes. That number grew to 65 (largest roster in school history) by the end of his tenure. The three-time Northern Athletics Conference (NAC) Coach of the Year guided the Cougar women to league titles in 2010 and 2012 and a runner-up finish at the 2012 outdoor conference meet. He coached 56 conference champions at CUC.
While at CUC, Beisel helped develop Antwon James into an All-American long jumper. As head coach of the Cougars, Beisel worked specifically with sprinters and relays groups and as high jump coach. He's spent many years avidly studying and coaching speed and power development of athletes, as well as mechanics.
Prior to his time at CUC, Beisel won three cross country state championships as head coach from 2000 – 2007 at Lutheran High School in Little Rock, Ark. His boys and girls teams swept Arkansas cross country state titles in 2003. Beisel's Lutheran High cross country and track programs recorded a total of seven top-five state championships finishes.
Everywhere he's been, Beisel has increased participation in cross country and track. At his most recent position at Valley Lutheran, he more than doubled the boys and girls numbers in two years. In his first season leading girls cross country in Phoenix, Beisel took the team to its first-ever state championships appearance in 2014. It then placed 10th in the state in 2015.
Beisel graduated from Concordia with a B.S. in Education. He went on to earn his M.S. in Science Education from the University of Iowa in 1997. Matt and his wife Jill have a daughter, Keegan, and son, Jonah.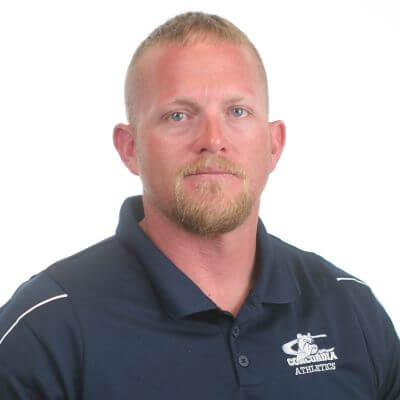 Hometown: Seward, Neb.
Alma Mater: Concordia University, Nebraska
Ed McLaughlin completed his 26th year as a member of the Concordia University track and field coaching staff in 2022-23, serving as an assistant coach and working with the throwers. He also assists with the multi-event athletes.
McLaughlin has tutored 19 individual national champions, 267 individual national qualifiers, 174 All-Americans, 63 GPAC champions and 24 national champion runners up. National titles have been captured by Jacob Cornelio (2020 weight throw, 2021 hammer throw), Samantha Liermann (2017, 2018 and 2019 shot put), Adrianna Shaw (2018 and 2019 discus), Zach Lurz (four times in the shot put), Liz King (2016 hammer, 2014 javelin), Cody Boellstorff (2015/2017 hammer, 2016/2017 weight), Josh Slechta (2015 weight throw) and Elizabeth Stottlemyre (2021 javelin). In addition, school throwing records have been broken more than 30 times in McLaughlin's tenure as coach. McLaughlin has earned plenty of recognition during while leading the nationally respected Bulldog throws program. The U.S. Track & Field and Cross Country Coaches Association (USTFCCCA) has named McLaughlin an NAIA National Assistant Coach of the Year six times and an NAIA Midwest Region Assistant Coach of the Year 11 times.
Concordia throwers have been particularly dominant in recent years, leading the Bulldogs to outdoor team national titles in 2015 (men) and 2016 (women), along with National Champion Runner up finishes for the men's team for outdoor (2016) and indoor (2017). The 2017 group combined for four national titles, seven GPAC titles and 20 All-Americans. The 2016 group of throwers combined for four national titles, nine GPAC titles and 34 total All-America awards. The men's team was led by two of the greatest throwers in school history, Lurz and Boellstorff. Lurz's accomplishments included 17 All-America awards, four national titles, school records in the indoor and outdoor shot put, the 2014 GPAC Outdoor Athlete of the year honor, the 2015 NAIA Most Valuable performer award at the 2015 NAIA outdoor national championship and recognition as the 2016 USTFCCCA NAIA National Indoor Field Athlete of the Year and the 2017 USTFCCCA NAIA National Outdoor Field Athlete of the Year. Not to be outdone, Boellstorff was an eight-time All-American with four national titles, the school record holder in the weight throw and hammer throw and four times he received NAIA Field athlete of the week and the 2016 performance of the meet winner for the Indoor National championships. Cornelio broke Boellstorff's hammer school record in 2021.
On the women's side, a trio of throwers took over the reins from King. Kali Robb, Tricia Svoboda and Samantha Liermann garnered numerous awards. Robb finished as one of the most decorated female throwers in school history, collecting 10 All-Americans, three national runner-up finishes, four GPAC titles and three NAIA national field athlete of the week awards. She is also No. 2 all time in school history in the shot put and No. 5 in the discus. Svoboda, was a four-time All-American in javelin and discus (national champion runner up in 2016) and a national qualifying hammer and weight thrower. She also won the GPAC title in discus. Liermann, a senior in 2019, concluded her career as a 10-time All-American and four-time GPAC champion, in addition to the three individual national titles. Shaw collected 11 All-America awards throughout her standout career.
McLaughlin was a four-year letter winner in both football and track at Concordia. He was the NIAC shot put champion in 1996, a six-time competitor in the NAIA Championship meet and he broke the school record in discus as a freshman.
In football, McLaughlin played on the offensive line and earned All-NIAC honors twice for the Bulldogs. He also was a two-time All-Nebraska selection and earned NAIA Honorable Mention All-America honors in 1996.
McLaughlin completed his bachelor's degree in Exercise Science with a minor in Biology at Concordia University in 1998. He resides in Seward with his wife Tasha, their daughter Clara and son Derek.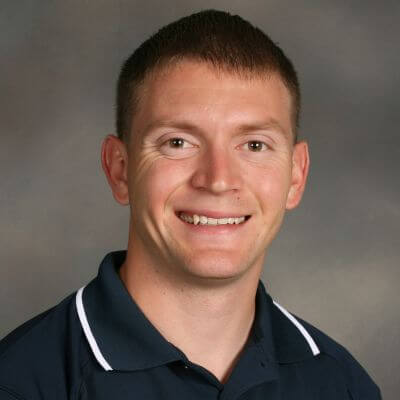 Hometown: Littleton, Colo.
Alma Mater: Concordia University, Nebraska
Mark Samuels completed his 16th season as an assistant coach for the Concordia University track and field and cross country programs in 2022-23. Samuels works primarily with sprints, hurdles, middle distance and relays. He has helped the Bulldogs win team national titles in 2015 (men's outdoor) and 2016 (women's outdoor) and to a combined 15 GPAC team championships. He also works with the cross country teams.
During his tenure, Samuels has worked with numerous GPAC champions, All-Americans and national champions. Some of the latest examples include 2023 GPAC Women's Indoor and Outdoor Athlete of the Year Adrianna Rodencal and multi-event GPAC champions Lucas Wiechman (2017) and Cody Williams (2018, 2019, 2021). Wiechman earned GPAC Performer of the Year for both indoor and outdoor in 2017. Williams did the same at the 2019 GPAC outdoor championships. In addition, Samuels helped tutor Jessica Deterding (pentathlon, heptathlon) and the women's 4x400 meter relays to school records in 2019. Then in 2020, Samuels aided in sophomore Rachel Battershell becoming the GPAC Female Athlete of the Year and the 400 meter national champion. Battershell repeated as national champion in the 400 at the 2021 NAIA indoor meet. New school records were turned in during the 2021 outdoor season by the women's 4x100 meter relay and by Emily Loy in the heptathlon. In thrilling moments at the 2022 NAIA outdoor national meet, the men's and women's 4x4's both reset program standards. Also noteworthy, standout freshman Jordan Koepke broke the GPAC meet record in the 400 hurdles and placed as the NAIA national runner up in the event. Battershell finished her career with 13 All-America awards. Outdoor records were broken in 2023 by Rodencal in the 100 hurdles and by the 4x1.
Samuels has been on staff for an unprecedented run of success for a program that's roster has grown significantly in recent seasons. Since Samuels joined the staff, Concordia has posted 25 combined top 10 national team finishes and 45 total top 25 national team finishes, in addition to the two team national championships. The women's track program possesses an active streak of nine-straight GPAC titles and recently claimed six-consecutive top five national meet finishes.
Samuels competed at Concordia from 2001-04. He was a four-time NAIA All-American and a four-time GPAC Champion. Samuels was the 2002 National Runner-Up in the 400 meter dash at the Indoor National Meet. For his efforts, Samuels was named 2002 GPAC Indoor Men's Athlete-of-the-Year. At the time of graduation, he held five school records, including individual indoor records in the 200 meter dash and 400 meter dash. He was also a member of record setting 4x400 meter relay teams in both indoor and outdoor seasons (relay records have since been broken).
Mark resides in Seward with his wife Kari, daughter Jordyn, son Landon, daughter Aspen and son Owen. In his spare time, Mark enjoys fishing, cycling and running.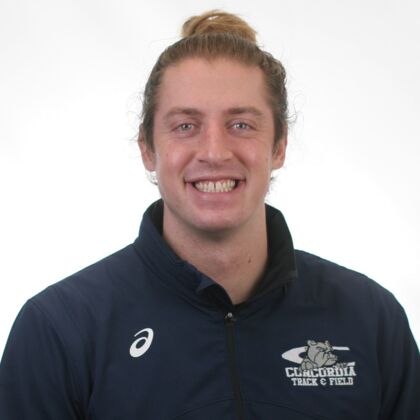 Benjamin Hinckfoot
Athletics, Department of Health and Human Performance
Assistant Professor of Health and Human Performance, Assistant Track & Field Coach
Email Walz
Hometown: Colorado Springs, Colo.
Alma Mater: Concordia University, Nebraska
Alum Benjamin Hinckfoot officially joined the Concordia Track & Field staff in January 2021. Previously an assistant coach at Concordia University, Irvine (CUI), Hinckfoot returned to serve the program that helped make him a seven-time All-American during his time as a Bulldog student-athlete.
Hinckfoot earned high praise for his work at CUI, where he began his service as a graduate assistant in 2017 before being promoted to a full-time role. At CUI, Hinckfoot worked under Head Coach Keegan Bloomfield, another CUNE alum. In his time with the Eagles, Hinckfoot coached athletes who combined for 14 school records and two All-America awards. In a release on the CUI website, Bloomfield described Hinckfoot as an "amazing coach and an even better person." In his first semester with the Bulldogs, Hinckfoot helped the women's program win a GPAC title and place third at the NAIA outdoor national meet. The women repeated as GPAC champs in 2022 and 2023 for both indoor and outdoor. Hinckfoot has worked with jumps All-Americans in Wyatt Loga and Amy Richert at CUNE. Richert won 2023 GPAC titles in the pentathlon and heptathlon.
Not only did Hinckfoot collect seven All-America honors as a Bulldog athlete, he also racked up four GPAC event titles, 17 all-conference finishes and two CoSIDA Academic All-America First Team selections. He continues to own the program record in the 400 meter hurdles with a time of 52.14. At the time of graduation, Hinckfoot also stood at No. 1 on the school's all-time list as part of an outdoor 4x400 meter relay team (now No. 2). Hinckfoot earned his All-America plaques in the 110 hurdles (twice), 400 hurdles (twice) and 4x4 (three times). With Hinckfoot leading the way, the Concordia men swept GPAC indoor/outdoor team titles in 2014. Hinckfoot was coached most closely by Samuels. Dr. Kregg Einspahr served as head coach during Hinckfoot's athletic career (2011-14).
Hinckfoot graduated from Concordia University, Nebraska in 2014 with a Bachelor of Science in Secondary Education. He earned his Master of Science in Coaching and Exercise Science from Concordia University, Irvine in 2019.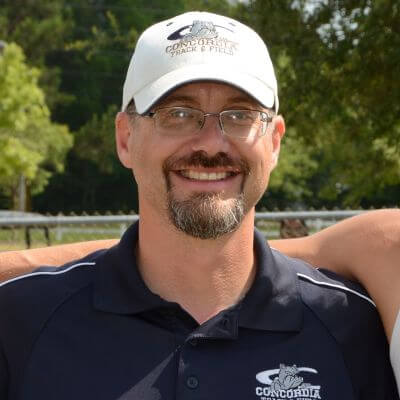 Assistant Track and Field Coach - pole vault
Alma Mater: Concordia University, Nebraska
Jason Berry has helped with the Concordia Track & Field program for many years, working primarily with pole vault. Berry helped the Bulldogs win team national titles in 2015 (outdoor men) and 2016 (outdoor women).
Jason attended Concordia University from 1989-1994. He was a three-time conference champion and a two-time District 11 champion in the pole vault. He qualified for nationals three times and earned Booster Club Athlete-of-the-Week honors three times during the 1993 season.
Since returning to Concordia in 2008, Berry has coached 122 NAIA National Qualifiers, 48 NAIA All-Americans, six national champions, 27 GPAC champions and school record holder Josie Puelz (indoor/outdoor pole vault). Concordia women's pole vaulters went on a recent run during which they won six conference titles in a row. That dominance resumed in 2019 with Brooks (indoor) and Erin Mapson (outdoor) winning conference titles. Since then, Puelz has won six GPAC titles and Zach Bennetts swept 2022 GPAC indoor/outdoor championships. Puelz has become a major star having swept NAIA indoor/outdoor national titles in 2021 and 2022 while adding an indoor championship in 2023 and also breaking the GPAC meet record at the 2021 outdoor conference championships. Lucas Wiechman broke through with a pole vault national title at the 2017 outdoor national championships. In the final NAIA event squad ratings for 2019, the Bulldogs ranked No. 1 in the pole vault for both men and women. The women's program again reigned atop the event squad rankings in 2021 and 2022 and hovered near the top in 2023.
From 1999-2007, Jason was a volunteer assistant coach and meet official at Concordia University. During those years, he helped coach seven NAIA National Champions and dozens of All-Americans and conference champions.
From 1995-1998, Jason was an assistant coach at Illinois Wesleyan University. During that time, he helped with the pole vault and decathlon. He coached six NCAA Division III national qualifiers and three D-III All-Americans in the pole vault.

Beginning in 2001, Berry served as volunteer pole vault coach at Seward High School. He coached two state champions, including his youngest son Chase (2017), 15 state medalists and 24 state qualifiers during that time.
Berry also organizes the Annual 4th of July Street Pole Vault competition that has been a fixture in the City of Seward's holiday activities since 1991. He has also helped with the Concordia University Pole Vault Camps since 1999. Additionally, Berry is the Vice President of Bottle Rocket Brewing LLC.
Jason lives in Seward with his wife Julie. They have three sons: Cole, Dalton and Chase. Cole lives in Houston, Texas, with his wife Hannah. Dalton is a former Concordia pole vaulter and currently serves as a zookeeper at Henry Doorly Zoo. Dalton and his wife Hope live in Omaha. Meanwhile, Chase is a current Bulldog and a two-time pole vault All-American.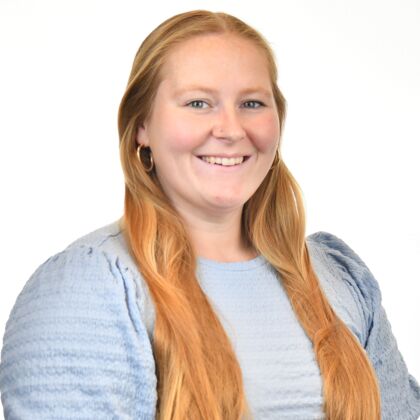 Maddie Wachowski
Athletics
Graduate Assistant Track & Field Coach
Email Walz 107C
Hometown: Sandwich, Ill.
Alma Mater: Olivet Nazarene University
Maddie Robinson began her role as Graduate Assistant Track & Field Coach at Concordia University at the start of the 2022-23 academic year. Robinson made the shift to coaching after an impressive throwing career at NAIA member Olivet Nazarene University.
As an athlete for the Tigers, Robinson earned three NAIA All-America awards between the shot put and hammer throws. Her list of accolades also includes a combined nine national qualifications (shot put, hammer and weight), four Chicagoland Collegiate Athletic Conference (CCAC) shot put titles, 11 all-conference place finishes, two CCAC Field Athlete of the Year awards and four conference athlete of the week honors. The native of Sandwich, Ill., helped Olivet Nazarene win seven team CCAC championships. Robinson also competed for the Bulldogs during the 2023 indoor season and was an All-GPAC award winner and NAIA national qualifier.
Robinson graduated from ONU with degrees in Business Administration and Social Science Education. She is currently pursuing her Master of Business Administration from Concordia. Maddie is the daughter of Rich and Monica Robinson. Maddie has two siblings, Josh and Jen, and a nephew Brayden.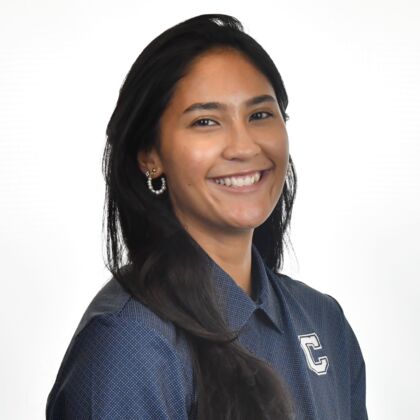 Graduate Assistant Track & Field Coach
Email Walz 107C
Hometown: Waialua, Hawaii
Alma Mater: Dakota Wesleyan University
Lia Guigui began her role as Graduate Assistant Track & Field Coach at Concordia University beginning with the fall semester of 2023. Guigui spent the previous year as a graduate assistant at another institution.
A native of Waialua, Hawaii, Guigui is familiar with the GPAC landscape having competed at Dakota Wesleyan University. As a Tiger, Guigui racked up a total of 10 GPAC all-conference awards between the high jump, long jump and 4x100 meter relay while appearing at 12 conference meets. She also qualified for the NAIA National Championships four times – twice for indoor and twice for outdoor.
Lia earned her B.A. in History and Criminal Justice with a minor in Behavioral Science from Dakota Wesleyan. She is pursuing her Master of Science in Athletic Administration with a concentration in College Athletic Administration. She is the daughter of Teresa Bechard. Lia has two brothers, Kealii and Mykal, and three sisters, Cydney, Gerry and Bethany.