2005-2006 - Golf schedule/results
MARCH

March 13-14

Bethany Invite

Salina, Kan.

March 30-30

SCC Invite

Beatrice, Neb.

APRIL

April 1

NCTA Invite

Curtis, Neb.

April 3

Midland Invite

Fremont, Neb.

April 6-7

Wesleyan Invite

Lincoln, Neb.

April 10-11

Hastings Invite

Grand Island, Neb.

April 17

Concordia Invite

Seward, Neb.

April 20

Briar Cliff Invite

Sioux City, Iowa

April 21

Union Invite (JV Meet)

Lincoln, Neb.

April 22

Doane Invite

Crete, Neb.

April 24-25

GPAC Conference Meet

Orange City, Iowa

MAY

May 1-2

NAIA Region III Meet

Elkhorn, Neb.

May 14-20

NAIA National Meet

Olathe, Kan.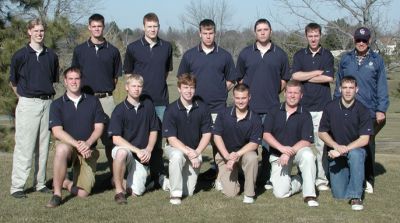 2006 season comes to a close at GPAC meet
24-25 APR 2006
The Concordia University, Nebraska men's golf team wrapped up their season at the Great Plains Athletic Conference (GPAC) meet on Monday, April 24 and Tuesday April 25.
As a team the Bulldogs shot a two-day total of 650 (328-322) to finish in 10th place at the GPAC tournament. The five Bulldogs who golfed (Dustin Petrik, Mike Kulzer, Ryan Hrdlicka, Steffan Shelemey and Scott Beck) did mange to score slightly better than their season average as a team, but it wasn't nearly good enough a the conference tournament which is packed full of excellent teams. The meet, held at Landsmeer Golf Club in Orange City, Iowa, was won by Nebraska Wesleyan.
Concordia was led by Petrik who fired a 161. Kulzer wasn't far behind with a 162, followed by Hrdlicka with a 165. Rounding out the scoring for the Bulldogs was Shelemey at 163. None of the Concordia golfers were in the top 20 at the GPAC meet.
Back on April 22, the Bulldogs competed at the Doane Spring Tournament held in Crete, Neb., at the College Heights Golf Club. Concordia fared much better in the team standings, tying for second place with Midland Lutheran, finishing with a 322. The Bulldogs also had a junior varsity squad competing at the meet. The JV squad carded a 334 for sixth place.
Individually the Bulldogs were led by a member of the JV squad, Mike Frates. Frates took second place overall with a three over 73. Kulzer and Petrik also finished in the top 10, taking seventh (78) and 10th (80) respectively.
Looking forward to next season their will be some new faces in Concordia golf, as three of the top five players from this season are seniors and will not be returning. Coach Carl Everts is optimistic as the attention shifts from day-to-day golfing on to recruiting for next season.
Hrdlicka honored as 2006 NAIA Scholar-Athlete
Ryan Hrdlicka of the Concordia men's golf team was named a 2006 NAIA Daktronics All-America Scholar-Athlete.
In order to be recognized as a NAIA Daktronics Scholar-Athlete, individuals must carry a cumulative GPA of 3.5 on a 4.0 scale and be a junior or above in academic standing.
This is the second consecutive year that Hrdlicka, a senior from Wahoo, Neb., has earned the honor. He graduated in May 2006 with a degree in business administration.