2004-2005 - Golf schedule/results
MARCH

March 28-29

HCC Invite

Hutchinson, Kan.

March 31-April 1

SCC Invite

Beatrice, Neb.

APRIL

April 2

NCTA Invite

Curtis, Neb.

April 9

Concordia Invite

Seward, Neb.

April 11-12

I-80 Invite

Hastings, Neb.

April 15-16

Briar Cliff Invite

Sioux City, Iowa

April 19

Midland Invite

Fremont, Neb.

April 22

Union Invite (JV Meet)

Lincoln, Neb.

April 23

Doane Invite

Crete, Neb.

April 25-26

GPAC Conference Meet

Lincoln, Neb.

MAY

May 2-3

NAIA Region IV Meet

Elkhorn, Neb.

May 22-28

NAIA National Meet

Olathe, Kan.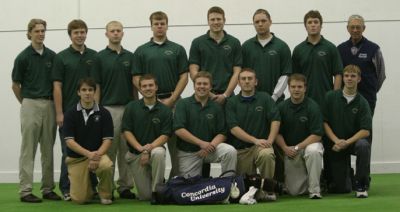 2004-2005 - Golf roster
| | | | |
| --- | --- | --- | --- |
| Name | Yr. | Hometown | Previous School |
| Josh Allison | Sr. | Olathe, Kan. | Johnson County CC |
| David Anderson | Sr. | Kearney, Neb. | Amherst |
| Scott Beck | Jr. | Scribner, Neb. | Scribner-Snyder |
| Ben Deutschman | Jr. | North Platte, Neb. | North Platte |
| Bryan Emerson | Sr. | Columbus, Neb. | Columbus |
| Mike Frates | Fr. | Brule, Neb. | South Platte |
| Ryan Hrdlicka | Jr. | Wahoo, Neb. | Wahoo |
| Mike Kulzer | Fr. | Sauk Rapids, Minn. | Sauk Rapids |
| Andrew Mannegel | Jr. | Seward, Neb. | Seward |
| Dustin Petrik | Jr. | David City, Neb. | David City |
| Garrett Rathke | So. | Cairo, Neb. | Centura |
| Preston Schmidt | Jr. | Seward, Neb. | Seward |
| Tim Zum Hofe | Jr. | Circle Pines, Minn. | Concordia (Minn.) |
Golf has rough first day, solid day two at HCC Invite
28-29 MAR 2005
After being rained out of the first meet of the year last week, the Bulldogs linksters got the season underway at the Hutchinson C.C. Invite on Monday.
Playing the tougher of the two courses, Highlands, on Monday the Bulldogs struggled. They shot a score that was higher than any team score from last year at 348. Concordia bounced back at Carey Park Golf Club on Tuesday, with a team score that better any score they had posted last year, a 302. Overall for the tournament the Bulldogs finished in sixth place as a team with a 650.
Ryan Hrdlicka was the medalist for the Bulldogs with hsi two rounds of 87 and 73 good enough for a tie for 14th. Mike Kulzer's 161 was good enough for a tie for 18th. Josh Allison (164), Bryan Emerson (165) and Dustin Petrik (171) rounded out the scoring for the Bulldogs.
The Bulldogs are back in action yesterday and today in Beatrice for the SCC Invite as well as a one day meet on Saturday in Curtis, Neb.
Golf wins one meet in busy week
31 MAR-2 APR 2005
The Bulldogs men's golf team participated in a pair of meets last week. The first was the SCC Invite held in Beatrice. Ten teams competed at the Beatrice Country Club on Thursday and Friday. Concordia finished the two-day event in third place, shooting a 663. "It was a satisfactory score, considering the course and the wind" said coach Carl Everts. "The Beatrice Country Club is on of the most difficult courses in the state." Ryan Hrdlicka's 158 was good enough for fourth place individual honors. Freshman Mike Frates, participating in his first collegiate meet, took fifth place with a 161.
On Saturday the Concordia linksters traveled west to Curtis, Neb., for the NCTA Invite. The Bulldogs 308 team score netted them the first place trophy; five teams competed in the meet held at Arrowhead Meadows Golf Club. Hrdlicka continued his reign as the top golfer for the Bulldogs, taking home top individual honors with a 74. "I can't say enough about Ryan's early season scoring and leadership," Everts said. Three other golfers also placed in the top ten for Concordia. Bryan Emerson was fifth with a score of 76, Josh Allison's 77 earned sixth place and Frates added an 81 for ninth place. "As a team it looks like we are getting over some early season jitters," said Everts. "Hopefully we will continue to improve during the next weeks leading up to the GPAC meet."
The Bulldogs host the Concordia Invite this Saturday at the Seward Country Club.
Linksters second at home meet
9 APR 2005
On a windy day, the Bulldogs picked up a second place finish, shooting a 303, as they hosted the Concordia Invitational at the Seward Country Club. Dakota Wesleyan won the meet with 297.
Individually, Bryan Emreson took second place honors at 71. Josh Allison's 73 was good enough for third and Dustin Petrik fired a 75 for sixth. The Bulldogs golfed two teams at the meet, the second team finished in sixth, shooting 321.
Concordia will be busy in the upcoming week, participating in two 36-hole tournaments. The Bulldogs with be in Hastings and York for the I-80 Invite on April 11 and 12, as well as the Briar Cliff tournament on April 15 and 16.
Golf takes third at I-80 Invite
11-12 APR 2005
The Concordia men's golf team shot a 305 in the second round to finish third (624) out of 15 teams at the I-80 Invite.
The 36-hole tournament was held Monday at Lockland C.C. in Hastings an at the York C.C. on Tuesday. York College won the tournament with a 615, Briar Cliff was second with 617.
The Bulldogs had three golfers in the top 20. Mike Kulzer led the way tied for eighth place with a 152 (81-71). His 71 on day two was a new school record for 18-holes at the York C.C. Bryan Emerson finished tied for 13th at 156 (80-76) and Dustin Petrik took 17th with a 157 (18-81). "It was a good tournament for our golfers," said coach Carl Everts. "It appears we are starting to peak only two and half weeks before the GPAC meet." Of the seven GPAC schools participating in the meet, only Briar Cliff had a better score than the Bulldogs.
Concordia travel to Sioux City, Iowa, for the Briar Cliff Invite on April 15 and 16. Ten GPAC schools will be at the meet.
Linksters set team, individual records at Briar Cliff Invite
15-16 APR 2005
It was a good two days for the Concordia men's golf team. They finished in fourth place (299-313=612), trailing only NCAA Division I South Dakota State, York College, and Dakota Wesleyan. The Bulldogs also set two team records during the meet - lowest 18-hole score, 299 and 36-hole score, 61. Mike Kulzer put his mark on the record books as well with four different school records.
Kulzer set school records for best finish at the Briar Cliff Invite, taking sixth place and for best score at the Briar Cliff Invite (148). Perhaps more impressive was his 68 on day one that gave him the title of lowest 18-hole score on any course. Kulzer also established a new mark for lowest 36-hole score with his 148. To top all of the records off, he added a hole-in-one on #17 at Whispering Creek in Sioux City, Iowa.
The Bulldogs have a busy week upcoming with three meets. The varsity squad will travel to Fremont, Neb. on Tuesday, while the JV squad heads to Lincoln for a Union College meet on Friday. Both squads will then compete at Doane on Saturday.
Team falls short of Regionals, Kulzer qualifies individually
25-26 APR 2005
Nebraska Wesleyan won the meet, but declared they would compete at the NCAA Division III level for the post season, thus the next four top teams in the GPAC Championships qualify for the NAIA Region IV Golf Championships. The University of Sioux Falls, Dakota Wesleyan and Briar Cliff took second, third and fourth respectively. Concordia lost in a playoff with Northwestern for the final qualifying spot at the NAIA Region IV Golf Championships. "The guys were disappointed about not qualifying," said coach Carl Everts. "That was their goal, and to lose in a playoff was tough. Overall, we had a great season."
After carding a 336 as a team on day one, Concordia improved by 11 strokes on day two, shooting a 325. Mike Kulzer's 162 (84-78) was good enough for a ninth place tie, and a spot in the NAIA Region IV Championships. In addition to the top four teams, the top ten individual performances also qualified for the Region IV Championships. Bryan Emerson was the only other Bulldog golfer to finish in the top 20. His 165 (80-85) put him in a tie for 19th place.
The NAIA Region IV Golf Championships will be held on May 2 and May 3 at the Indian Creek Golf Course in Elkhorn, Neb.
The Bulldogs finished in a tie for fifth place at the GPAC Championships held Monday and Tuesday at Wilderness Ridge Golf Course in Lincoln, Neb., shooting a 661.