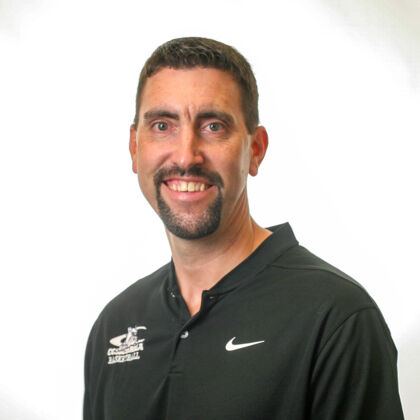 Hometown: Cedar Falls, Iowa
Alma Mater: Concordia University, Nebraska
Ben Limback was officially named head men's basketball coach at Concordia University in March of 2013. Limback completed his 10th season as head coach at his alma mater in 2022-23.
In year nine, Limback led the Bulldogs to one of the finest seasons in program history. Concordia shared the GPAC regular season title (first in program history), won the conference tournament and proceeded to reach the NAIA National Quarterfinals. As part of the 2021-22 journey, a dramatic alley-oop layup at the buzzer to beat Briar Cliff appeared on multiple ESPN shows. The Bulldogs won three national tournament games and wound up with 28 wins for the third most in a single season in school history. The 15 conference wins broke the program's single season record. Carter Kent garnered NAIA Second Team All-America and First Team All-GPAC honors while leading the way. Gage Smith also landed on the GPAC's first team while Justin Wiersema was named second team. Noah Schutte earned NAIA Men's Basketball National Championship All-Tournament recognition. As a show of the team's strong character that shined through at the national tournament, Concordia was recognized with the Dr. James Naismith-Emil S. Liston Team Sportsmanship Award.
Prior to the 2022 run, Limback returned the Bulldogs to the national tournament in 2020 with a thrilling postseason push that included a win at 11th-ranked Dakota Wesleyan in the GPAC tournament championship game. Concordia went 24-10 overall in 2019-20, placed fourth in the GPAC regular-season standings and was rewarded with a No. 7 seed in the NAIA Division II tournament, which took place in Sioux Falls, S.D. Point guard Brevin Sloup earned first team all-conference accolades while Kent landed on the second team. Then in 2020-21, the Bulldogs placed in a tie for third in the GPAC, marking the program's highest regular season finish since 2004-05. The team's 14 GPAC wins equaled a school record at the time. Wiersema garnered first team All-GPAC honors. A national tournament at-large berth in 2023 gave the program back-to-back national tournament appearances and three in the past four seasons.
Under Limback, the Bulldogs improved their win total each season from 2013-17 while leading up to a 21-victory season in 2016-17. Led by second team All-American Chandler Folkerts, the 2016-17 team broke the school single-season record for scoring average (88.7) and finished with the program's most wins since the 2004-05 campaign (until winning 24 in 2019-20). The 2016-17 squad also toppled five nationally-ranked teams and captured the CIT championship. It was the third CIT title at CUNE for Limback. The 2017-18 Bulldogs went 17-13 overall for a fourth-straight winning season. Limback reached 200 career coaching victories with a triumph at Waldorf University on Nov. 19, 2018.
Limback, a 1999 Concordia graduate and native of Cedar Falls, Iowa, spent nine years as the head coach at CU-Ann Arbor prior to taking over in Seward. Limback, who also served as the school's director of admissions from 2010-12 and its athletics director from 2009-2011, is the Cardinals' all-time winningest men's basketball head coach with 115 victories. He earned Wolverine-Hoosier Athletic Conference Coach of the Year honors in 2007 and was recognized as the WHAC Champions of Character Coach by the NAIA in both 2009 and 2010. In 2007, Limback led CU-Ann Arbor to its first-ever Concordia Invitational Tournament title. In 2014 Limback became the first coach in CIT history to win championships at two different schools.
Prior to becoming CU-Ann Arbor's head coach, Limback filled the role of assistant coach for three seasons from 2000-2003 at NCAA Division II Southern Illinois University-Edwardsville in Edwardsville, Ill., where he was tutored by current NCAA Division I Evansville University head coach Marty Simmons. That coaching stop was preceded by a one-year stint with Concordia-Nebraska for the 1999-2000 season under 23-year head coach Grant Schmidt.
From 1995-99, Limback donned the Bulldog jersey as a player for Coach Schmidt. As a senior during the 1998-99 season, he earned Nebraska-Iowa Athletic Conference Player of the Year honors and was named the Nebraska State College Player of the Year by the Omaha World-Herald. In addition, he twice received both NAIA honorable mention All-America (1998 and 1999) and NAIA Academic All-America (1998 and 1999) accolades. He was a member of Bulldog teams that advanced to the national tournament on three separate occasions.
Upon graduation from Concordia, Limback received his bachelor's degree in psychology and physical education. He went on to earn his Master of Science degree in kinesiology from SIU-Edwardsville in 2002.
Limback and his wife Kelley have four children: Leighton, Malachi, Kennedy and Emerson.
Bulldogs Under Coach Limback
---
2013-14: 8-21 Overall, 3-17 GPAC
2014-15: 16-15 Overall, 9-11 GPAC
2015-16: 18-12 Overall, 10-10 GPAC
2016-17: 21-10 Overall, 10-8 GPAC
2017-18: 17-13 Overall, 8-10 GPAC
2018-19: 15-16 Overall, 7-13 GPAC
2019-20: 24-10 Overall, 12-8 GPAC
2020-21: 17-9 Overall, 14-6 GPAC
2021-22: 28-7 Overall, 15-5 GPAC (T-1st)
2022-23: 18-13 Overall, 11-9 GPAC
Total: 182-126 Overall, 99-97 GPAC (10 years)
Coaching Career
2013 – present Concordia University, Nebraska Head Men's Basketball Coach
2003 – 2012 Concordia University-Ann Arbor, Head Men's Basketball Coach
2000 – 2003 Southern Illinois University-Edwardsville, Assistant Men's Basketball Coach
1999 – 2000 Concordia University-Nebraska, Assistant Men's Basketball Coach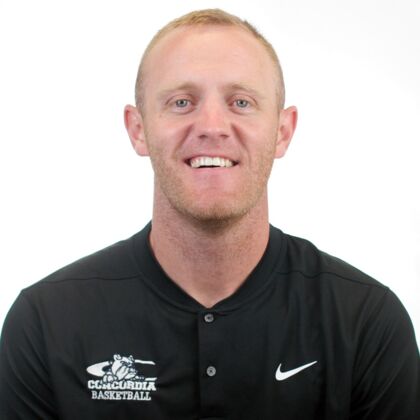 Hometown: Davenport, Neb.
Alma Mater: Morningside College
Ryan Tegtmeier was announced as Assistant Men's Basketball Coach at Concordia University in August 2021. The former standout GPAC student-athlete previously served as the top assistant coach at Nebraska Wesleyan University in Lincoln, Neb.
In his first season with the Bulldogs, Tegtmeier aided in what wound up as one of the greateast seasons in program history. Concordia won GPAC regular season and tournament titles and advanced to the NAIA National Quarterfinals. The 2021-22 team's 28 wins were the third most in a single season in school history. The Bulldogs have advanced to the national tournament in both of Tegtmeier's two seasons on the staff. As an assistant with the Prairie Wolves, Tegtmeier worked under Dale Wellman and helped the program to a 25-4 campaign, a sweep of American Rivers Conference regular season/postseason titles and a final NCAA Division III national rating of 14th in 2019-20. Tegtmeier spent two seasons at Nebraska Wesleyan following two seasons as Head Boys Basketball Coach at Blue Hill High School. Tegtmeier also worked for three years as Head Coach of the Nebraska Select AAU-17U and mentored athletes that went on to play at nearly all levels of collegiate basketball.
In his second and final season at Blue Hill, Tegtmeier guided the team to a state tournament appearance in addition to a district title and conference tournament championship. Prior to the 2019 state playoff run, Blue Hill had not advanced to state since 1984. The program's 33 wins over two seasons under Tegtmeier represented a school record for a two-year stretch.
Tegtmeier put together a fine playing career of his own. As a Morningside Mustang, Tegtmeier started all four seasons and accumulated 1,349 points, 378 rebounds, 358 assists and 132 steals. His point total ranked 10th in school history at the time of his graduation in 2017. Tegtmeier piloted Morningside to a pair of conference championships and two national tournament appearances. He was named a Second Team All-GPAC honoree in 2016 and earned a total of three all-conference honors. Academically, Tegtmeier garnered NAIA Scholar-Athlete recognition.
Previously, Tegtmeier also paired coaching with his teaching career. He taught fifth and sixth grade social studies/science at Blue Hill Public Schools and then sixth grade design thinking/science at Schoo Middle School in Lincoln.
Tegtmeier graduated from Morningside College with a B.S. in Elementary Education. Ryan is married to Rachel Tegtmeier.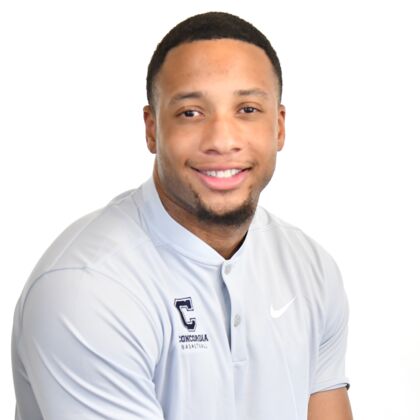 Graduate Assistant Men's Basketball Coach
Email Walz 108D
Hometown: Nashville, Tenn.
Alma Mater: Lakeland University
Byron Dean joined the Concordia University Men's Basketball staff as Graduate Assistant Coach beginning with the 2022-23 academic year. Dean arrived at Concordia after a standout career as an NAIA basketball student-athlete. Dean helped Concordia reach the 2023 NAIA National Championship tournament.
A native of Nashville, Tenn., Dean totaled more than 1,000 career points during his collegiate career at Lakeland University. He was named both an Honorable Mention All-American and an Academic All-American while leading his team to the semifinals of the NAIA Men's Basketball National Championship. Outside of his playing career, Dean spent three-straight summers coaching the AAU "Team Curry."
Dean graduated from Lakeland with a degree in Business Administration. He is currently pursuing his master's in Sports Administration from Concordia. Byron's father, Byron Sr., played college football at Auburn University and had a stint with the Dallas Cowboys.