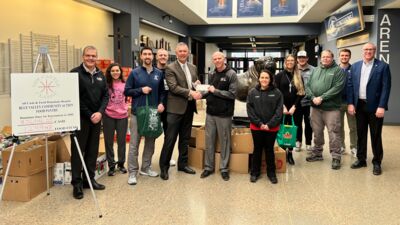 Bulldog Athletic Association Member (BAAM) Athletes of the Week

Male: Kaden Peters, Football

A native of Wood River, Neb., Peters has been a steadying force this season at left tackle while helping the offense flourish. In last week's 45-10 win at Briar Cliff, Peters and the offensive line paved the way for 538 total yards, including 264 on the ground.

Female: Kylahn Freiberg, Cross Country

Freiberg, who hails from Nampa, Idaho, paced the Bulldogs to a third-place GPAC team finish last week while finishing eighth individually. Freiberg completed the 5k race in Jamestown, N.D., in a time of 19:11.51. She has qualified individually for the national meet.

Previous BAAM Athletes of the Week
Nov. 1 – Breyer Meeks (shooting sports) / Carlos Orquiz (soccer) / Morgan Nibbe (volleyball)
Oct. 25 – Bree Burtwistle (volleyball) / Isaiah Shaddick (soccer)
Oct. 18 – Korrell Koehlmoos (football) / Carly Rodaway (volleyball)
Oct. 11 – Rylee Haecker (cross country) / DJ McGarvie (football)
Oct. 4 – Rebecca Gebhardt (volleyball) / Korrell Koehlmoos (football)
Sept. 27 – Bree Burtwistle (volleyball) / Ryan Wokutch (soccer)
Sept. 20 – Tanner Muff (shooting sports) / Gabi Nordaker (volleyball) / Katie Welker (shooting sports)
Sept. 13 – Kierstynn Garner (soccer) / Jack Nelson (shooting sports)
Sept. 6 – Camryn Opfer (volleyball) / Camden Sesna (cross country)
Aug. 30 – Federico Simonetti (soccer) / Carly Rodaway (volleyball)
Aug. 23 – Bree Burtwistle (volleyball)

2022-23 BAAM Athletes of the Month
September – Gabi Nordaker (volleyball); Camryn Opfer (volleyball); Camden Sesna (cross country)
News and notes:

BAAM luncheons are held every Tuesday at 12 p.m. CT inside the Dog House Grill, located in the Janzow Campus Center. The luncheons feature reports from head coaches who are in season at the time. For information on how to join BAAM, click HERE. It is not a requirement to be a BAAM member in order to attend the weekly luncheons.

Coach Schmidt's journey: From 1989 through 2012, the unmistakable Coach Grant Schmidt guided the Concordia Bulldogs Men's Basketball program in ways only he could. Schmidt demanded maximum effort, refused to tolerate excuses, coached with tough love, toed the line with officials, fought for his players with intense loyalty and made Concordia an outfit the opposition feared. He brought the old gym to a fever pitch and inspired a reverence for him that was and still is felt emotionally by his former players. With the help of former players, assistant coaches and Coach Schmidt himself, we recounted his journey in nearly 15,000 words. Coach Schmidt is Concordia's Godfather of Basketball. To read a detailed look at Coach Schmidt's journey, click HERE.

23rd annual Cattle Classic continues tradition of serving others: The 23rd annual Cattle Classic unfolded last week as the Concordia Basketball programs hosted an event that featured eight games over two days. This year's event raised 11,265 cans of food and $2,885 in cash for the Blue Valley Community Action Food Pantry. In the 23 years of the Cattle Classic, more than 129,800 cans and $36,000 in cash have been raised. Pac N Save Grocery matches the number of food items donated each year. On the court, both Bulldog squads went 2-0.

Shooting Sports wraps up fall while qualifying four more individuals for nationals: As a wrap up to the fall portion of the 2022-23 schedule, the Concordia University Shooting Sports program traveled its entire roster of 25 to the 2022 North Central Region Qualifier held in the Wichita, Kan., area, Nov. 4-6. Most significantly, the Bulldogs added four national qualifiers to their season tally that now numbers 18 strong. They also placed fifth high overall out of a large field of 18 teams, each tasked with testing their skills in trap, skeet and sporting clays. The three days of competition were held at Ark Valley Gun Club and Shady Creek Sporting Clays. Head Coach Dylan Owens entered his athletes into seven events throughout the fall 2022 season. Concordia will go into winter training mode before gearing up for the spring semester when the national championships are contested. The brand-new national qualifiers are Kaylee Hinton, Monica Reed, Steven Schmidt and Katie Welker, courtesy of their efforts over the weekend. Concordia's top five overall shooters cracked a combined 1,375 targets towards the team scoring. That total put the Bulldogs behind Fort Hays State University (1,425), Lindenwood University (1,408), Midland University (1,400) and Schreiner University (1,384). Of those opponents, only Midland will compete within the same division for the 2023 national championships. By discipline, Concordia placed tied for fourth in skeet (488), fourth in sporting clays (435) and sixth in trap (487). For more on the Concordia Shooting Sports program, click HERE.

Weightlifting makes big gains, qualifies four individuals for nationals: The second competition in the history of Concordia University Weightlifting occurred this past Saturday (Nov. 5) as six Bulldogs represented the program at the Midwest Regionals at the Fieldhouse in Iowa City, Iowa. Among the highlights, four Concordia lifters qualified for the national championships and the team was successful on 86 percent of its attempts. The Bulldogs went up against athletes from host University of Iowa, Lindenwood University (Mo.), MidAmerica Nazarene University (Kan.) and Central College (Iowa). The Midwest Regionals featured a total of 71 competitors on what was a large-scale weekend of regional events around the country in the sport of collegiate weightlifting. The summary below hits on the highlights for Bulldog individuals at the event. Each athlete was tasked with attempting three snatches and three clean and jerks with the two best marks making up the individual's total score. Mary Berris (Windsor, Colo.), Rylee Kara (Osseo, Minn.), Kaleigh Maloney (Nampa, Idaho) and Mitch Myers (Lakeville, Minn.) each emerged as national qualifiers while starring in their respective weight classes. For more details on the program, click HERE.

Softball program begins to take shape under Culler's leadership: Bright and early this fall, the Concordia University Softball program began to take a new shape under the direction of Head Coach Brock Culler, who spent 10 seasons leading the Grand Island Central Catholic High School softball team. In other words, the adjustment phase is well underway as the Bulldogs work towards forming what their identity will be in the spring of 2023. Said Culler, "When I stepped on campus for the first time, I was sold on it. I love the people here. I tell my wife, I get to go to work every day surrounded by people who are working their dream jobs. The energy level here is great. I feed off that and I love it. I love that high energy, wanting to win and that goal-oriented environment. I love the atmosphere here at Concordia." For a fall update on the softball program, click HERE.

Bulldog Coaches Show airs every Thursday at 5:30 p.m. CT: The Bulldog Coaches Show is underway in its eighth year of existence. The show airs live for a half hour every Thursday beginning at 5:30 p.m. CT on KTMX-FM 104.9 Max Country. The weekly feature can also be heard live via 104.9 Max Country's website or by downloading the Max Country app. Throughout the 2022-23 season, Bulldog football, men's and women's basketball and volleyball contests will be aired live on Max Country. Parker Cyza serves as the host of the coaches' show as well as the play-by-play voice for football and basketball. Frank Greene is in his eighth season calling Concordia volleyball.

Concordia Sports Network: Live webcasts for most home varsity contests can be accessed by visiting https://www.cune.edu/athletics/watch-bulldogs at game time. Beginning in 2019-20, Concordia Athletics partnered with PrestoSports for live video and statistical streaming. Live webcast links for away contests are publicized in sport specific releases that preview action for that particular week. Scrimmages, exhibitions and junior varsity events are not broadcasted.

Cross Country
· The 2022 GPAC Championships took place last week at Parkhurst Campground in Jamestown, N.D., a location that hosted the event for the first time. The Bulldogs emerged with place finishes of second on the men's side and third on the women's side. The men's team earned its highest conference place finish since 2012 while the women just missed out a team automatic bid to nationals. Dordt captured team titles on both sides. Five individuals earned all-conference honors from Head Coach Matt Beisel's squads. For more information on Concordia Cross Country, click HERE.
· Since Beisel took over the program beginning with the 2016 season, the Bulldog men had placed as high as fourth in the GPAC (in both 2018 and 2021). The breakthrough last week was Concordia's best conference placement on the men's side since the 2012 team won the GPAC title behind individual champion Colin Morrissey. The 2022 Concordia men (86 points) were able to edge out Dakota Wesleyan (87) and Doane (92) for second place. Meanwhile, the women (75 points) had hoped to place second. They wound up behind Dordt (33) and Hastings (64) in the team race. The third-place claim was a two-spot from 2021 and the program's best finish since winning the conference in 2019.
· As of early Tuesday afternoon, nothing is official but three individual Bulldogs are certain to be headed to the 2022 NAIA National Championships (team at-large bids are still up in the air). Kylahn Freiberg, Julie McIntyre and Camden Sesna qualified for the national meet based on their place finishes at the conference meet last week. Sesna finished fifth on the men's side while Freiberg placed eighth and McIntyre 14th on the women's side. Sesna has qualified for the second year in a row. Freiberg also ran at nationals in 2019 when Concordia placed 12th nationally as a team. This will be the first nationals experience for McIntyre, a transfer from Trinity Christian College.
· With his 8k time of 25:46.15 at the conference meet, Sesna was roughly 17 seconds off the individual GPAC champion from Dordt. As the team's No. 2 Calvin Rohde gutted out a time of 26:21.70 and earned all-conference accolades for the second year in a row. Jack Ellis cracked the top 20 (18th) in the field of 84 runners with his time of 26:45.49. The team's four through seven spots were a tight pack that included Aaron Jendro (27:41.43), Jimmy Nguyen (27:46.29), Charlie Hayden (27:53.22) and Nathan Pennekamp (27:57.99). In addition to defeating Dakota Wesleyan and Doane, the Bulldogs outran Northwestern (fifth), Mount Marty (sixth), Midland (seventh), Hastings (eighth), Morningside (ninth), Jamestown (10th) and Briar Cliff (11th).
· The Concordia women were led by three individuals who placed in all-conference territory in Kylahn Freiberg (eighth), Julie McIntyre (14th) and Rylee Haecker (15th). Both Freiberg and Haecker have earned All-GPAC awards for the second time in their careers. A 2021 national qualifier and five-time All-American in track, Haecker fought her way to the finish and was seven seconds behind McIntyre. A transfer from Trinity Christian College, McIntyre has enjoyed a phenomenal season as a Bulldog and finished the 5k in 19:33.86. The rest of Concordia's top five at the conference meet included Hannah Beintema (19:50.75) and Rhaya Kaschinske (20:05.03). As a team, the Bulldogs beat out Northwestern (fourth), Morningside (fifth), College of Saint Mary (sixth), Doane (seventh), Mount Marty (eighth), Midland (ninth), Jamestown (10th), Briar Cliff (11th) and Dakota Wesleyan (12th).
· The 2022 NAIA Cross Country National Championships will take place on Friday, Nov. 18 with Apalachee Regional Park in Tallahassee, Fla., serving as the host location. The national meet moves to Florida after it had alternated between Fort Vancouver, Wash., and Cedar Rapids, Iowa, in recent years. More details on the national meet can be found HERE.

Women's Soccer
· The 2022 season is in the books. The seventh-seeded Bulldogs were eliminated from the postseason on Nov. 2 with a 3-1 overtime loss to second-seeded Briar Cliff in the GPAC quarterfinals. It marked the 14th straight season that the program has qualified for the GPAC tournament. The Chargers were then clipped in overtime, 2-1, by Hastings in the semifinal round. Head Coach Thomas Goines' squad ended the campaign at 10-6-2 overall (5-5-2 in GPAC regular season action). For more information on Concordia Women's Soccer, click HERE.
· The Bulldogs gave a better account of themselves against Briar Cliff than they had two weeks earlier in the 3-0 regular season loss. In the conference quarterfinals, Concordia played from behind, 1-0, after surrendering a goal in the 32nd minute. The score remained that way all the way up until the 85th minute when Niah Kirchner's hustle resulted in the equalizer that forced overtime. The Chargers quickly regained the lead in extra time with Sydney Robbins' goal in the 92nd minute when one the Bulldog center backs went down with an injury. As Concordia brought numbers forward, Briar Cliff added a goal in the 105th minute to put the game to rest. The Chargers finished with advantages of 14-4 in shots and 7-2 in corner kicks.
· A major highlight of the season was the 6-0 start that featured a 1-0 road upset of then 25th-ranked Benedictine College (Kan.). During that 6-0 run, the Bulldogs defeated Southwestern College (Kan.), Tabor College (Kan.), Graceland University (Iowa), Benedictine, Bethany College (Kan.) and Mount Marty. In addition, Goines earned the 100th win of his collegiate head coaching career when Concordia defeated Dakota Wesleyan on Oct. 1. After some tough results in the month of October (including three defeats by one-goal margins), the Bulldogs qualified for the postseason by knocking off Presentation and Doane to end the regular season.
· The loss in the GPAC quarterfinals marked the end of the careers of nine seniors that helped set the tone for the program, in terms of expectations and work ethic, over the past four seasons. That list includes Aliyah Aldama, Caitlin Davis, Allee Downing, Ellie Eason, Lina Kirst, Kadyn Lane, Lisa McClain, Grace Soenksen and Kalie Ward. Each of those players were part of the 2020 run to a GPAC tournament championship and national tournament berth. A Sioux City, Iowa, native, Downing played in all possible 74 games during the 2019 through 2022 seasons. In terms of accolades, Soenksen (two-time First Team All-GPAC) is the most decorated performer.
· The freshman class made a significant impact this fall and will be a big part of the future. Of the team's 33 goals scored in 2022, 18 came from freshmen: Kierstynn Garner (eight), Savannah Andrews (four), Niah Kirchner (three) and Elena Ruiz (three). A native of Kearney, Neb., Garner carried over her goal scoring exploits from high school and led the team in goals. Meanwhile, Kirchner paced the team with four assists. From the current sophomore class, the Bulldogs look forward to getting starter Taylor Slaymaker back to health in 2023.

Volleyball
· Last week's action saw the close of the regular season and the start of the postseason. In the first NAIA top five matchup ever hosted in Seward, the fifth-ranked Bulldogs fell to fourth-ranked Midland, 25-20, 25-23, 25-23, on Nov. 1. Four days later, Concordia regrouped and toppled No. 12 College of Saint Mary, 25-18, 25-16, 25-18, at home in the GPAC quarterfinals. The Bulldogs wound up in third place in the GPAC regular season standings with a 12-4 league mark. They placed behind Jamestown (15-1) and Midland (14-2). Head Coach Ben Boldt's squad has moved to 22-4 overall. For more information on Concordia Volleyball, click HERE.
· The 22-4 record equates to an .846 winning percentage, which represents the best during Boldt's five seasons leading the program. During a 2020 season shortened in length by COVID-19, the Bulldogs went 18-5 for a .782 winning percentage. Last week's victory also has Ben Boldt knocking on the door of 100 career victories as Concordia's head coach. His record stands at 99-41 (.707) since the start of the 2018 season. According to available records, there are two coaches in program history with more than 100 wins: Vicki Boye (167-136) and Rachel Miller (107-125).
· Under the Boldts, the Bulldogs have had a way of quickly bouncing back after losses. Concordia has had CSM's number this season having now gone 3-0 against the Flames with all three victories coming in straight sets. In the latest matchup, the Bulldogs outhit CSM, .279 to .068, while getting a team high 12 kills from Ashley Keck. In the middle, Gabi Nordaker collected nine kills and three blocks while outside Camryn Opfer posted six kills and 17 digs. The work of Opfer and Rebecca Gebhardt (14 digs) made life difficult on CSM. So too did Concordia's 10 blocks, including four from Morgan Nibbe (who also notched eight kills and hit .700). The offensive maestro Bree Burtwistle piled up 36 assists and dropped in two aces.
· The Bulldogs were held to an .048 hitting percentage last week by Midland, but they continue to pace the NAIA in overall season hitting percentage at .271. The next closest teams nationally are Marian (.268), Jamestown (.267), Missouri Baptist (.261) and Park-Gilbert (.256). It's been a total team effort for Concordia in accomplishing that feat. Four Bulldog hitters have accumulated at least 225 kills on the season: Nordaker (274), Opfer (251), Keck (229) and Carly Rodaway (225). At setter, Burtwistle is averaging 11.22 assists per set, ranking her No. 4 nationally in that category. Nordaker ranks 12th nationally in individual hitting percentage (.347).
· The postseason brings another shot at a conference championship. The program's most recent conference title came during the 2000 regular season, which marked the first year of the Great Plains Athletic Conference. Concordia has made its way to the GPAC semifinals for the fourth year in a row. The Bulldogs were defeated in last year's conference tournament final by Jamestown. The program also reached the GPAC tournament championship match in 2015 when it endured a loss at Midland. The winner of this year's GPAC tournament will have earned it considering seven of the eight conference postseason qualifiers are nationally ranked – and the other one (Hastings) is receiving votes.
· After falling twice to Midland in the regular season, Concordia will get another shot at one of its biggest rivals. The two sides will meet in the GPAC semifinals at 7 p.m. CT on Wednesday. The Wikert Events Center in Fremont, Neb., will serve as the venue. The Warriors defeated the Bulldogs in five sets back on Sept. 7 the last time they played each other in Fremont. The winner will move on to the championship to play either top-seeded Jamestown or fifth-seeded Dakota Wesleyan. The championship match will take place on Saturday at a time to be determined.
Men's Soccer
· The Bulldogs hope to keep their 2022 season going well into the month of November. That aim gained traction last week as second-seeded Concordia took care of business with a 2-0 home GPAC quarterfinal win over Briar Cliff on Nov. 3. The Bulldogs have reached the conference semifinals for the first time since 2018 in what has been one of the most successful seasons in program history. Head Coach Jason Weides' squad stands at 14-2-2 overall. For more information on Concordia Men's Soccer, click HERE.
· In the 2019 through 2021 seasons, the Bulldogs dealt with the disappointment of ending their season in the GPAC quarterfinals. Not this time. Concordia came through last week while hosting a postseason game for the fourth time since 2016. Now the 2022 edition gets to do something those previous squads never did – host in the GPAC semifinals. The Bulldog squads of 2015, 2016 and 2017 that reached the GPAC final all advanced on the road in the semifinals, moving past Midland in 2015 and 2016 and Northwestern in 2017. Concordia has now reached at least the semis for the sixth time during Weides' 15-year tenure as head coach.
· The Bulldogs were not going to take Briar Cliff lightly considering the regular season meeting on Oct. 19 resulted in a hotly contested 1-0 victory for Concordia. In the postseason clash last week, the two sides played to a 0-0 stalemate until the 41st minute when Daniel Campbell scored from point blank range after being set up perfectly by Victor Meneses' cross into the box. There were other opportunities for Bulldog goals, but Dominic Abdel-Ahad managed to add to the lead in the 58th minute when he fired an impressive strike into the back of the net. Concordia owned advantages in shots, 14-8, and corners, 6-4, and saw out the shutout. Goalkeeper Gabriel Mendoza made five saves and improved his record this season to 6-0-1.
· One of the top seasons in program history continues for the Bulldogs, who are now 14-2-2 overall. The 14 wins represent the second most in a single season in school history behind only the 16 victories notched by the 2017 team that went 16-3-1 overall. The GPAC quarterfinal win also pushed the team's active unbeaten streak to 10 (8-0-2). Concordia has not lost since enduring a 4-3 defeat at Dordt on Sept. 21. In addition, the Bulldogs remained undefeated at home (8-0-1). The one tie came against GPAC regular season champion Hastings. In those nine home games, Concordia has outscored its opponents, 23-4, and has notched five shutouts.
· Abdel-Ahad has pushed his team high season goal count to 12, representing the most in a season for a Bulldog since Micah Lehenbauer and Lewis Rathbone both scored 12 goals in 2017. The school record for goals in a season is 17 by Ken VanDerripe in 1982. During the GPAC era (2000-present), the most goals scored by a Concordia individual was 15 from Arturo Vega in 2007. The program's all-time career goals leader remains Nathan Douglas, who put away 43 goals from 2010 through 2013. As a team this season, Concordia has outscored its opponents, 48-16, and has outshot them, 249-134.
· The Bulldogs are getting set to host Dordt (9-3-6, 6-1-4 GPAC) today (Nov. 8) at 5 p.m. CT in the GPAC semifinals. Concordia is seeking to avenge its only GPAC regular season defeat and reach the conference final for the first time since 2017. The Defenders won their GPAC quarterfinal game at home, 3-1, over Morningside. The winner on Tuesday will advance to Friday's championship (time TBA) and take on either top-seeded Hastings or fifth-seeded Midland.

Football
· The road portion of the 2022 schedule is complete. The Bulldogs turned a tight game (14-10 lead) in the second quarter into a rout last week at Briar Cliff. Concordia outgained the Chargers, 538-285, and won, 45-10, at Memorial Field in Sioux City, Iowa. Korrell Koehlmoos and Brandon Vega both found the end zone twice as the Bulldogs won their second road game of the season. Head Coach Patrick Daberkow's squad stands at 4-5 overall (4-5 GPAC) heading into the 2022 finale, which will be senior day for the program. For more information on Concordia Football, click HERE.
· Vega finished a 12-play, 66-yard drive with a one-yard touchdown plunge at the 9:52 mark of the first quarter and the Bulldogs led the entire rest of the way. Vega also scored the team's next touchdown on a three-yard run. The proceeding touchdowns were cored by Devin Zeigler (six-yard rush), Koehlmoos (receptions of 23 and 15 yards) and Mark Arp (eight-yard rush). Ty Harold also connected for a 34-yard field goal as time expired in the first half. The Concordia offense achieved impressive balance with 274 passing yards and 264 rushing yards. Meanwhile, the defense held Briar Cliff off the scoreboard for the entire second half.
· It's safe to say that this has been the most prolific pass offense in program history. Daberkow reconfigured the offense to play to its strengths with DJ McGarvie throwing the ball. As part of last week's action, McGarvie became the program's new single season record holder for passing yards (2,235) and completions (198) while tying the standard for pass attempts (334). The previous passing yardage record was 2,178 by Jarrod Pimentel in 2001. In addition, Koehlmoos broke the school record for receiving yards in a season with 989 and tied the standard for receiving touchdowns in a season with 11. The previous record for receiving yards was 951 by Clarence Woods in 1988.
· The running game provided a compliment to the passing game last week as both Arp (130) and Zeigler (102) went past 100 yards rushing. Those two backs have received the lion's share of the carries this season. Zeigler leads the team in rushing with 580 yards and four touchdowns on 140 attempts in 2022. Arp has carried the ball 67 times for 370 yards and a touchdown. The success last week bumped the team averages this season to 139.8 rushing yards per game and 4.0 rushing yards per attempt. Austin Jablonski (230 rushing yards and three touchdowns) has also factored into the run game.
· Defensively, Concordia enjoyed one of its better performances of the season in last week's outing. The Bulldogs tightened the screws in the second half and got an interception apiece on the day from Isiaha Conner and Nick Leader. Up front, Devon Polley and Kyle Sterup registered 1.5 sacks apiece and Stephen Hughes also got in there for a sack of his own. Michael Grindey emerged as the team's leading tackler with eight stops. Leader and Kam Baker both forced a fumble and Grindey recovered a fumble.
· The Bulldogs have moved up to No. 13 nationally in total offense with an average of 417.4 yards per game. If that number holds, the 2022 team would break a school record for total offense. The current record is 401.6 by the 2014 team. Concordia has totaled more than 400 yards in six straight games: 434, 552, 431, 499, 501 and 538. A big reason for those numbers has been McGarvie and the passing game. The Bulldogs rank No. 10 nationally in passing offense (277.7). McGarvie also ranks 10th among all NAIA quarterbacks in overall passing yards (2,235).
· Now comes a major challenge as Concordia readies to host top-ranked Morningside (9-0, 9-0 GPAC) at 1 p.m. CT on Saturday. The Mustangs have clinched the GPAC championship for a 12th season in a row and will represent the conference as an NAIA playoff qualifier. The Bulldogs are 1-19 all-time versus Morningside with the one win coming in 2003 by a 34-19 score. The 2022 Mustangs enter play averaging 57.7 points per game.

Men's Basketball
· Hoops season is underway. The 2022-23 campaign tipped off at the 23rd annual Cattle Classic, an event that featured a total of eight games over two days. As part of the Cattle Classic, the Bulldogs blew out Tabor College (Kan.), 88-52, on day one and then came back to edge Ottawa University (Kan.), 86-82, on day two. This was the start of season No. 10 for Ben Limback as head coach of his alma mater. Concordia is receiving votes nationally after reaching the NAIA national quarterfinals and finishing at 28-7 overall in 2021. For more information on Concordia Men's Basketball, click HERE.
· Both opponents last week are members of the Kansas Collegiate Athletic Conference. The Bulldogs were able to beat the full-court pressure of Tabor while shooting nearly 70 percent from the floor in the first half. Concordia owned a 51-20 lead at halftime on its way to the blowout victory. The individual standouts were Tristan Smith (23 points, four rebounds, two blocks and two steals) and Noah Schutte (18 points, nine rebounds, four assists and two steals). In addition, Gage Smith posted nine points and 11 rebounds and AJ Watson chipped in with six points and five assists. For the game, the Bulldogs shot 53.5 percent (32-for-60) from the floor while holding the Bluejays to 31.7 percent (19-for-60) shooting.
· The game the next day was a much different story. Ottawa led by as many as seven points in the second half and appeared to be poised to halt what is now a 22-game home win streak for Concordia. Sharpshooting guard Brad Bennett emerged and went an incredible 8-for-9 from 3-point range off the bench. Six of his 3-point field goals came in the second half as he willed Concordia to victory. Not only that, Schutte put away 26 points while going 12-for-13 from the foul line. Schutte also grabbed seven rebounds. Meanwhile, Gage Smith put up eight points and 14 rebounds and Watson contributed five points, seven assists and two steals.
· Through the first two games, the Bulldogs have averaged 87.0 points and have shot 50.9 percent from the floor while the opponents have averaged 67.0 points and have shot 39.0 percent from the field. In the early going, Concordia's top scorers have been Schutte (22.0), Bennett (15.0) and Tristan Smith (15.0). Limback's starting five has included the Smith brothers, Gage and Tristan, Schutte, Garrett Seagren and Watson. Gage has returned for a fifth season in the program while using his "COVID" year of eligibility. Gage needs 19 points to reach 1,000 for his career.
· Conference play will arrive already on Saturday when the Bulldogs will be at No. 24 Briar Cliff (2-1) for a 4 p.m. CT tipoff. It will be a matchup of teams that shared last season's GPAC regular season title. The two sides split their 2021-22 regular season matchups with the home teams winning in both cases. The next four Concordia games will be against GPAC foes before a nonconference contest at Waldorf University (Iowa) during Thanksgiving weekend.

Women's Basketball
· The 2022-23 season is underway for the Bulldogs, who have a more experienced roster as compared to this time a year ago. Concordia got things started at the 23rd annual Cattle Classic and came away with two wins. The Bulldogs defeated Bellevue University, 74-52, on Nov. 4 and then beat Dakota State University (S.D.), 71-61, on Nov. 5. Head Coach Drew Olson's squad has been picked fifth in the GPAC following a 16-14 campaign in 2021-22 that resulted in an 11th straight national tournament appearance. For more information on Concordia Women's Basketball, click HERE.
· This marked the second year in a row that the Bulldogs opened the season with a home win over Bellevue. Concordia didn't start the game fast, but it dominated the second half in outscoring the Bruins 23-17 in the third quarter and 19-7 in the fourth. The scoring was spread out for the Bulldogs, who got 14 points from Kendal Brigham and 10 apiece from Abby Heemstra and Kristin Vieselmeyer. Headlining returner Taysha Rushton recorded nine points, seven assists and four steals. Concordia held Bellevue to 31.4 percent shooting and enjoyed a turnover margin of plus-19. The Bruins' biggest advantage came in the rebounding department, 47-32.
· The next day came a test against a guard-heavy Dakota State team that was the first team outside of the NAIA top 25 in the preseason poll. The Bulldogs led almost the entire way and used their defensive prowess to make it through a late scoring drought that helped the Trojans cut a 14-point deficit to five. Sadie Powell made a big shot with just over a minute left to push the lead back to seven. Rushton carried the team offensively with 24 points on 8-for-16 shoting. Abby Krieser added 11 points, six rebounds and two steals and Mackenzie Toomey posted a line of 10 points, six rebounds and three assists. Both teams shot well below 40 percent in a defensive grinder. Concordia has played Dakota State at the Cattle Classic in three straight years and has gone 2-1 in those meetings.
· It's no surprise that Rushton, a Midland, Texas, native, is pacing the team in scoring in the early going. She's totaled 33 points on 11-for-26 shooting through the first two games. That brings her career scoring total to 992 points. After Rushton, scoring could come from a many number of options. Now in her third season, the Cedar Rapids, Iowa, native Powell is expected to provide points in the paint – she totaled 12 points and 15 rebounds last week. The strength of this team just might be its ability to pressure the ball in the backcourt with the likes of Rushton, Toomey, Krieser, Brigham and others serving as pests in the eyes of opponents.
· Conference play is up next as the Bulldogs look forward to Saturday's trip to Briar Cliff (2-1) for a 2 p.m. CT tipoff inside the Newman Flanagan Center. Concordia and Briar Cliff saw each other up close (though they did not play each other) at the Cattle Classic. The two sides split last season's regular season meetings with the home team winning in both instances. The Bulldogs' next nine games will all be against conference opponents before a trip south just after Christmas.

Wrestling
· Chase Clasen made his official debut as Concordia's head coach last week as the Bulldogs immediately got started with a GPAC dual. Concordia won six of 10 matches, including three via pin, while defeating Midland, 28-17, in Fremont, on Nov. 1. Five days later, seven Bulldogs grappled at the Dan Harris Open hosted by Baker University in Baldwin City, Kansas. Clasen inherited a program coming off a 2021-22 season that saw it go 6-6 (3-5 GPAC) in duals and place sixth at the GPAC tournament. For ore on Concordia Wrestling, click HERE.
· The first match in the dual at Midland was a good omen for what's to come. Freshman Grant Wells pinned Austin Pimentel in 3:36 while helping set a tone for the evening. Additional Bulldog wins came via Creighton Baughman (pin at 141), Jeaven Scdoris (decision at 149), Issiah Burks (major decision at 165), Jose Sanchez (decision at 174) and Stephen Duffy (pin at 184). The lineup for Concordia also included Thomas Ivey (133), Tommy Wentz (157), Garret Moser (197) and Jack Hedke (285). Wrestlers who made their Concordia debuts were Baughman, Moser, Wells and Wentz.
· There are high expectations for Baughman, a two-time NJCAA All-American at Iowa Western Community College. Baughman went 40-11 overall in his two seasons with the Reivers and is currently ranked No. 2 in the GPAC and No. 12 in the NAIA in his 141-pound weight class. In the preseason, there were five other Bulldogs ranked at the conference level: Burks (fifth at 165), Sanchez (fourth at 174), Hunter Weimer (sixth at 174), Moser (sixth at 184) and Clayton Laabs (sixth at 197). Concordia lost its two national qualifiers from last season: Mario Ybarra (133) and Jacob Telles (285).
· The Dan Harris Open was mostly for getting some guys some experience. The field for the Bulldogs included Dontario Norwood (141), Henry Gaertner (141), TJ Allen (149), Torrance Keehn (174), Teegan Tschampel (184), Trenton Wills (184) and Cy Renney (285). The highlight was Tschampel's 10-6 win by decision in round one of the 184-pound bracket. Concordia did not have any place finishers.
· Coming this week will be Thursday's 7 p.m. CT dual at Hastings and then the Grand View University Open at 9 a.m. on Saturday. The Bulldogs and Broncos met in Seward in November last year with the result being a 29-17 win for Hastings. The Broncos had three wrestlers ranked in the GPAC preseason ratings. Concordia will wait until Dec. 2 to make its first home appearance of the season.